A cross-country look at community pharmacy's role in the administration of COVID-19 vaccines to Canadians
By Angela Poon
Just over a year after a global pandemic brought the world to a standstill in March 2020, efforts to administer COVID-19 vaccinations across Canada are in full swing. And just as pharmacists stepped up in the face of immense challenges one year ago, pharmacists are once again being called upon to serve alongside their fellow health-care colleagues in the fight against this virus.
From the time the Pfizer-BioNTech and Moderna vaccines were approved by Health Canada on Dec. 14, 2020 and Dec. 23, 2020, respectively, many Canadians began eagerly awaiting COVID-19 vaccination plans and eligibility requirements. The approvals also sparked more detailed conversations between pharmacy associations and government bodies across the country, in an effort to determine how and when pharmacists would be called on to administer vaccinations. Widely recognized as the most accessible member of health care, pharmacists were ready and willing to provide safe, reliable, and convenient vaccinations for all Canadians.
While many provinces began sharing announcements with the public about vaccination availability at community pharmacies in February and early March, an announcement in B.C. was delayed until Mar. 31, 2021.
"We've been in communication with government for several months now, but it wasn't until late March that things started to move a little bit quicker," says Bryce Wong, Director, Pharmacy Practice Support and Special Projects at BC Pharmacy Association.
With less than a week to prepare, the Association was tasked with initiating a pharmacy vaccination roll-out plan in "a rather rapid fashion," says Wong. With the guiding priority of targeting Lower Mainland residents aged 55-65—due to the significant amount of COVID transmission in the area's health regions—the Association compiled an initial cohort of 113 pharmacies. These pharmacies were selected from PharmaNet data that demonstrated their capacity to administer a high level of vaccines on a daily basis, based on past performance in seasonal flu immunization programs. Working independently, all participating pharmacies have been responsible for managing their own appointment booking and/or drop-in systems.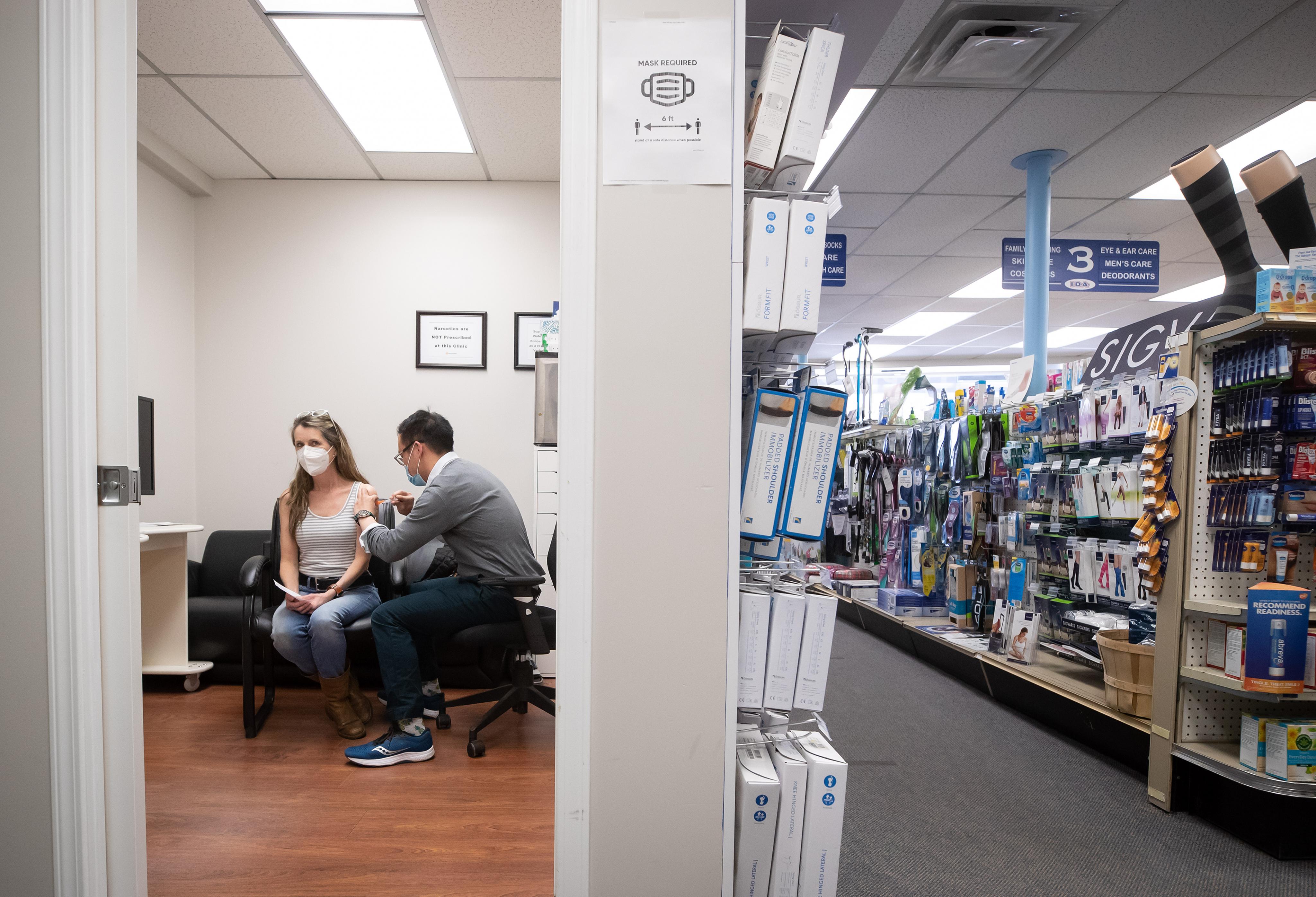 University Pharmacy pharmacist Mario Linaksita administers a COVID-19 vaccine on the first day of immunization in pharmacies on Apr. 1, 2021.
(Darryl Dyck, Canadian Press)
Very shortly after the successful launch of the pharmacy vaccination plan, another 375 pharmacies from across the province, including smaller and independent pharmacies, were added to the database of community pharmacy locations offering the COVID-19 vaccine to British Columbians aged 55-65.
Over the Easter long weekend, Health Minister Adrian Dix expanded the geographical region of B.C.'s community pharmacy vaccine roll-out to reach Dawson Creek, Fort St. John, Kamloops, Kelowna, Nanaimo, Parksville, Prince George, Quesnel, Terrace, Vernon and Victoria. And as of Apr. 29, vaccine eligibility expanded to include all individuals born in 1991 or earlier. A full list of participating B.C. pharmacies is available at bcpharmacy.ca/vaccines.
Even though it may have taken a while longer, the pharmacy participation is going to be very significant over the course of the vaccination effort," says Wong.
Over time, as vaccine supply becomes more widely available, all pharmacy members that want to be a part of the vaccination program will be able to be a part of the program, he adds. "We'll see a rapid rebalancing of the diversity of pharmacies."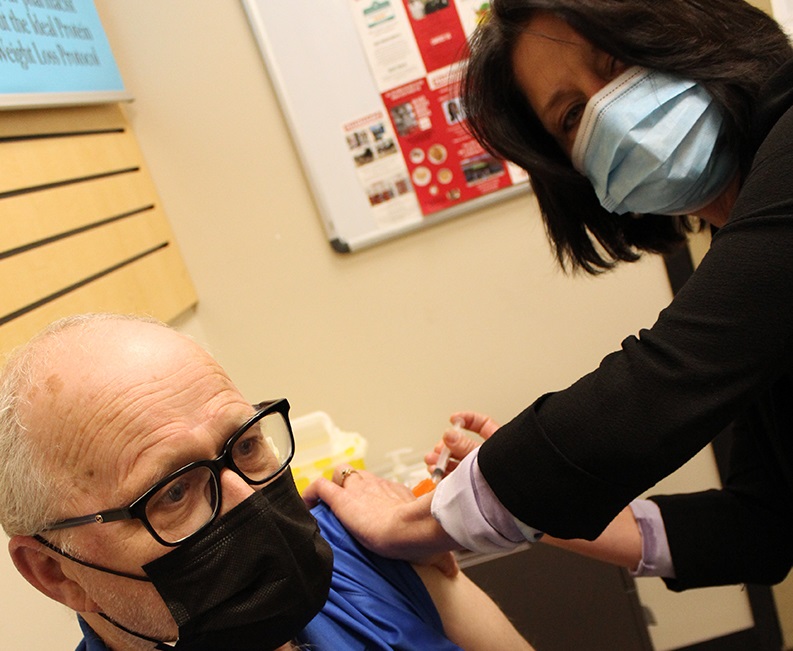 BCPhA President Annette Robinson provides one of the first COVID-19 vaccines in pharmacies in British Columbia.
Pharmacies across Canada
Elsewhere in Canada, pharmacies have been delivering on their immunization expertise by overseeing complex vaccine supply arrangements, managing patient expectations and appointment booking systems, and administering thousands of COVID-19 immunizations.
In Nova Scotia, it's anticipated that pharmacists will administer about 60 per cent of COVID-19 vaccines across the province, says Allison Bodnar, CEO of the Pharmacy Association of Nova Scotia.
The province is one of few regions in Canada that has opted for a centralized provincial booking system through CANImmunize, a Canadian company that offers vaccine-related digital solutions such as an appointment booking and clinic management system, as well as a public-facing app for individuals to manage their vaccination records.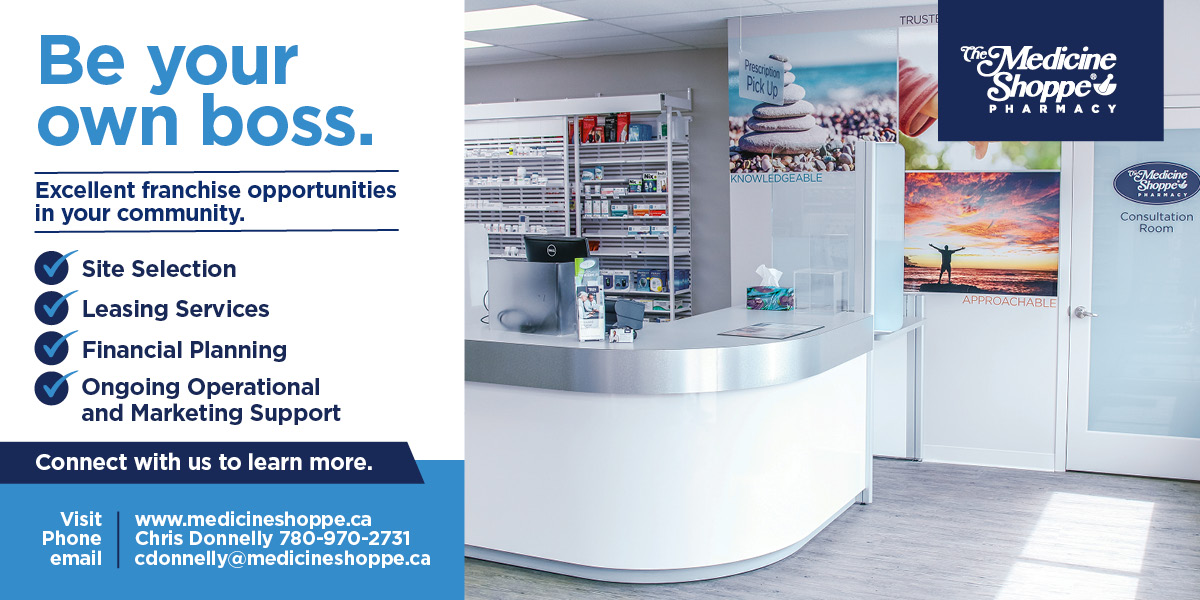 For advertising inquiries, please contact angie.gaddy@bcpharmacy.ca
With a few pilot sites first offering vaccines during the weeks of March 8 and 15, the roll-out plan has been "ever-changing," says Bodnar. "It's like trying to build a plane as you're flying it," she says. "It's challenging to get the right pieces in the right places at the right time to make this work."
While vaccine administrations started out slow, the program quickly ramped up throughout March. Starting the week of March 22, 13 pharmacies began offering the AstraZeneca vaccine. At full capacity—likely in late April or early May—it is anticipated that 295 out of 311 member pharmacies will be participating in the vaccine program, administering up to 50,000 vaccines per week. The province hopes to have vaccinated all Nova Scotians that want the vaccine by the end of June, adds Bodnar.
While the planning process has been complicated and chaotic at times, Bodnar sees this phase of the pandemic as a continuation of pharmacy's role as a respected member of the health-care system.
"Pharmacies stayed open day in, day out throughout COVID to make sure patients got what they needed," she says. "I think it's important for pharmacists to have the respect of the rest of the health system. We continually demonstrate over and over that we're an integral part of the system."
In Ontario, several dozen pharmacists were consulted from early on in the province's planning process. All 34 public health units looked to identify one or more pharmacist leads to liaise with while developing vaccination programs, says Jen Baker, Chair of the Board of Directors with Ontario Pharmacists Association (OPA).
While different health units collaborated with their pharmacist leads to varying degrees, all of the different leads tried to offer best practices as vaccination experts, says Baker.
"At OPA, we coordinated a letter to all of the public health units to provide guidance that pharmacists had all of the skillsets and competencies within our scope of practice and training to hold pretty much any role in an immunization clinic setting," says Baker. "We really have tried to reinforce the value of the pharmacy professional's role."
Many public health units have engaged pharmacy professionals for roles surrounding inventory management, vaccine compounding, immunizing, and leadership of mobile clinics, among others. While some pharmacists and pharmacy technicians may have taken a leave of absence from their day job to assume these new roles, others are professionals who were looking for work or were pharmacy owners who hired additional staff at their pharmacies so they could help lead the mass clinics, Baker notes.
At the same time, the Ontario Pharmacists Association lobbied for government to create a unified approach to a COVID-19 vaccination program, similar to the province's flu shot program, where pharmacists and pharmacy technicians' immunization expertise could be fully utilized, says Baker. A signed agreement was announced in early March that vaccines would be administered at community pharmacies across Ontario.
Ontario's community pharmacy program started with a limited roll-out on March 12, 2021, with pharmacies from across three different health units—Toronto Public Health, Kingston, Frontenac, Lennos and Addington Public Health, and Windsor-Essex Country Health Unit—participating to administer 190,000 doses of the AstraZeneca vaccine with an expiry date of April 2. From the nearly 600 pharmacies that applied to be a part of the pilot project, 330 pharmacies were chosen, based on their previous participation in Ontario's annual flu program and their ability to administer 40 doses of vaccine per day.
Responsible for managing their own appointment bookings, participating pharmacies were inundated with calls from the general public asking questions and hoping to book their immunizations at their local pharmacy, thanks to a public announcement from Ontario's Premier Doug Ford and ensuing media attention. At Baker's own pharmacy, the phone lines were so busy, her team struggled to access the voice messages that were being left while they were continuously on the phone with customers.
By early April, an additional 350-380 community pharmacies from across the province were expected to be added to the vaccination program, with a goal of expanding to 1,500 pharmacies by the end of April, says Baker.
"It's been an emotional journey for all of us," says Baker. "People are really hopeful, they're really grateful. It's almost awe-inspiring when you think about how quickly we've been able to get here, given that I received my first shipment of AstraZeneca vaccine in clinic the day that the pandemic had been declared a year prior. But pharmacy has been able to really excel, and it feels really important and really fulfilling."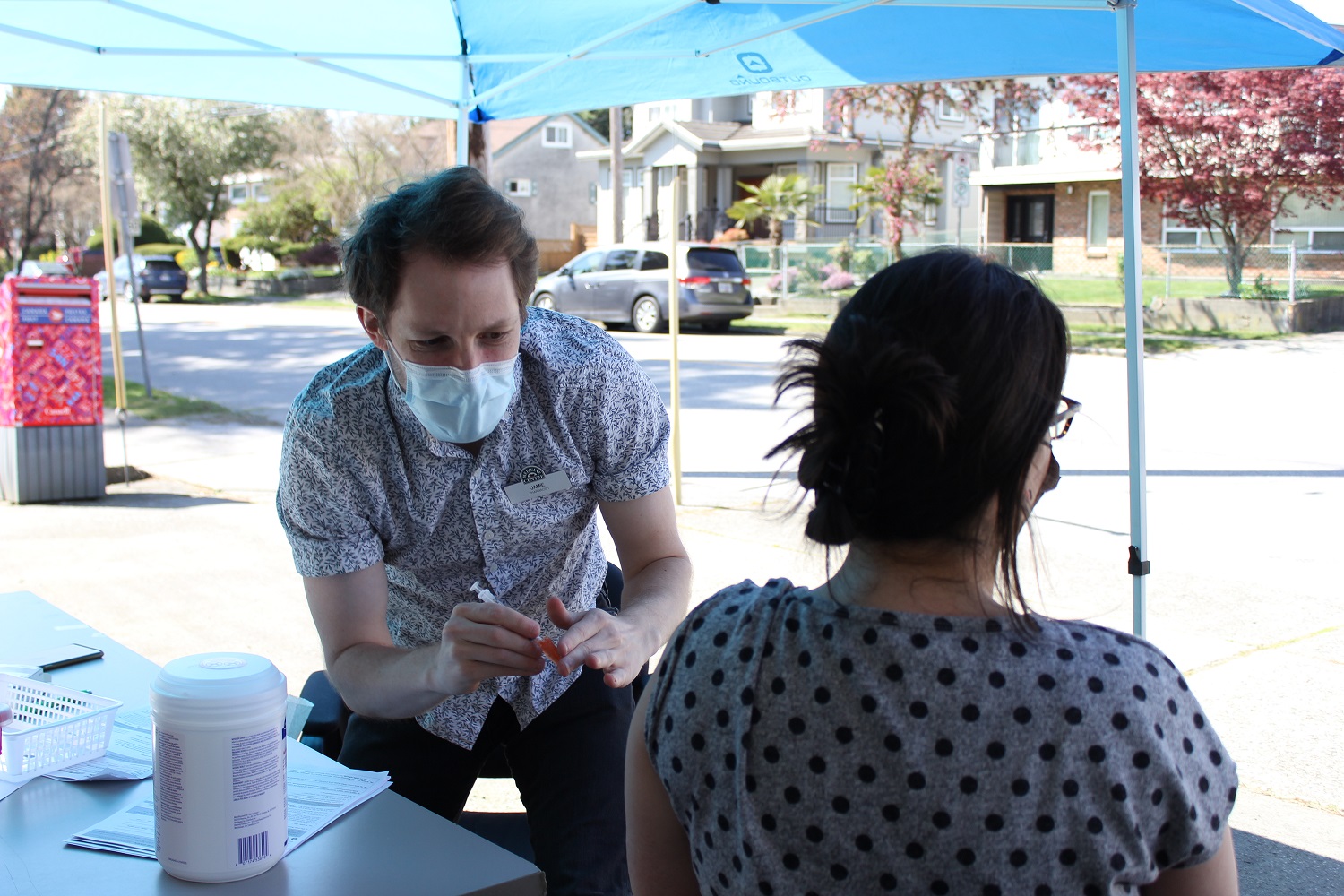 BCPhA Vice-President Jamie Wigston's pharmacy, West End Medicine Centre in New Westminster, administered about 200 doses of the vaccine.
In Manitoba, the team at Pharmacists Manitoba has been in discussion with the Manitoba government and the Provincial Vaccine Implementation Task Force since the middle of January, with regular meetings to ensure pharmacies would be ready to begin vaccinations as soon as the AstraZeneca vaccine was approved and available. Pharmacists Manitoba hosted a webinar alongside members of the vaccine task force and the College of Pharmacists of Manitoba to explain the roll-out plan to participating pharmacies on Feb. 25, 2021.
As of March 30, 2021, 18,000 doses of the AstraZeneca vaccine had been received in Manitoba. While there are currently 315 registered pharmacies in the vaccine program—representing nearly 70 per cent of Manitoba pharmacies—not all pharmacies have been able to participate, due to low supply. It was anticipated that Manitobans would receive more vaccines in April.
Participating pharmacies have managed appointment bookings independently, with some partnering with their local health-care providers to support eligible patient identification and appointment bookings in addition to public calls for appointments, says Pawandeep Sidhu, President of the Pharmacists Manitoba Board of Directors.
"As more doses become available, more pharmacies will have the opportunity to be involved," says Sidhu. "Pharmacists Manitoba also continues to advocate for a broad range of COVID-19 vaccines to be available to pharmacies to support the public health initiative, such as mRNA vaccines. We know the public prefers going to their local pharmacy due to the ease of accessibility for health care and for some, difficulty accessing central super sites and quick-to-fill pop-up vaccine mobile units in rural and remote communities."
South of the border
In the U.S., eligible Americans can participate in the Federal Retail Pharmacy Program, a national collaboration between the federal government, states and territories, and 21 national pharmacy partners and independent pharmacy networks. To date, the program is being implemented incrementally, based on available vaccine supply. As the vaccine supply increases over time, vaccines will become available at more than 40,000 participating pharmacies across the country.
While general vaccine eligibility is determined by each state and territory, U.S. President Joe Biden directed all states to prioritize school staff and childcare workers for COVID-19 vaccination at the current 9,000 participating pharmacy locations throughout the month of March.
One of the national pharmacy partners includes Costco, which applied to be a part of the federal program and has also partnered with certain states and counties prior to vaccines being available through the federal program, says Becky Dant, Director of Professional Services with Costco Wholesale Pharmacy.
"This has been a sequential roll-out and we've been able to significantly increase and expand access over the past few weeks," says Dant. "We are currently offering COVID vaccines by appointment only. This ensures we have a dose for everyone who makes an appointment."
Delivered through a combination of normal workflow, warehouse clinics, and off-site clinics, appointments are often booked fully within an hour of release, especially in the major metropolitan areas, notes Dant.
"Supply has been difficult as the demand continues to be quite high," she says.
To help streamline the process on-site, Costco has upgraded its scheduling tool to gather additional information from the patient prior to their appointment.
"The response has been overwhelmingly positive, and we are grateful to do our part to control this epidemic."