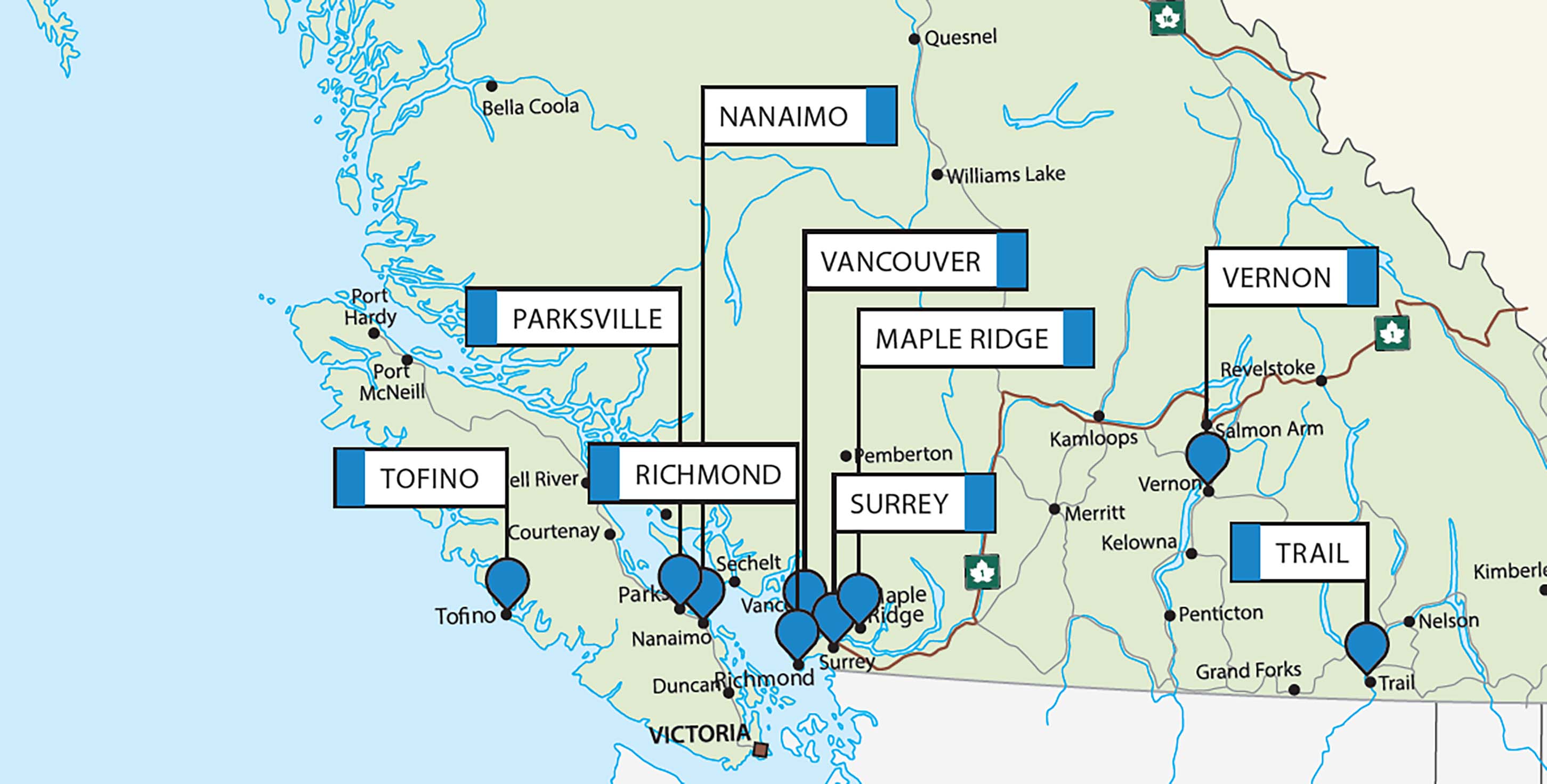 Invitations were sent to MLAs in late February. Most tours took place in March and April 2022. For questions, please contact communications@bcpharmacy.ca
Hear what pharmacists had to say!
Across the province, pharmacists invited Members of the Legislative Assembly to visit their workplaces and learn more about the valuable services community pharmacy offers for all British Columbians.
Are you interested in potentially hosting your MLA for a visit to your community pharmacy? Let us know by emailing communications@bcpharmacy.ca!
Prince Rupert: MLA Jennifer Rice
"It was great pleasure to host MLA Jennifer Rice tour in Save On Foods pharmacy Prince Rupert location. It was a great opportunity for us to discuss our patients' needs in our community as we don't have walk in clinic in Prince Rupert which creates a challenge for our patients to get refills or to be seen by a doctor. There is a value for pharmacists to meet their MLA as they are provincial decision makers and may make decisions directly impacting both patients and pharmacists."
— Enas Metry, Pharmacy Manager, Save-On-Foods Pharmacy #970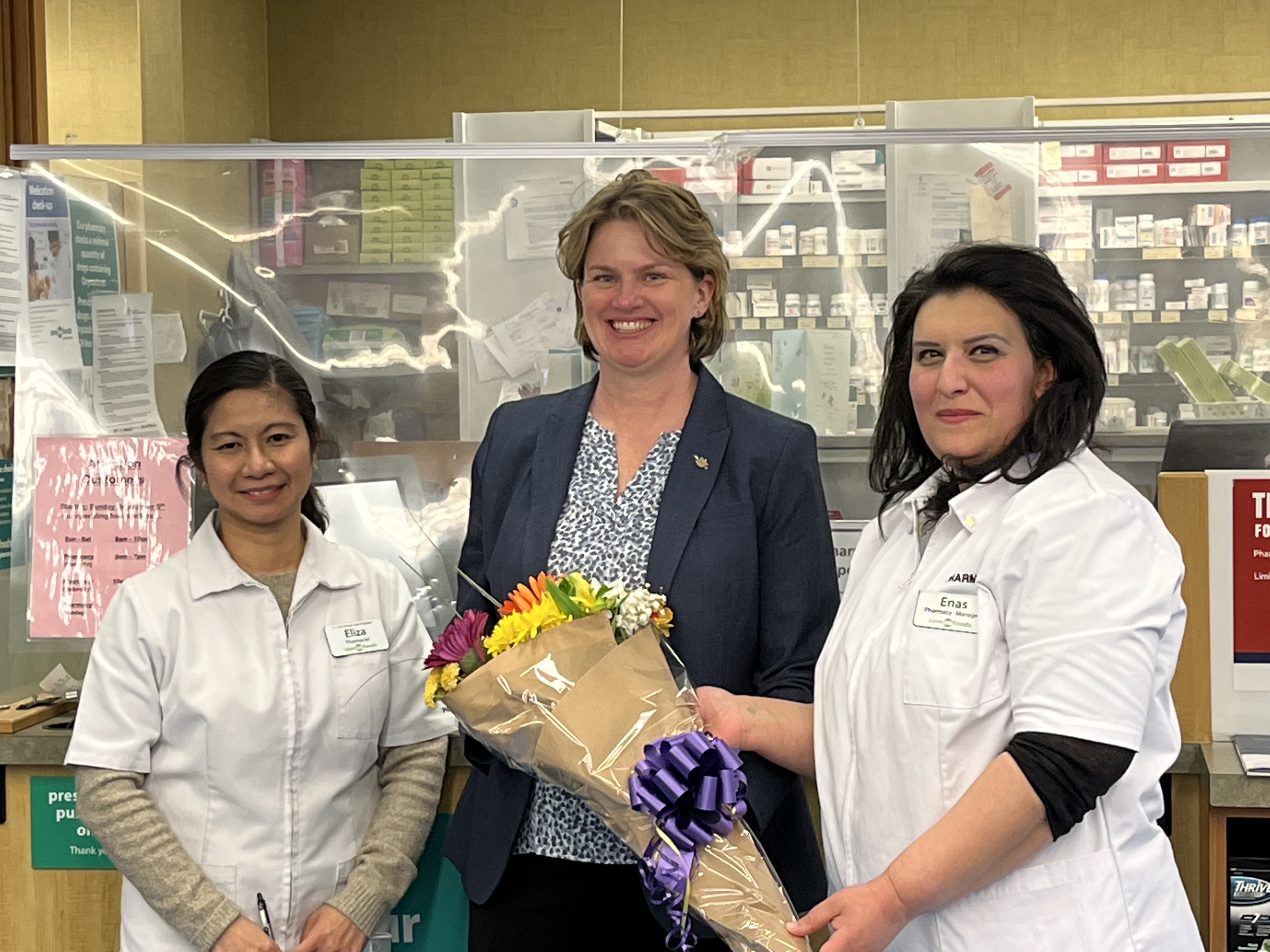 North Coast MLA Jennifer Rice (centre) met pharmacists Eliza De Lara and Enas Metry at Save-On-Foods Pharmacy #970 for a tour on April 12, 2022.
Kitimat: MLA Ellis Ross
"The MLA tour went well. We showed Ellis what we do in the dispensary and made him aware of the clinical services that we provide and how pharmacists stepped up when this pandemic started. Most importantly, we discussed about pharmacist prescribing authority for minor ailments. Ellis is aware of that as he mentioned that it has been a while now that we are asking for their support for our scope of practice."
— Cherry Paulo, Pharmacy Manager, Save-On-Foods Pharmacy #930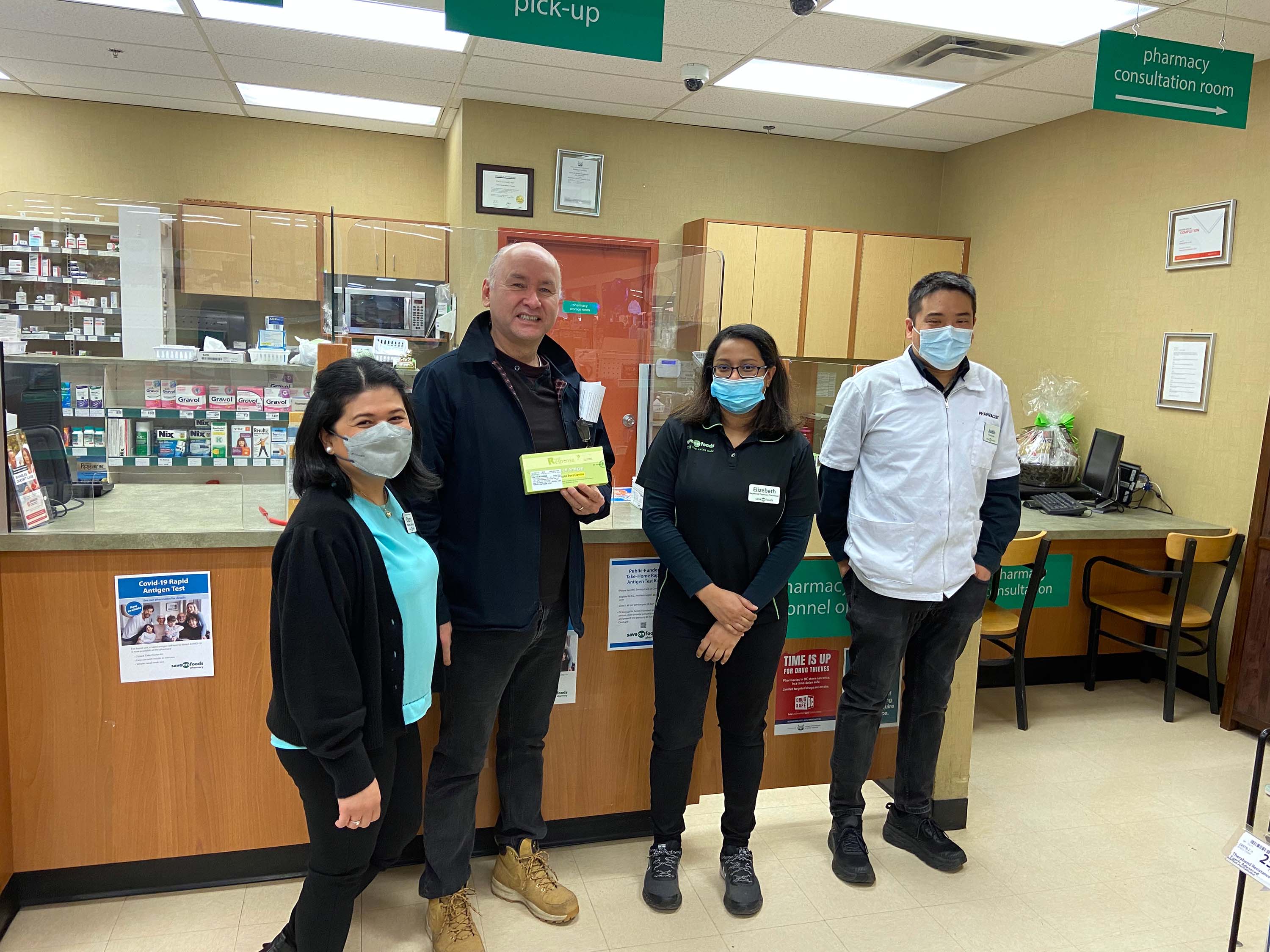 Pharmacy Manager Cherry Paulo, pharmacy technician Elizebeth and pharmacist Justin hosted Ellis Ross (centre left), MLA for Skeena, on Mar. 25, 2022.
Parksville: MLA Adam Walker
"The tour with Adam was a great experience. As most people are unfamiliar with LTC pharmacy, our team had the opportunity to educate Adam on the service we provide to our facilities, and highlight the importance of our work in ensuring safe and effective drug therapy for our vulnerable patient population - our work was particularly crucial throughout the COVID pandemic. It was great to emphasize how important the role of the pharmacist is in medication consultations, and how polypharmacy can occur through many transitions throughout care and varying prescribing cascades."
— Hafeez Dossa, Pharmacy Manager, CareRx Parksville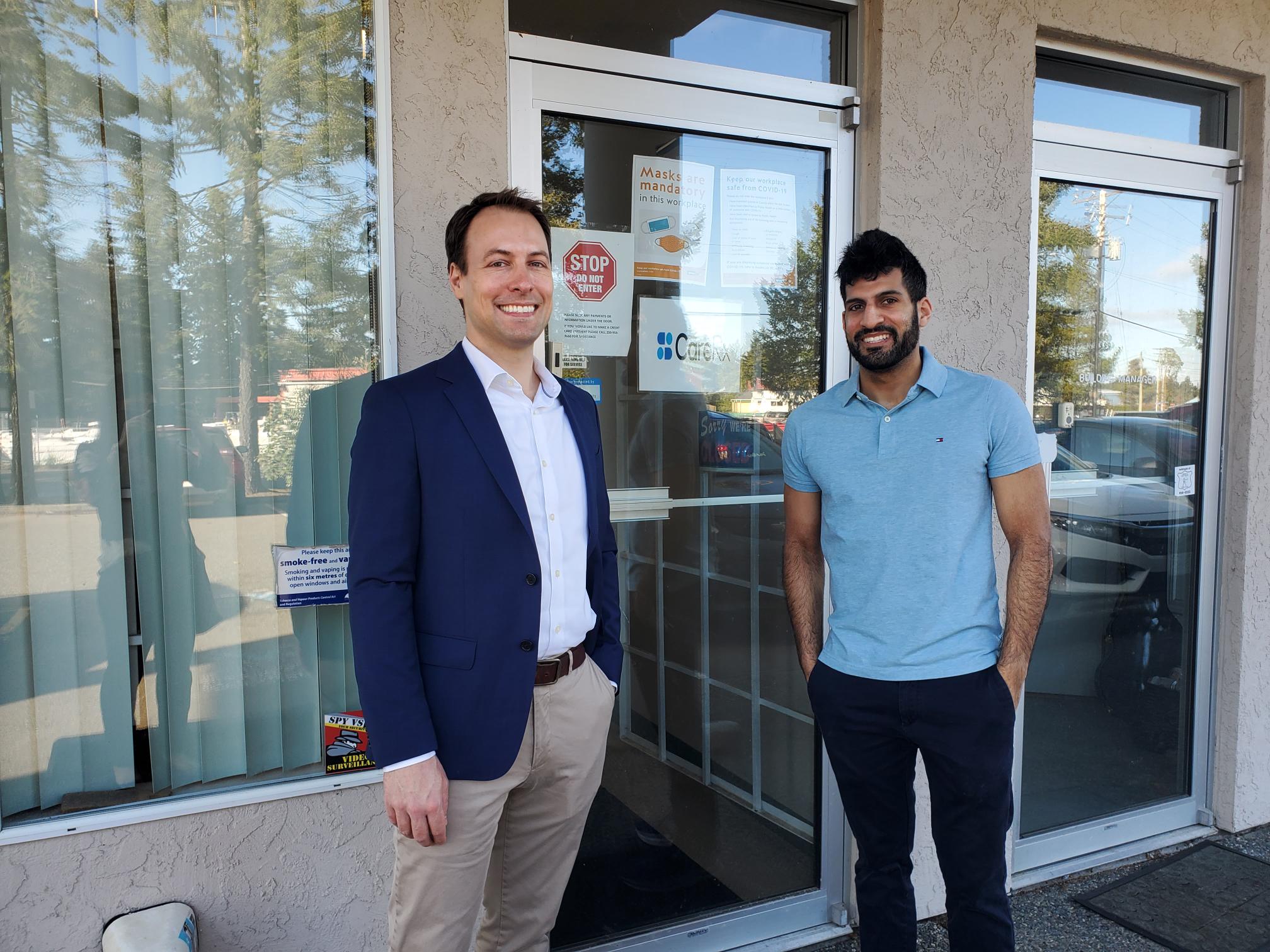 MLA Adam Walker visited CareRx Parksville for a tour hosted by pharmacy manager Hafeez Dossa on Mar. 16, 2022.
Tofino: MLA Josie Osborne
"Hosting Minister Josie Osborne was a pleasure. She really appreciated all the incredible services and wealth of information we offer to our community. Josie was the first to admit there was so much she didn't know about our profession. I believe she really valued what an important contribution to health and wellness we make in our region."
—Laura McDonald, Pharmacy Manager, Epic Pharmacy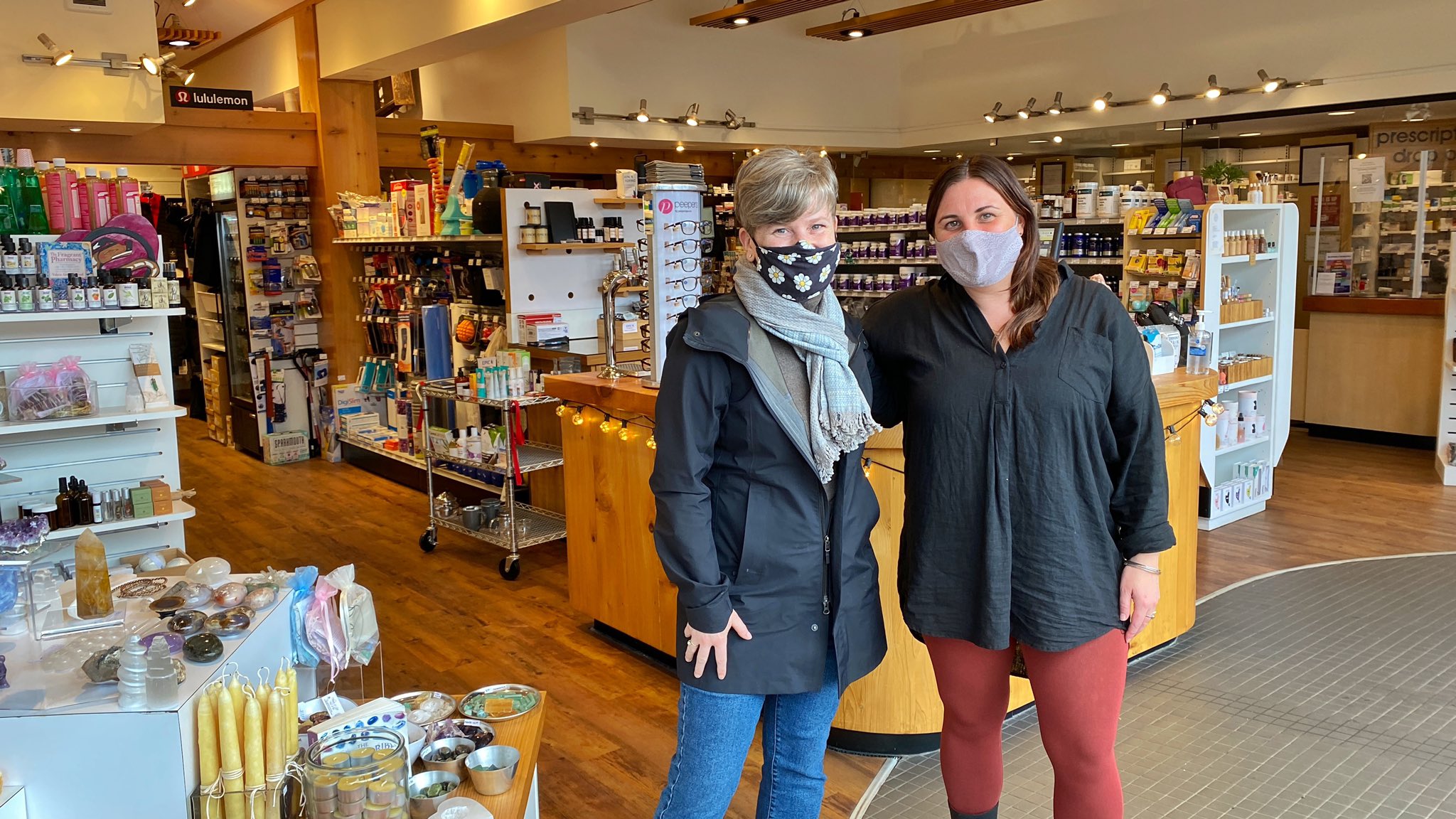 Mid Island-Pacific Rim MLA Josie Osborne, who serves as B.C.'s Minister of Land, Water and Resource Stewardship, met Epic Pharmacy owner Laura McDonald on Mar. 12, 2022.
Nanaimo: MLA Sheila Malcolmson
"Having Minister Malcomson tour my pharmacy was a great experience. I was able to demonstrate how our pharmacy team supports our community and she shared her ongoing commitment to addressing the Opioid Crisis which was encouraging. I think we both found the experience valuable and I suggest other pharmacists take the time to meet their local politicians."
—Kylee Power, Co-Owner, Central Drugs Dunsmuir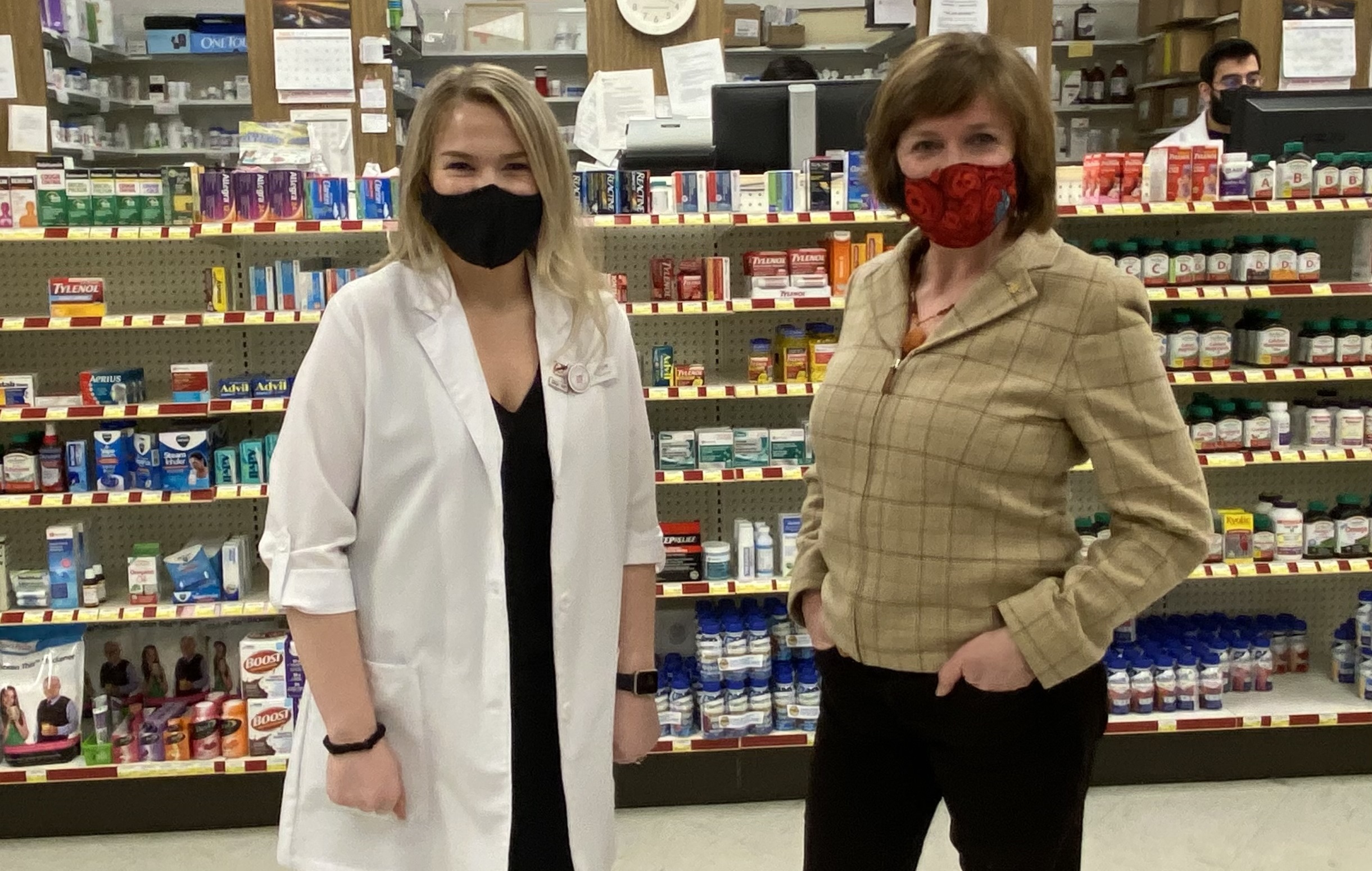 Nanaimo MLA Sheila Malcolmson, who serves as B.C.'s Minister of Mental Health and Addiction Services, met Central Drugs co-owner and BCPhA Board Director Kylee Power on Mar. 11, 2022.
Vancouver: MLA Adrian Dix
"It is beneficial for us for MLAs to understand what we go through and gives us a chance to tell to them about some of the hardships we have and what we think could make it better. Ultimately we all want to help the customers and the patients to have a better health outcome. It's very good for the MLA to see this on a first hand level and really experience why the pharmacy does what it does."
—Allen Wu, Pharmacy Operations Manager, London Drugs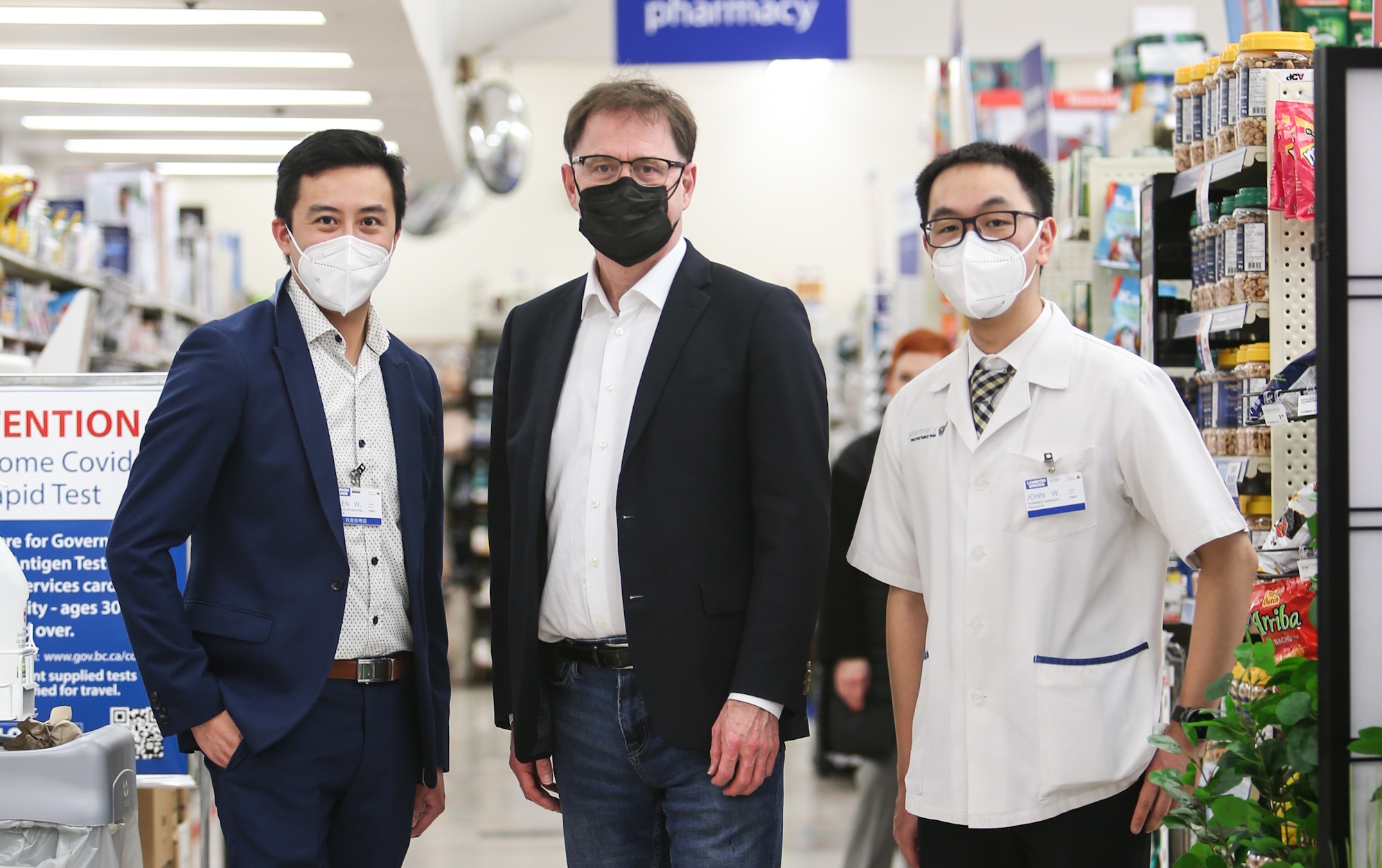 Health Minister Adrian Dix (centre), MLA for Vancouver-Kingsway, met London Drugs Pharmacy Operations Manager Allen Wu and London Drugs #28 Pharmacy Manager John Wong on Mar. 21, 2022.
Richmond: MLA Teresa Wat
"I think the MLA tour was a very valuable experience, we had a chance to talk with Teresa and express our needs and the concerns that our community has. We have a lot of patients coming here to ask about getting family doctors and this is a major concern. We had a chance to show her this challenge that is faced by our patients and to explain how pharmacists can help if we increase the scope of pharmacy services, such as prescribing authority."
—Grace Chong, Pharmacy Manager, Oval Integrative Pharmacy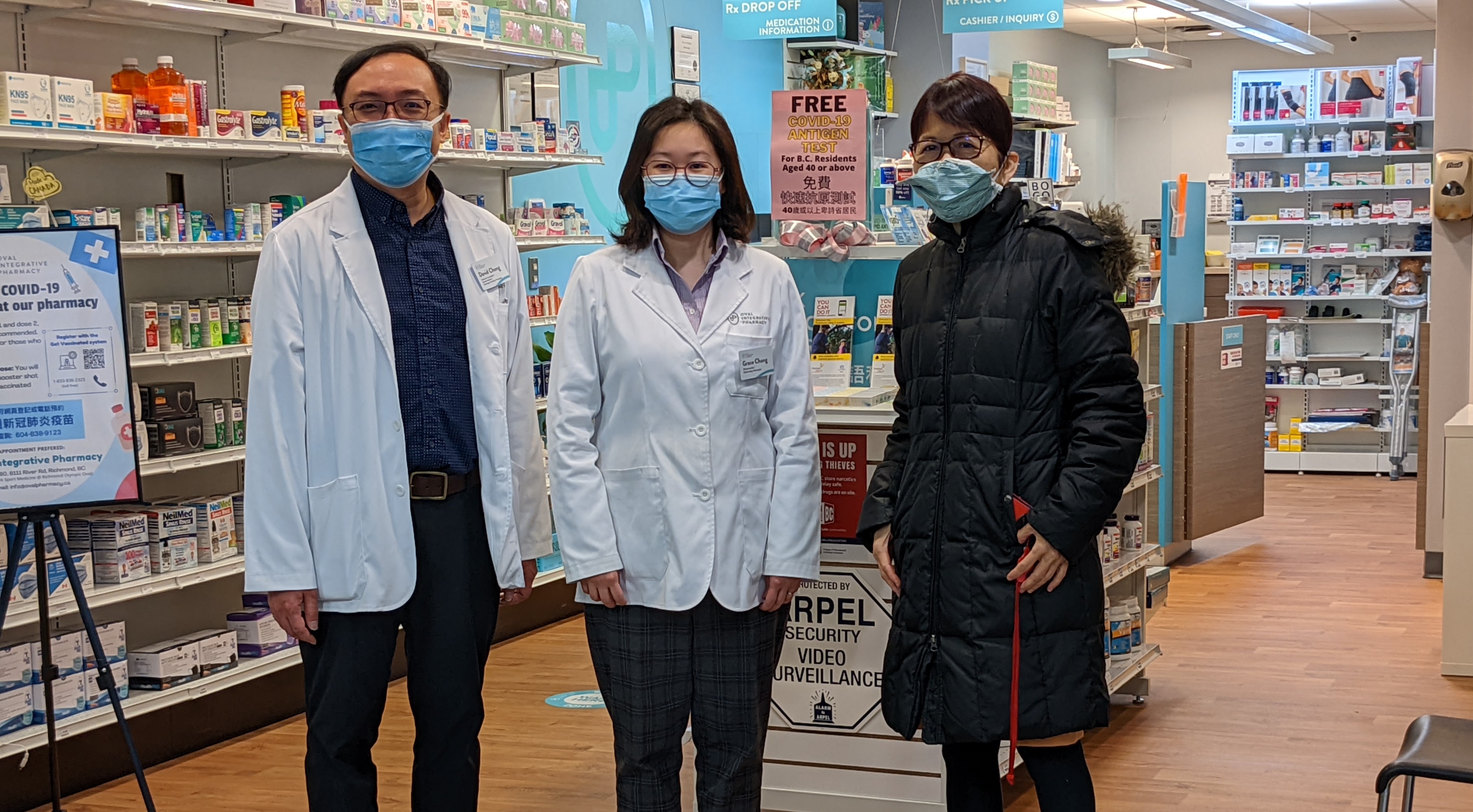 Oval Integrative Pharmacy owners David and Grace Chong met with Richmond North Centre MLA Teresa Wat on Mar. 18, 2022.
Vernon: MLA Harwinder Sandhu
"It was great to connect with our MLA on site and have a chance to discuss current issues impacting our community. As a healthcare professional (nurse) herself Ms. Sandhu has a keen interest in the role pharmacists can play to alleviate some of the burden on the healthcare system. She was very interested in advancing pharmacists' scope of practice and requested copies of the charts I had discussed highlighting the differential across the country."
— Jodi Cunningham, Pharmacy Manager, Medicine Shoppe #395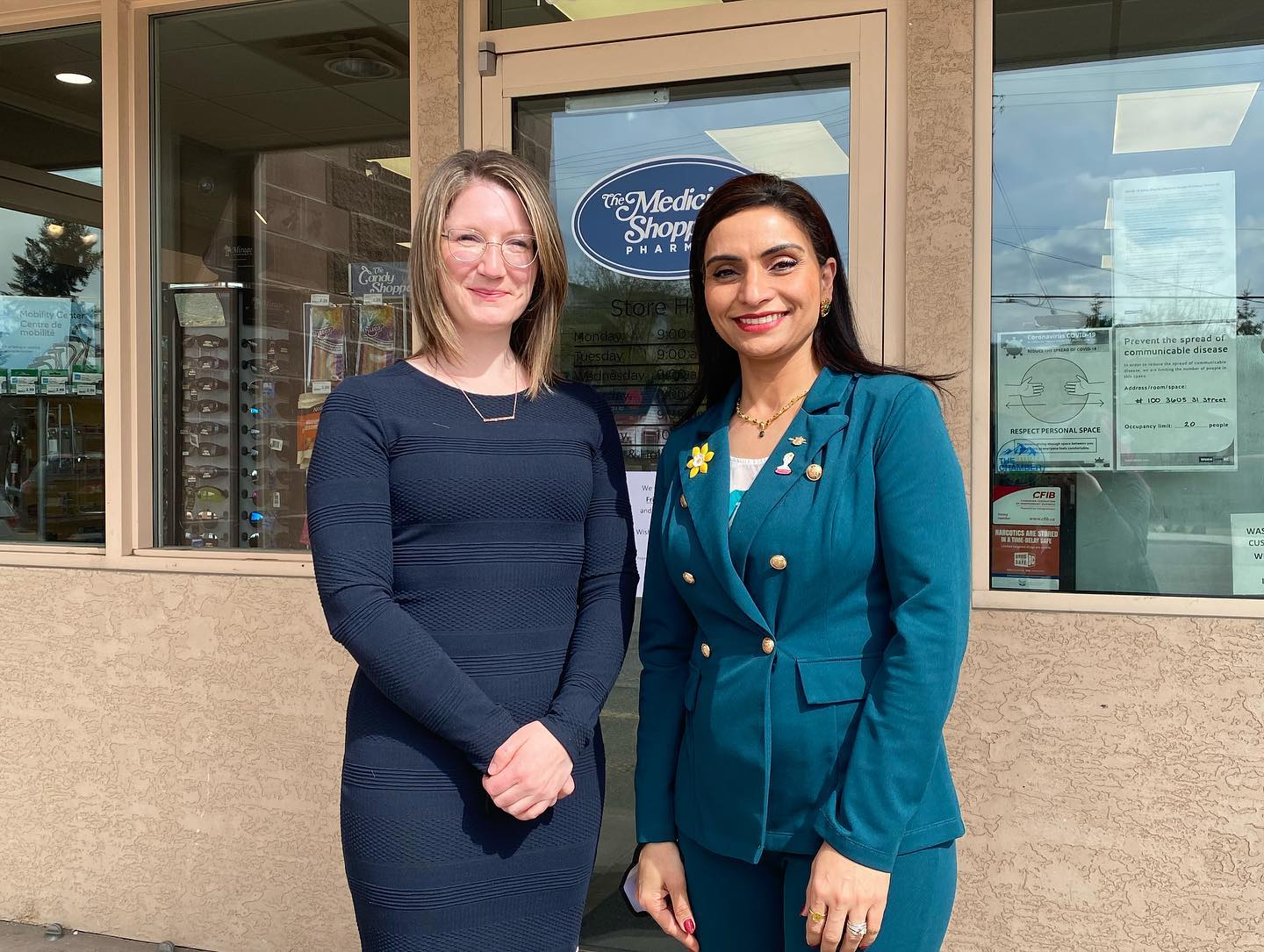 Vernon MLA Harwinder Sandhu toured Medicine Shoppe #395 on a tour hosted by pharmacy owner Jodi Cunningham on Apr. 12, 2022.
Trail: MLA Katrine Conroy
I feel the MLA visit was a chance for myself and MLA Conroy to connect on a personal and professional level discussing a few key current health care concerns. The bottom line is she is very aware of pharmacy related concerns and very appreciative of how we are stepping up and assisting with the pandemic response. It was a pleasure to hear that our efforts are valued by government and that we are both fighting for better health outcomes for all British Columbia residents.
— Jay Ross, Pharmacy Manager, Trail Apothecary Ltd.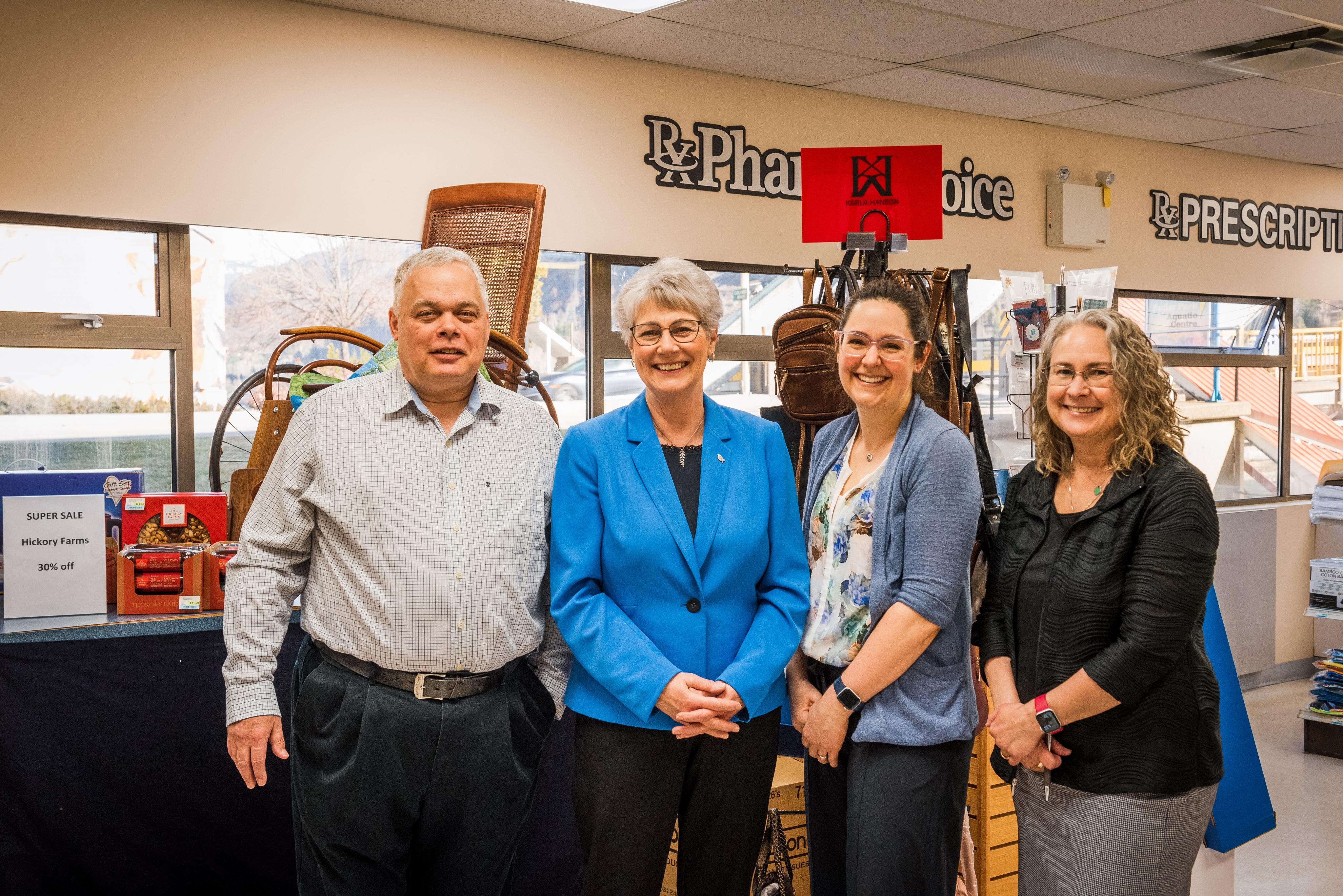 Kootenay West MLA Katrine Conroy (centre left), Minister of Forests, met Trail Apothecary pharmacists Jay Ross, Danielle Como and Carolyn Ross on Mar. 25, 2022.
Surrey: MLA Stephanie Cadieux
"The tour gave us an opportunity to express to them what pharmacists are made of and how undervalued we are. We're such a great resource for pharmacists. We are frontline, walk-in, no appointment necessary, we deliver, so the MLAs need to know that we do can do all this at any level. We are the experts for medications and people rely on us, physicians, clients, and I think we should be able to do more."
—Bob Sangha, Pharmacy Manager, Surlang Medical Centre Pharmacy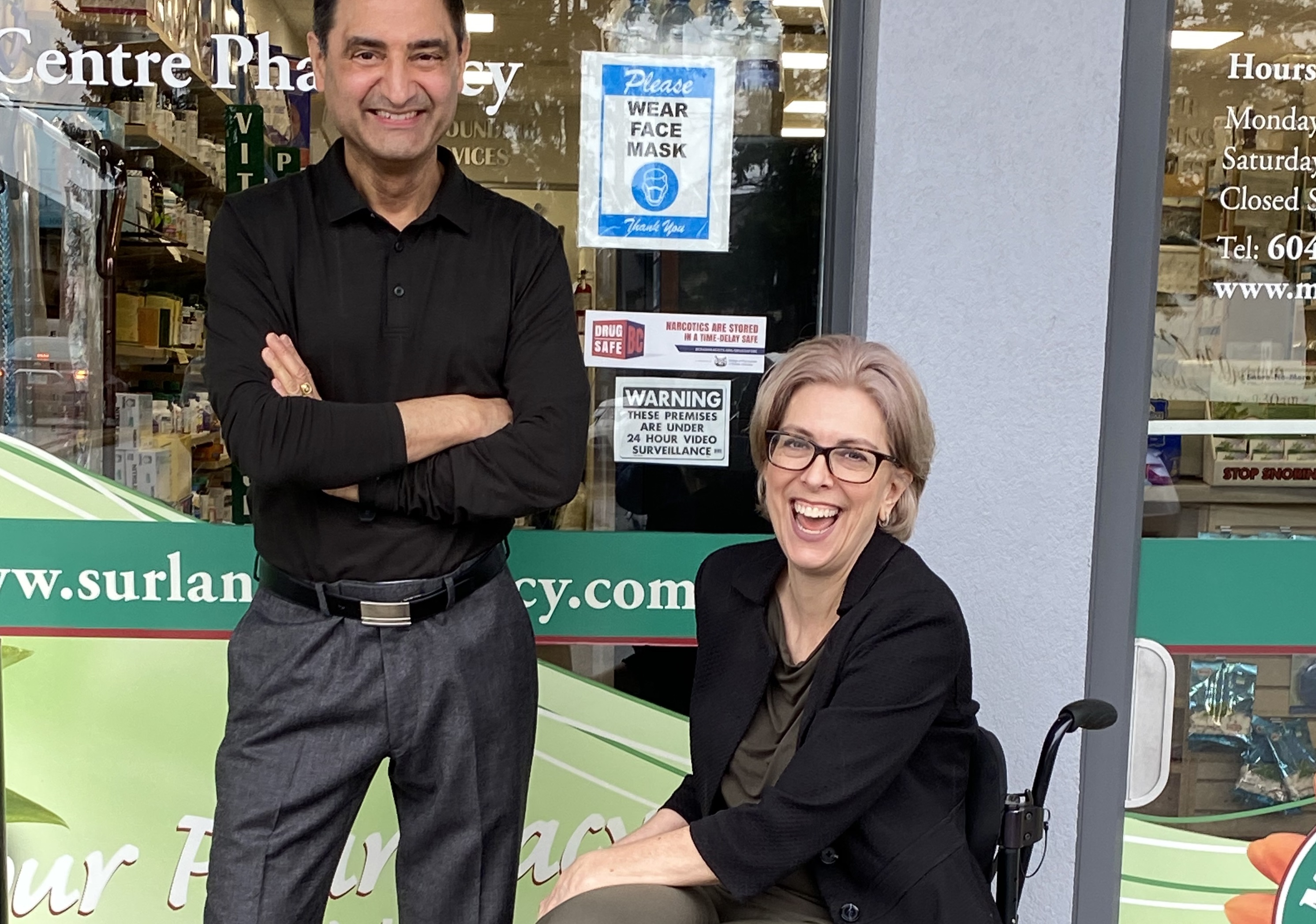 Surrey South MLA Stephanie Cadieux toured Surlang Medical Centre Pharmacy on Mar. 17, 2022 and was hosted by pharmacy owner Bob Sangha.
Maple Ridge: MLA Lisa Beare
"We were happy to showcase the services we offer to our MLA as closely as we did. Our MLA was very interested in what we offer to our patients and she was especially very interested in our compounding side of the profession. The decisions that our politicians make about our profession will only reflect the reality of our profession if they get familiarized about the services we offer in our profession."
—Sayed Atthari, Pharmacy Manager, Medlandia Pharmacy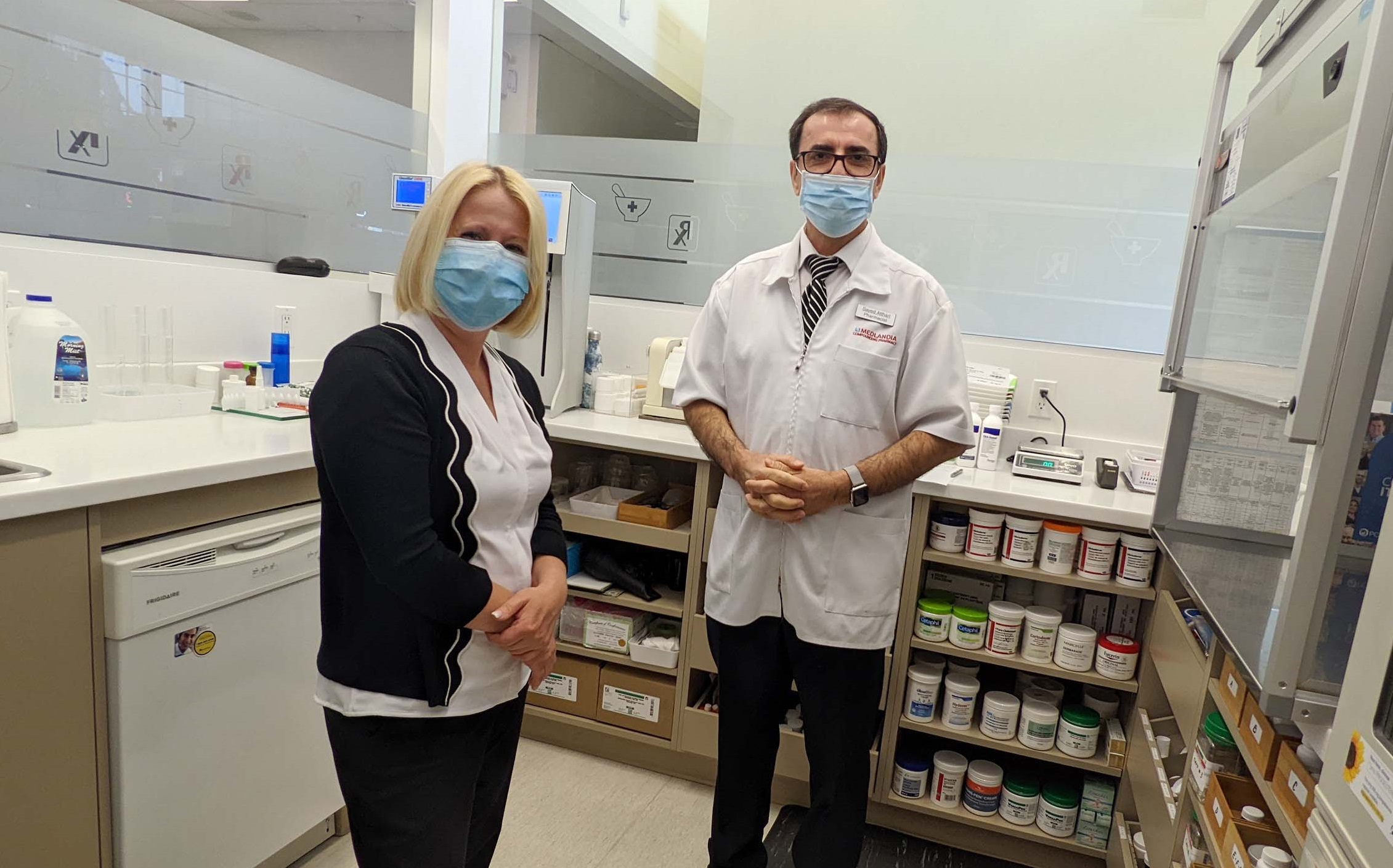 Minister of Citizens' Services Lisa Beare, MLA for Maple Ridge-Pitt Meadows, met with Medlandia Pharmacy owner Sayed Atthari for a tour on Mar. 25, 2022.