Lap Wu, BSc(Pharm)
Most of us who enroll in pharmacy school to become a pharmacist never think about being a pharmacy owner unless their family already owns a pharmacy. It was the same for me, I never really thought about ownership, it was just a dream and I had to focus on school and graduate first. That was 42 years ago when I graduated in 1980.
I have been asked to write an article about ownership and my personal experiences, as it may be an interesting read to our members, new and old pharmacists, and pharmacy owners.
After I graduated from UBC I was hired by Shoppers Drug Mart and was promoted to be an Associate in 1986.
In 1996, I left SDM and bought my first Pharmasave Store in Surrey. Those first 16 years, working as a pharmacist/Associate taught me all the important functions of a good pharmacist, working as a team, learning the work flow processes and managing the business.
Buying my first store was a great experience but it was also very scary. There was a lot of work to do, the due diligence, working with the bank for financing, working with the lawyers for the Purchase Agreement and working with the seller for a smooth transition.
The process was quite tedious, it required a lot of discipline and hard work to take it to completion. But once completed, it was a great feeling and a great sense of accomplishment. Yes, I bought my first store!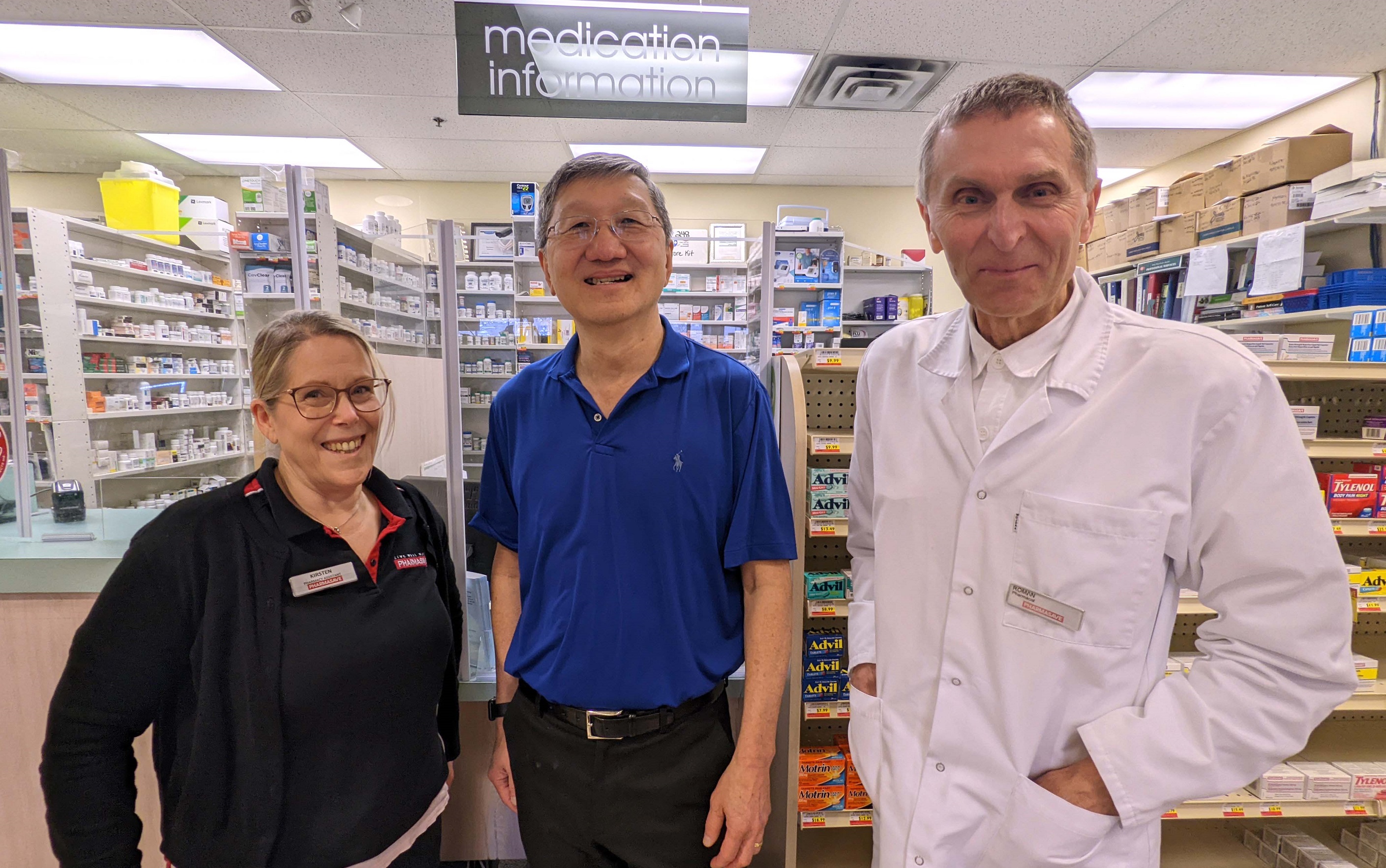 Pharmacist Lap Wu (centre) with pharmacy assistant Kirsten and pharmacist Roman at Pharmasave Fleetwood, one of the six pharmacies owned operated by Wu during his career.
Then comes the next part: taking over a store from someone else. The emotions for me were very high; did I make the right decision? Will I fail in this business? Will the staff respond to me? Will the patients accept me?
This is when we need to believe in ourselves, in doing the right thing for our patients and in doing the right thing for our staff and the business. If we focus on our patients, our staff and having a good business sense, we will be OK.
After the first purchase, the other purchases were a little easier. I still had similar emotions, but with a little more experience, they were smoother.
As we added more stores, we added new pharmacists and managers to our team. As we grew, we had to hire the best staff to manage our stores. They are the most important part of our business. We created a culture of fun, friendly competition among our stores, and strived to be the best that we can be. It is a tough business competing with the Big Boxes, but as a small business, our advantage was that we can make decisions faster than the major corporations.
I then continued to grow my stores, and my wife and I eventually owned six stores. We had a lot fun working with our staff and managing our stores, all the while challenging them to new heights, whether it was flu shots, medication reviews or raising the most funds for charitable organizations.
All our pharmacists, pharmacy managers, front store staff and front store managers made it possible for us to own six stores. We could not have done it without their dedication and loyalty to their patients and the stores. A huge thank you to them.
Delegation and trust are two factors that allowed us to expand. Delegation of duties and tasks are very difficult for entrepreneurs. Most entrepreneurs prefer to do everything themselves.
However, we cannot expand our business if we are not delegating enough. We need to trust our managers and staff to do the right thing, by coaching them and inspiring them to do the best. Only then will we have the resources to expand our business. It is the same in the pharmacy; trust your technicians and assistants and you will have more time for medication reviews.
There are many individuals and groups of individuals who currently own multiple stores.
The opportunities for pharmacists are enormous when you are passionate about your profession and want to pursue multiple ownerships and build your own business model.
But at some point in time, you have to consider retirement, to pass on your business to another person or entity to manage your business and continue your legacy. You need to close one chapter and open another, to spend more time with family, pursue other dreams, volunteer and give back to our communities we worked in.
The selling part is very similar to the buying part. Both parties need to do their due diligence and the process is just as tedious.
When you are buying, you have to ensure you are buying a sound business. So, when you sell you have to provide all the documentation to the seller so that they are confident they are purchasing a sound business.
Once you have found a buyer, you need to build trust with them and be completely transparent. I was very fortunate to sell my businesses to Neighbourly, who are now among the largest owners of pharmacies in Canada.
The selling price is very important, but finding the right buyer is just as important. The right buyer who will stand by what they have agreed to buy and not make or demands or changes after the Offer to Purchase Agreement is signed.
One of our stores we sold was in the flood zone in November 2021 and our town was evacuated for two weeks. Our buyer, Chris Gardner of Neighbourly and his management team focused their concerns on our staff who were affected by the evacuation; and there was no discussion about the impact of the flood on the business. I was impressed by these great people who possess such trust and integrity. They were buying the business for the long term.
We closed our sale on Dec. 13, 2021, selling five of our six stores.
I hope by reading my article, it will give you a little bit of insight into buying and owning your own stores, operating them and then selling them for retirement.
Once you start the ownership, the sky is the limit and you potentially can be the next large company with up to 20 or more stores. And down the road after working so hard, you will make that decision to retire, enjoy life and pass the torch to another party to continue your legacy.
Finally, I'd like to conclude with a huge thanks to my wife and family and to all my staff and Pharmasave for their support for this incredible journey.
Lap Wu graduated from UBC Pharmacy in 1980 and bought his first Pharmasave store in 1996. He continued to expand his business by buying existing pharmacies throughout the years and owned and operated six pharmacies by 2011. The pharmacies are all full-sized stores ranging from 3,500 to 12,000 square feet in size. He sold five of the stores in December 2021.