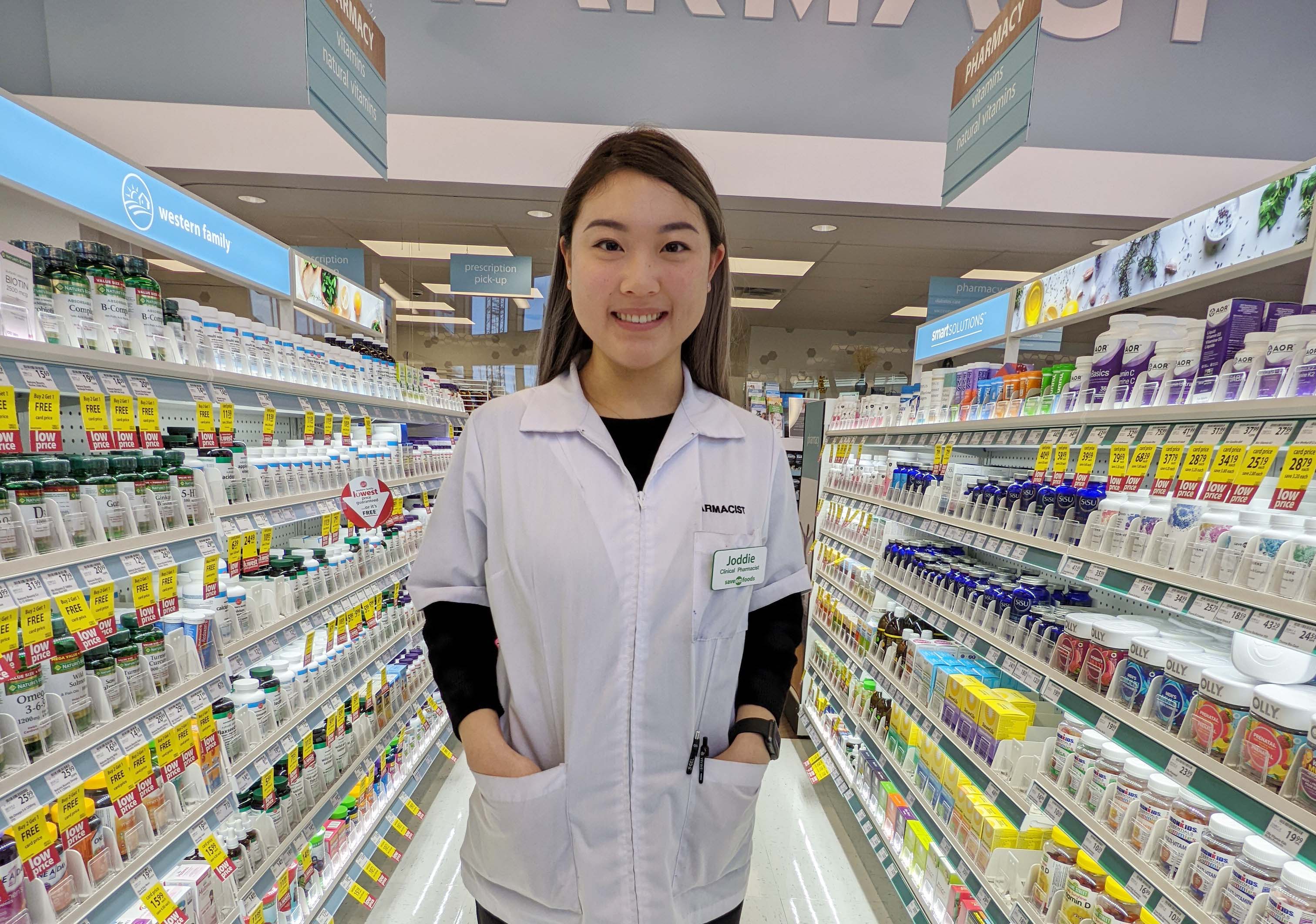 As a clinical pharmacist at Save-On-Foods, Joddie Xiong's work involves developing, implementing and supporting clinical programs in individual pharmacies across British Columbia. She can often be found visiting different pharmacies, helping onboard teams onto new programs being launched and supporting direct-patient care.
Tell us about your background: why did you choose to become a pharmacist?
Joddie: I graduated from the UBC PharmD program in 2020. I chose to become a pharmacist because I enjoy working with people from all walks of life. Pharmacy profession is always changing with technology, new medical evidence, new standards of practice, and it is exciting to be able to constantly learn and improve my practice.
Please describe your current role at Save-on-Foods Pharmacy. What does a typical day at work look like for you?
Joddie: Currently, I am a clinical pharmacist at Save-On-Foods. My role involves developing clinical programs, implementing/supporting our programs in store, hosting medication reviews, and administering vaccines. This year, I had the opportunity to develop informational resources and be involved with onboarding stores with COVID-19 vaccinations as well as rapid antigen tests for travel.
I am working in the office or visiting a different pharmacy every day. Some tasks I work on during office shifts include drafting standards of practice, developing implementation training slides, and creating newsletters for our different programs. When I'm in stores, I help onboard and answer questions regarding different programs we are launching. In addition, I am also involved in direct patient care, such as administering vaccinations and conducting medication reviews.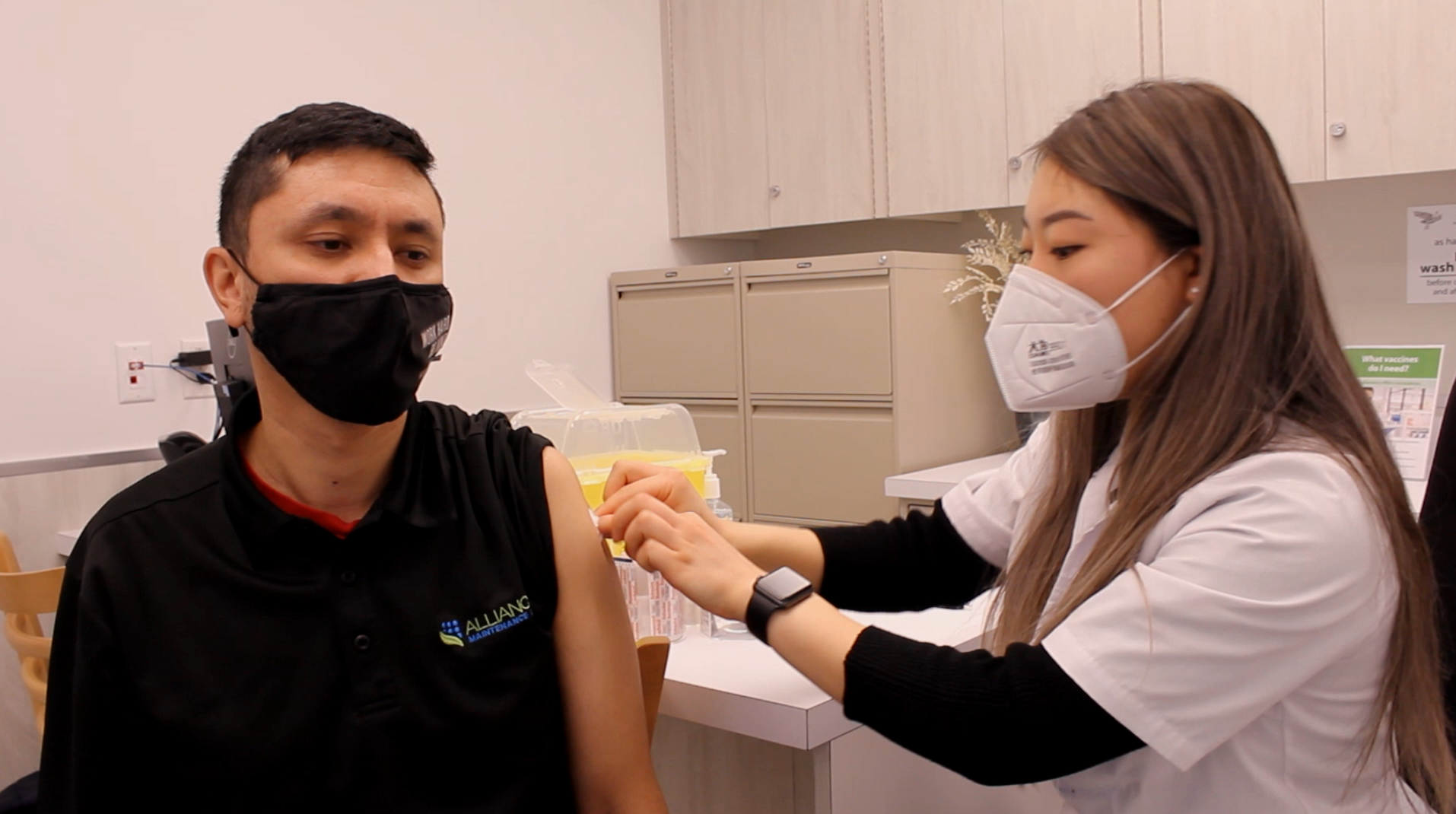 Pharmacist Joddie Xiong (right) administers a vaccine for a patient at the Save-on-Foods Pharmacy's King George Hub location.
Apart from COVID-19 boosters and test kits, what similar sorts of programs did you come to pharmacies as a trainer for in the past?
Joddie: We are always trying to innovate and improve community pharmacy practice and are constantly developing new clinical programs. Besides the COVID-19 vaccinations and rapid antigen tests, some other programs I am involved in include COPD care, diabetes/heart health care, as well as promotion of routine immunizations.
Were you always at this role at Save-On-Foods?
Joddie: No, after graduating, I worked as a staff pharmacist at another pharmacy but wanted to explore other roles that were available to pharmacists. In my current role with Save-On-Foods, I work at a different pharmacy location every day. It's exciting because it exposes me to different environments and patient demographics. I also get to meet and work with all the different pharmacy teams and build strong relationships.
Why is it important to have someone help dispensary staff familiarize themselves with current clinical programs?
Joddie: Dispensary staff are consistently busy; they may not have the time to familiarize themselves with current programs. It's important for someone like myself to come in and make it easier for them to implement the clinical programs into their workflow. I try to highlight the different resources available and where to find these resources when staff may not have the time to find it themselves. By doing this, I can add a lot of value to patient care and build strong rapport with our patients.