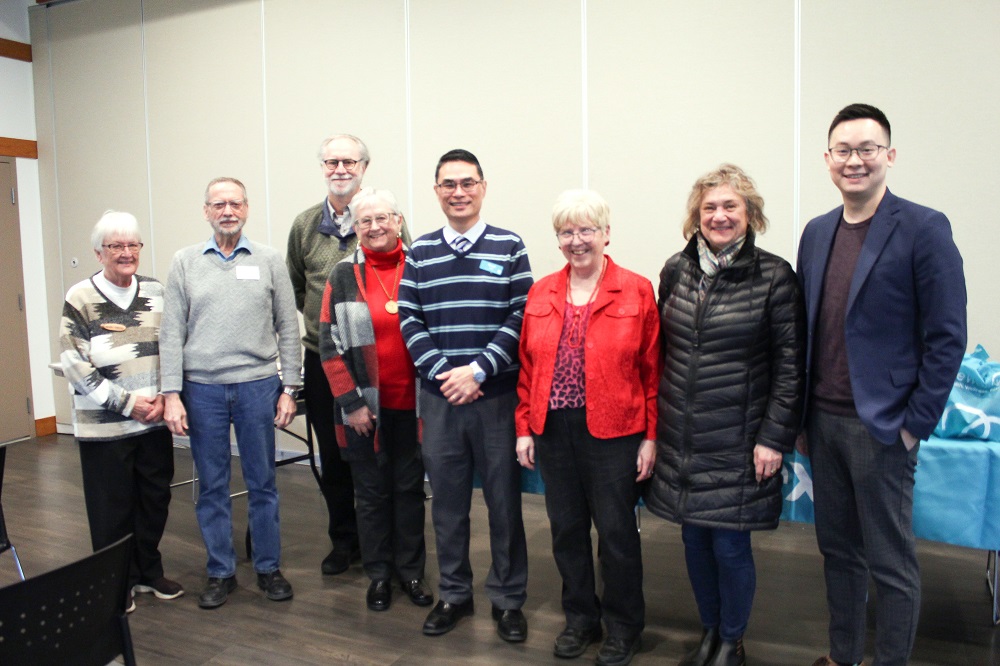 Pharmacist Jeff Ho (centre, in striped) with seniors of the Canadian Association of Retired Persons' (CARP) Vancouver Island Chapter on Feb.15, 2023.
By Michael Mui
Communications Manager, BCPhA
Health care is among the top issues in mind for many seniors and as pharmacists in British Columbia are enabled to provide additional services this year, it is even more important for the province's older adult population to get to know their pharmacists.
Jeff Ho, pharmacy manager at Rexall #7126, said one of the ways a patient can develop a closer relationship with their pharmacist is by asking questions about medications.
In February, Ho was invited to speak with members of the Vancouver Island Chapter of the Canadian Association of Retired Persons (CARP) about pharmacy services available for seniors, with emphasis on polypharmacy and medication review services.
"I asked the seniors at the presentation if they have had medication reviews before and none of them said yes. That was a big surprise," Ho recalled. "For seniors, as they take more medication, if we are able to educate them what the medication is for, and the purpose of the medications, their adherence should improve. And of course, part of the deprescribing process is also how to take out medications that the patients doesn't actually need all the time."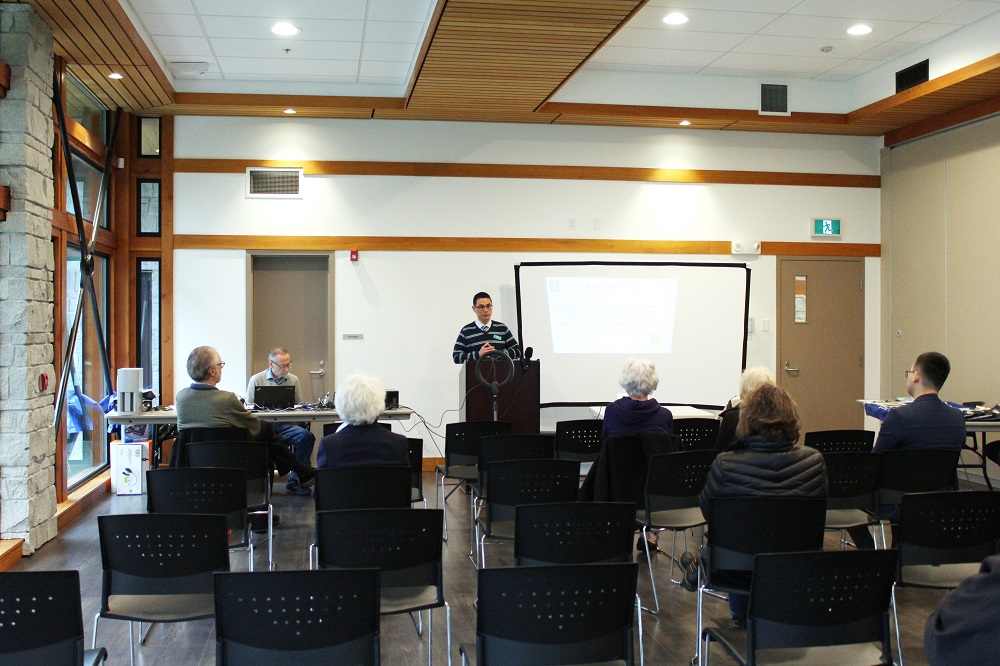 Ho's presentation was available live to attendees and also posted online for CARP's members to view.
Doug Jones, President of the Vancouver Island CARP Chapter, said his organization will often host educational sessions on topics of importance to seniors, such as finances, health, fraud prevention, or other topics. His chapter has approximately 5,000 members living on Vancouver Island and the surrounding islands, and is one of 24 chapters in Canada with a national membership of more than 330,000 people.
Among the top concerns for members has been access to health care, and more particularly, the relative lack of family physicians in British Columbia.
"The role of a family physician overlaps beautifully with the role of a pharmacist," Jones said. "There are a lot of things a pharmacist can do, and should do, that people don't realize. So, in this meeting we focused very specifically on the role of a pharmacist. It ties into the lack of family physicians by exploring what else we could be doing in health care to unload some of the burden on physicians that people might not know are available."
Recognizing that pharmacists possess a wealth of health knowledge and also how accessible pharmacies are to the general public, Jones' goal is to encourage more seniors to get to know their regular pharmacist — and also to encourage pharmacists to get to know each of their patients better.
Ho agreed that there's significant benefit to educating patients about pharmacy services of which they might not have been previously aware.
"Pharmacists are not just able to count pills, we can perform other services to help people as well. Participating in these kind of educational sessions help people understand what pharmacists can actually do for them," Ho said.
"Seniors are generally taking a lot more medications than someone who is 20 or 30 years old, so it's nice for them to be aware of all the resources that are available to help them manage their health and medications."
A recording of the presentation on medication review services and polypharmacy is available on CARP's YouTube channel at youtu.be/LfEtDuEcimU