As part of outreach efforts for Pharmacy Appreciation Month, members hosted provincial leaders including several B.C. cabinet ministers to tour their pharmacies and learn more about the upcoming prescribing for minor ailments and contraceptives service.
Vancouver-Kingsway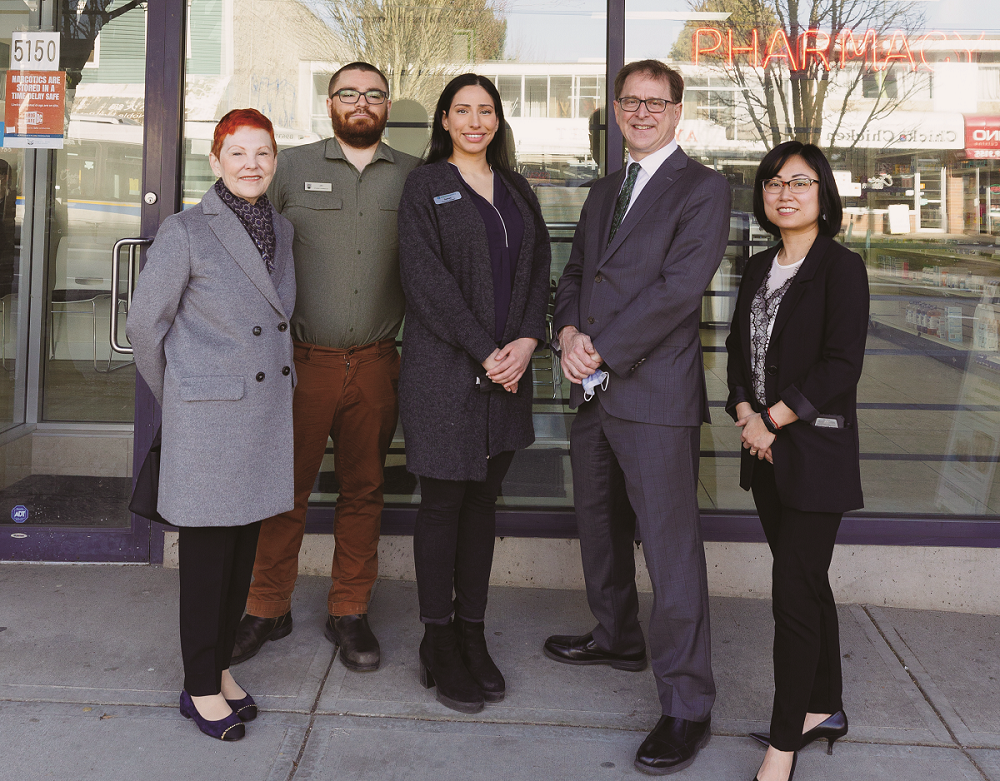 (L-R) BCPhA CEO Geraldine Vance, pharmacy student Jonathon Naylor, pharmacy manager Suman Dosanjh, MLA Adrian Dix and pharmacy operations manager Julia Zhu.
Wellness Pharmacy Joyce
5150 Joyce St., Vancouver
Pharmacist: Julia Zhu
MLA: Adrian Dix, Minister of Health
It was an honour meeting Minister Adrian Dix and discussing the pharmacist minor ailment and contraceptive prescribing initiative. It provided an opportunity for the Minister to see the work we do at the frontline at Wellness Pharmacy, and for the pharmacy team to understand the Ministry's position. The visit felt like a moment of true collaboration toward achieving the common goal of improving patient care and access, especially in light of the current healthcare crisis. I appreciate BPChA for arranging this valuable experience, and highly recommend other pharmacies to invite their MLAs to visit.
— Julia Zhu, pharmacy operations manager
Victoria-Swan Lake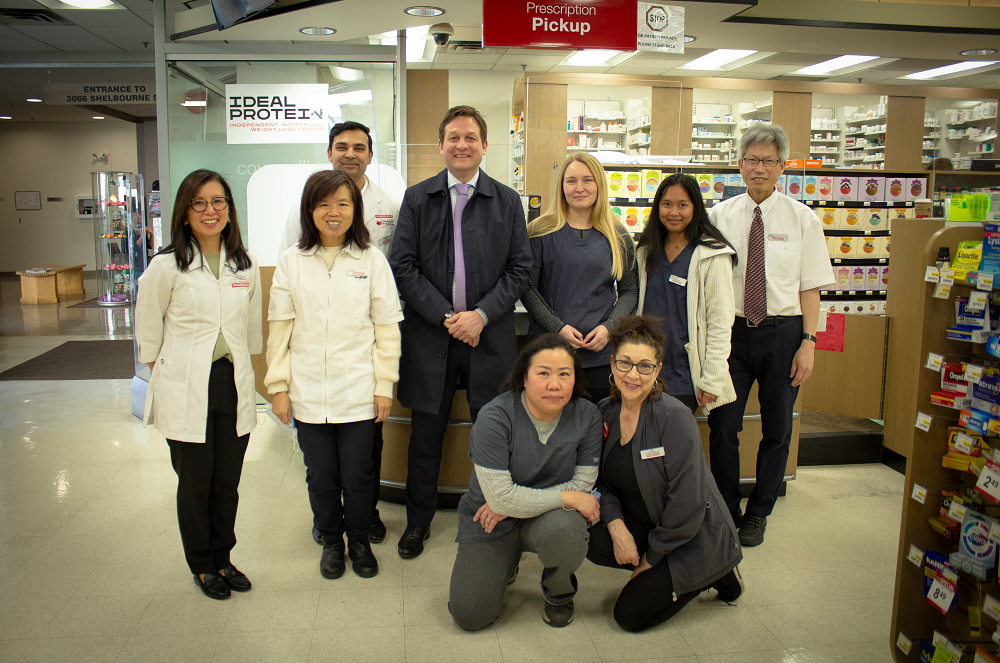 Pharmacy owner Maria Kwari (furthest left) and her team with MLA Rob Fleming (middle, in tie) at Pharmasave Hillside.
Pharmasave Hillside
1641 Hillside Ave., Victoria
Pharmacist: Maria Kwari
MLA: Rob Fleming, Minister of Transportation and Infrastructure
Minister Fleming's visit to our pharmacy was a valuable opportunity for us to show him firsthand what we do to help our community. During his visit, Minister Fleming commented multiple times that he did not realize how busy the pharmacy was. It was a great chance for him to see that many people rely on the pharmacy for their healthcare needs. He was engaged in learning what pharmacists can do to help the healthcare system and excited that we will be prescribing for minor ailments soon. I would encourage other pharmacies to reach out to their MLAs as this was an excellent way to advocate for our profession.
— Maria Kwari, pharmacy owner
Langley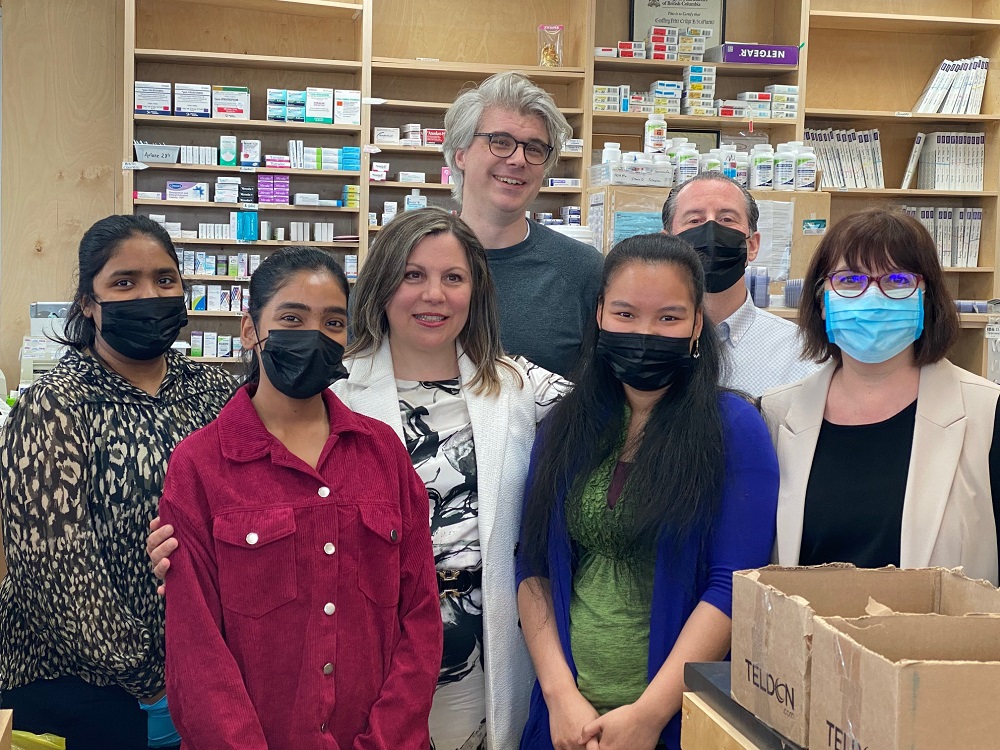 MLA Andrew Mercier (tallest in the back) with the pharmacy team at Langley IDA Pharmacy.
Langley IDA Pharmacy
101-5568 206 St., Langley
Pharmacist: Sasha Cridge
MLA: Andrew Mercier Minister of State for Workforce Development
This was a wonderful experience, shared by our staff, MLA Andrew Mercier and his assistant Aidan, and BCPhA representative Angie Gaddy. Langley IDA pharmacy was able to share their enthusiasm about the upcoming minor ailments prescribing, our deep commitment to the COVID-19 vaccination program, and how its diverse product lines support the community. MLA Andrew Mercier was very impressed, and expressed his full support for our pharmacy's dedication to the health goals of our community.
— Sasha and Geoff Cridge, pharmacy owners
Victoria-Beacon Hill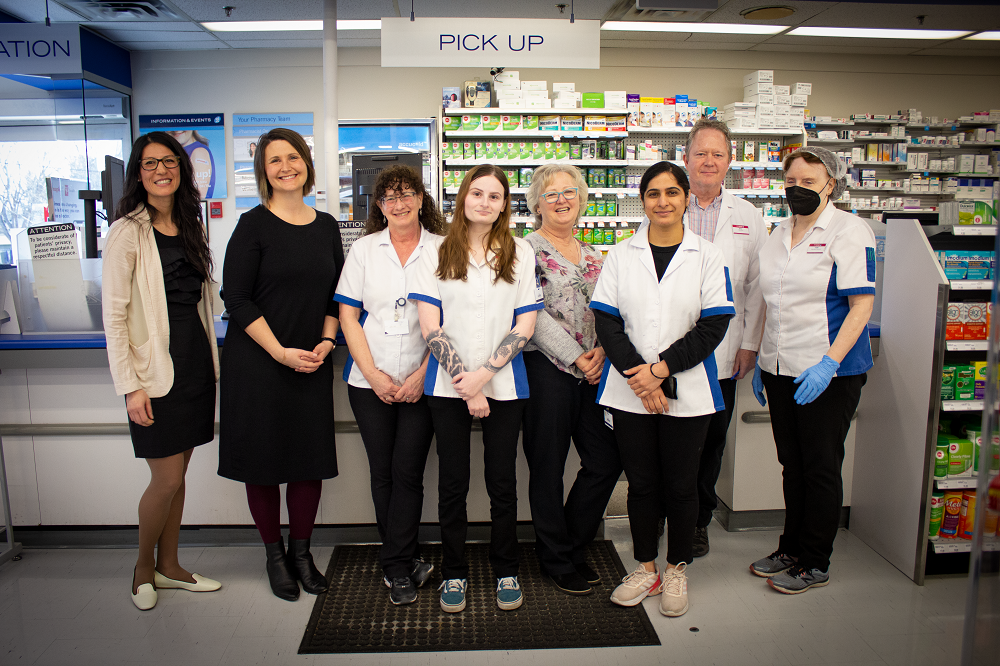 (On left) Associate owner Kim Myers next to MLA Grace Lore and the pharmacy team members at Shoppers Drug Mart #208.
Shoppers Drug Mart #208
1627 Fort St., Victoria
Pharmacist: Kim Myers
MLA: Grace Lore, Minister of State for Child Care
We really appreciated MLA Grace Lore taking the time to come into our pharmacy and learn a bit more about what actually goes on behind the scenes in the dispensary, beyond the front store, cosmetics and that OTC wall. The visit was a great opportunity to connect with her and show her some of the services we currently offer such as compounding, medication reviews, injections, travel consultations, as well as OAT services. She was very excited to learn more about the changes that have recently been made (ie. the extension of prescription expiration dates and expansion of adaptations), the upcoming prescribing for minor ailments, and how that impacts customers in our community. Having a local MLA into the store is a great opportunity to make connections within the community, give insight into what pharmacies already do as well as what we have the ability to offer.
— Kim Myers, associate owner
Vancouver-False Creek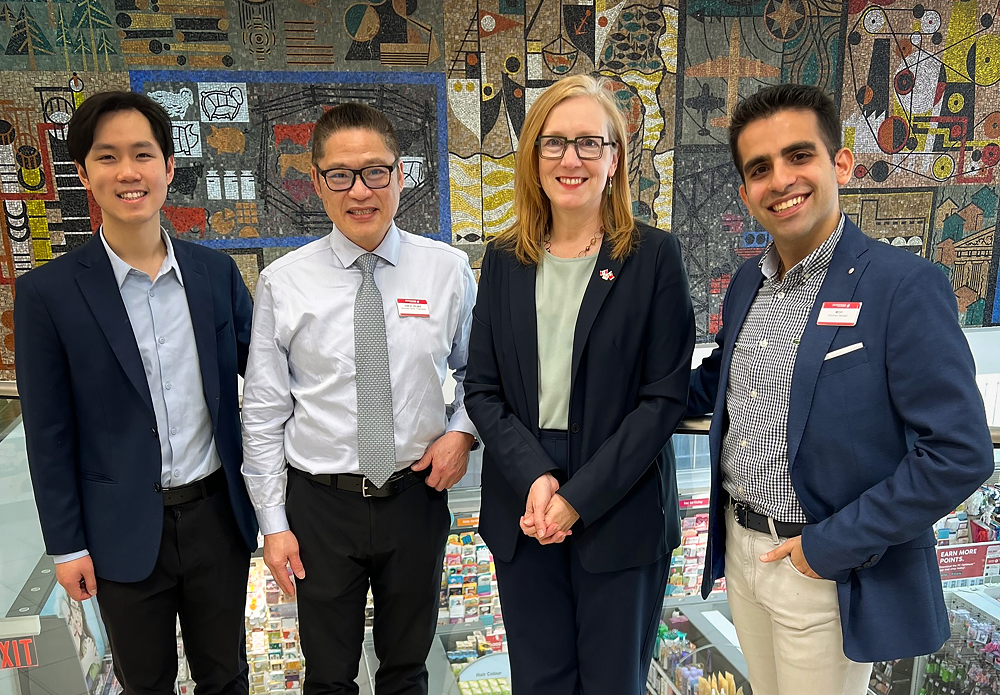 (L-R) BCPhA pharmacist Lawrence Woo, Shoppers Drug Mart associate owner Vincent Yeung, MLA Brenda Bailey and pharmacy manager Moh Kazem. Secondary photo: MLA Bailey's tour at Pharmasave Howe Street.
Shoppers Drug Mart #2277
586 Granville St., Vancouver
Pharmacist: Moh Kazem
MLA: Brenda Bailey, Minister of Jobs
This was a very rewarding experience to see how engaged members of the B.C. Legislature are in helping support and learn more about day to day experiences that pharmacists and pharmacy teams provide for our fellow Canadians. Our whole team found the experience tremendously valuable, and we were happy to hear about the initiatives that the minister was a part of to provide better access to contraceptive coverage for B.C. residents. Minister Bailey was also excited about the increased scope of practice that pharmacists have adopted for the province and how it has resulted in decreased hospitalization and better access to healthcare resources. If given the opportunity, our team would highly recommend other pharmacies to take part in this opportunity to invite their local MLA's out to meet their teams to advocate for Canadians and the profession of pharmacy.
— Moh Kazem, pharmacy manager
Vancouver-Hastings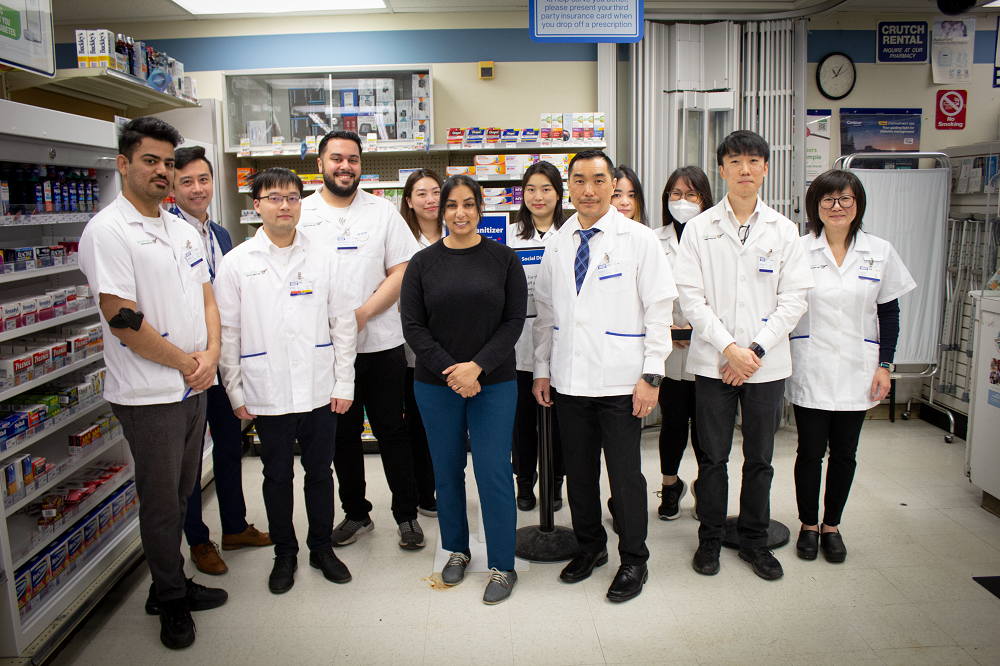 MLA Niki Sharma, Attorney General of B.C. (in black) meets with team members at London Drugs #7 on Mar. 24.
London Drugs #7
2585 E. Hastings St., Vancouver
Pharmacist: Wally Lew
MLA: Niki Sharma, Attorney General
I thought that my meeting with MLA Hon. Niki Sharma (B.C. Attorney-General) was enlightening and educational to her to highlight the pharmacist's scope of practice and our expanding role in the healthcare system, especially with the upcoming minor ailment prescribing, soon to start on June 1, 2023 in B.C. It is an invaluable experience to have an MLA visit to a pharmacy to see how pharmacies can have a true impact on our healthcare system by streamlining some of our patient care services whereby patients can access more timely healthcare when they need it.
— Wally Lew, pharmacy manager