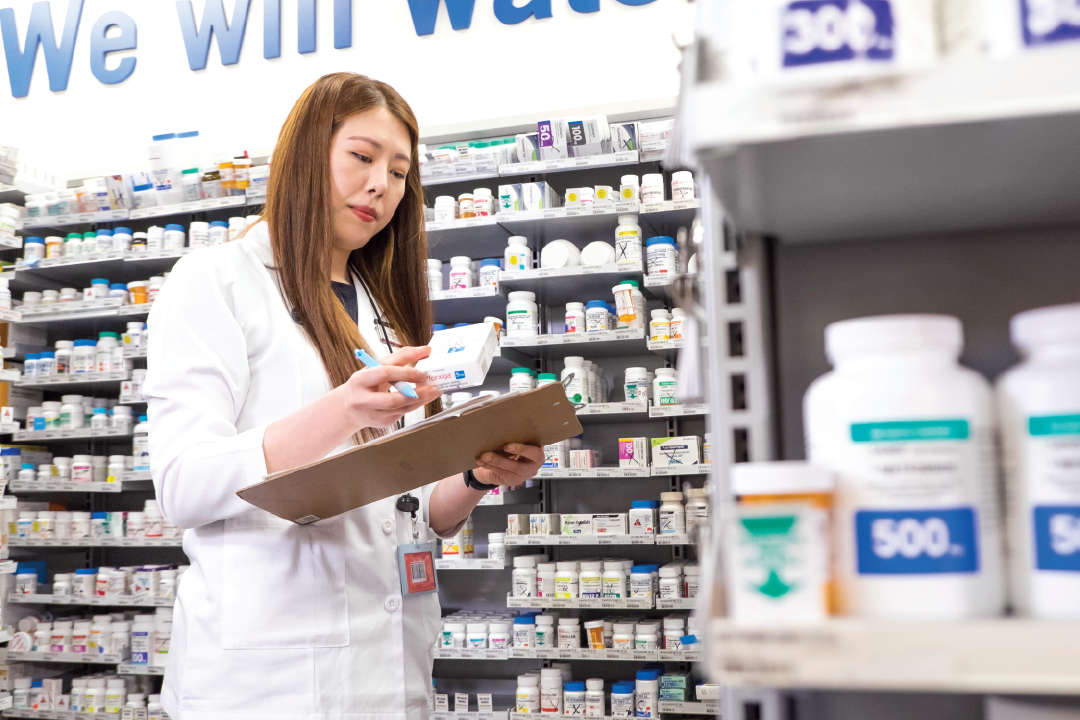 Pharmacist Soyun "Sunny" Park checks inventory behind the counter at a Richmond pharmacy. Her pharmacy manager is ultimately responsible for inventory management and has set proper procedures and ensured she and others are trained and follow them.
The BC Pharmacy Association, in partnership with the College of Pharmacists of BC, has developed a new training program for community pharmacy managers to ensure regulatory compliance, encourage best practices and offer overall guidance and support.
BCPhA manager Ann Johnston shares some useful tips on inventory management for community pharmacy managers. Watch for further resources in future issues of The Tablet or read the full series at https://t.bcpha.ca/pmtraining
Although inventory management is a primary technical responsibility, often performed by pharmacy technicians, pharmacy managers are ultimately responsible for all the functions in the role and must establish the proper procedures, and ensure pharmacy staff are aware, trained and follow the same procedures.
Under Pharmacy Operations and Drug Scheduling Act ("PODSA") bylaws section 24, the pharmacy manager is accountable for maintaining and enforcing policies and procedures to comply with all legislation, applicable to running a community pharmacy. PODSA bylaws section 18(2) outlines specific duties – this includes having proper documentation for handling all pharmacy services – such as having a process in place for inventory management from drug procurement and product selection to proper destruction of unusable drugs and devices.
Let's take a look at what inventory management may involve, as per College requirements.
1. Selecting your products
A pharmacy manager must ensure there is adequate stock in the dispensary area to provide full dispensing services within a licensed community pharmacy. When dispensing, consider interchangeability from brand to generic whenever possible. Does your staff know how to determine the interchangeability of drugs? Check out the College's drug interchangeability resource, which includes a flow chart to determine this process at bcpharmacists.org/drug-distribution. Are drugs near expiring? Rotate your stock and ensure you are not dispensing a quantity of drug that will not be used completely prior to the manufacturer's expiry date when used according to the directions of the label.
2. Receiving shipment of stock
While PODSA bylaws state that orders from drug wholesalers containing Schedule I, II and III drugs may be received without a pharmacist, they must be kept secure and remain unopened. With shipments containing narcotic and controlled drug substances, a pharmacy manager must ensure that the receipts (invoices) are signed and dated by a full pharmacist after reviewing for accuracy against the order invoice and returned to wholesaler within five working days.
3. Tracking your inventory
It's good practice to do inventory reconciliation periodically, ensuring inventory reports are verified against actual inventory and to investigate any discrepancies. For narcotic inventory tracking, ensure you practice as per the College's Pharmacy Practice Policy (PPP)-65 Narcotic Counts and Reconciliations, which outlines four components: perpetual inventory, physical inventory counts, reconciliation and documentation requirements. As a pharmacy manager, you must verify each component and date and sign off after each completion.
4. Returning your stock to inventory
For patient returns (prescription drugs, OTCs, oral natural health products) from non-residential homes, do NOT put them back on the shelves for re-dispensing! You can dispose patient returns through the B.C. Medications Return Program. Previously dispensed drugs from residential homes must not be returned to stock and re-dispensed unless they have been returned to the pharmacy in a single-drug, sealed dosage unit, or container as originally dispensed, with the labeling intact (with lot number and expiry date) and the integrity of the product can be verified. If a dispensed item has not been picked up by a patient or patient representative from your pharmacy within 30 days, you can put it back into stock but you must reverse this on PharmaNet. You can remove or blackout the patient details and put it back on the shelf, but a policy must be in place to determine the appropriate time-frame to re-dispense if the lot and expiry date are not known. While you can also reverse any "balance owed" medications on PharmaNet within 90 days, be aware of the policies in place. A revision on PharmaNet may be required in this instance for payment agencies.
5. Disposing expired and unusable stock
A pharmacy manager must establish procedures for proper destruction of unusable drugs and devices. For non-patient returns, don't just throw them in the bins belonging to the B.C. Medications Return Program – this is for patients' returned stock only. Instead, clearly identify the expired or unusable stock and store them in a separate area of the pharmacy or a secure storage area until final disposal. Either return them to the wholesaler/manufacturers or safely destroy them through a secure disposal service provider. Narcotics may be destroyed on-site – ensure you document and record the destruction information as per PPP-47 Operational Procedures for Complying with Benzodiazepines and Other Targeted Substances Regulations. The method of destruction must render the product unusable and must be witnessed by another health-care professional.