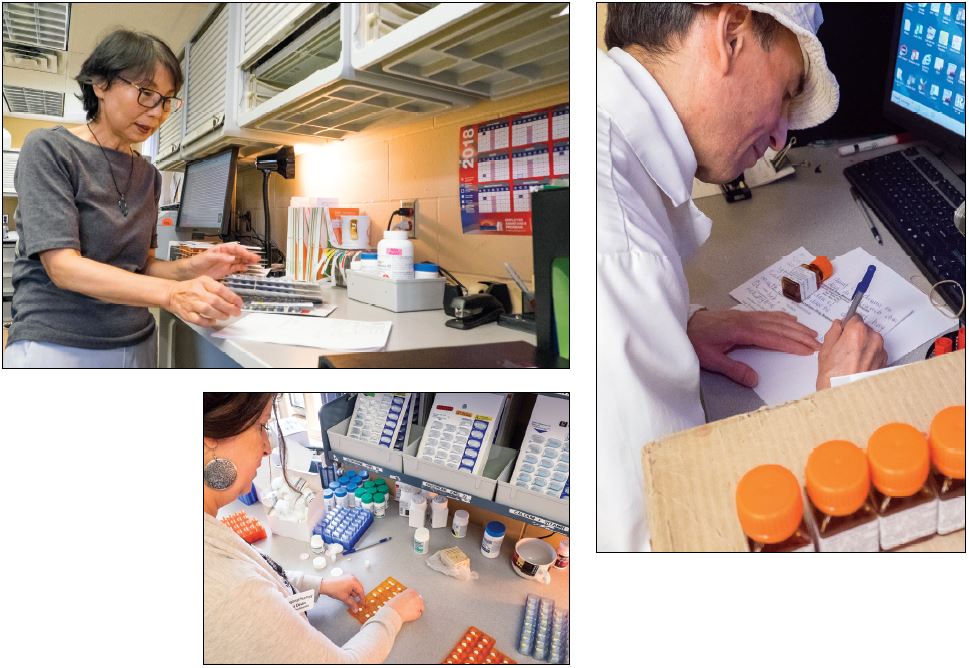 The team at Correctional Service Canada's Pacific Regional Pharmacy provide services and medications for 2,200 inmates at nine institutions across B.C. Clockwise from top left: Pharmacist Miho Rew, Pharmacist John Evans and Pharmacy Assistant Melena Devlin.
For the past 25 years, Correctional Service Canada's Pacific Regional Pharmacy has been serving the pharmaceutical needs of offenders within the Pacific region's nine institutions. From medication reviews, health services collaboration and release planning, the pharmacy team ensures inmates are set up for success both while serving time and after being released into the community.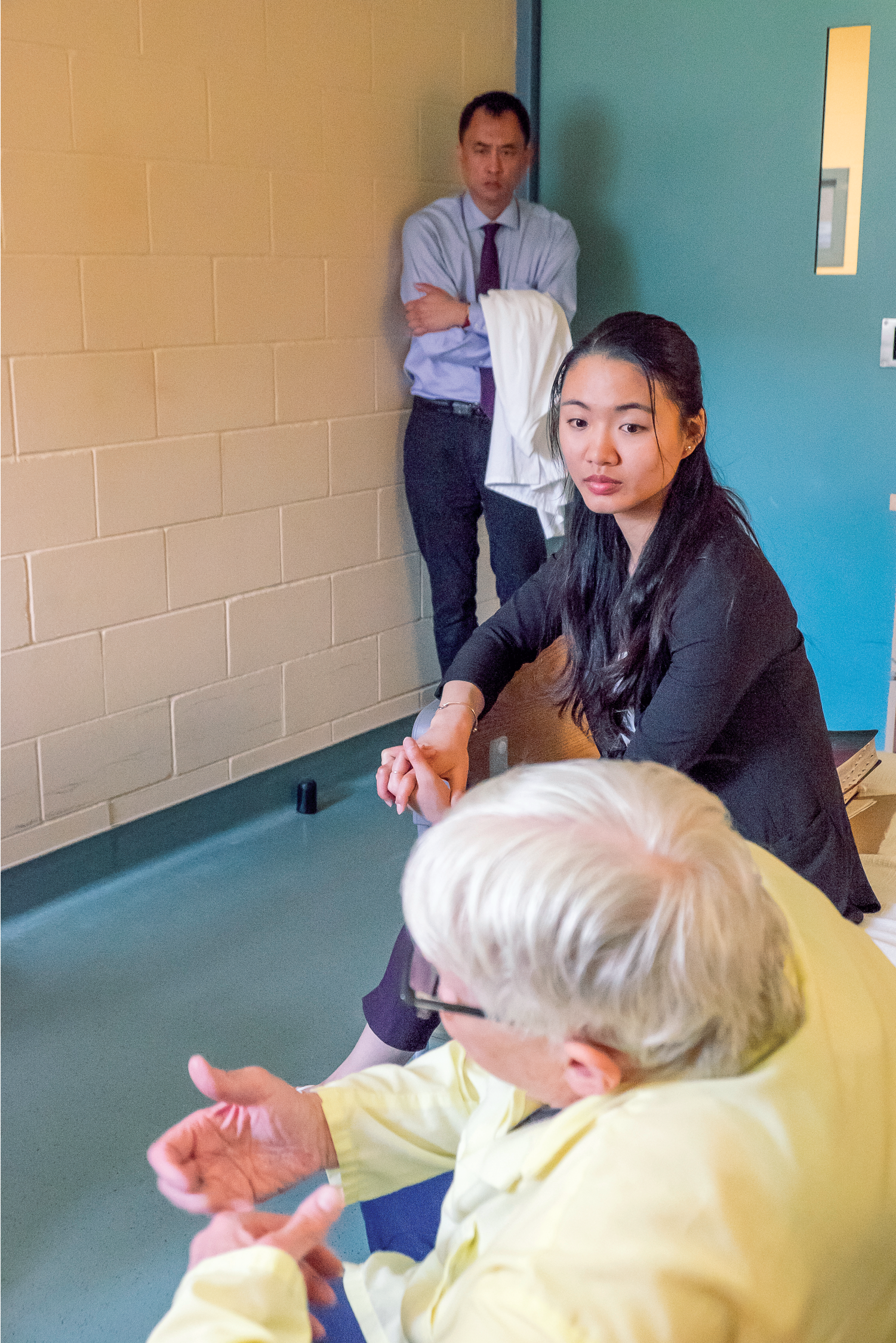 Pharmacist Felicia Yang never imagined she'd wind up behind bars.
But for the past year, she's found her passion helping inmates manage their medications from the Pacific Regional Pharmacy located within Correctional Service Canada's (CSC) Matsqui Complex in Abbotsford.
From helping patients understand their diabetes care to helping move medications over to community pharmacy when inmates are released, pharmacists play an integral role in the prison system's primary health-care team – a fact that many in the outside world might not be aware of, says Yang.
"The education piece is so important," Yang says. "Pharmacists are here to be resources. [Inmates] can be referred to us with any questions."
Take the patient who was prescribed olanzapine, an anti-psychotic drug, which may be prescribed off-label to help with insomnia. The patient had already been diagnosed with diabetes and experienced significant weight gain. As olanzapine side effects consist of weight gain and increase in blood sugar levels, Yang alerted the prescribing doctor to the potentially dangerous conflict.
"The patients may not think about it, but direct interventions from pharmacists help," Yang says.
The Pacific Regional Pharmacy is one of five regional pharmacies within CSC, with the other four located in Saskatoon, Saskatchewan; Kingston, Ontario; Laval, Quebec; and Moncton, New Brunswick. Licensed as a hospital pharmacy, the Pacific Regional Pharmacy team provides medications and supplies to more than 2,200 inmates at nine institutions across B.C. The CSC regional pharmacy service began more than 25 years ago when there was a push to include pharmacists as essential members of the inmates' health-care team, says Regional Pharmacist Jason Wong. Before that, local community pharmacies would fill prescriptions for CSC inmates.
"It's a unique practice. Not many people think of it in terms of pharmacy," Wong says of the career option. "It's not easy work, but it's rewarding."
This is the best I've ever seen in all the years. The pharmacists here go above and beyond. They have a mindset of compassion and care.
- B.C. inmate
Many patients are often in poor health when entering prison, with many presenting the health impacts of addiction – from liver disease to opioid dependence – as well as transmissible diseases like Hepatitis C and HIV. Mental health medications and opioid substitution therapy are the top two classes of drugs dispensed. The team ensures all medications are provided in a safe manner, identifying potential drug interactions or inappropriate doses. Yang and her four pharmacist peers also conduct clinical activities, such as patient consultations through video conferencing, and set up education days for patients.
"I really think in this lifetime – at a minimum – you should do the best you can and help as many patients as you can. In our case, it's through medication and pharmacist-patient teaching," Wong says. "They deserve the same quality of care as any other patient in the community. They know we believe this and see us there to help them."
Known for its innovation, the Pacific Regional Pharmacy is the first to offer video consultations with pharmacists for patients in CSC facilities across B.C. The pharmacy has implemented talking labels on bottles and blister packs for visually impaired patients using radio-frequency ID (RFID) tags and text-to-speech software. A battery-operated base station reads the medication label and instructions out loud for patients with visual impairments. There are currently two inmates using this system, and they hope to be able to increase it and even expand to other languages.
"With the aging population, we will need this in the future," says Torey Swindells, a pharmacy technician. "It really helps with medication compliance."
By the numbers: Fast facts on Pacific Regional Pharmacy
Number of staff members: 11
Years in existence: 25
Number of facilities served: 9
Number of inmates served: More than 2,200
The pharmacy has also introduced the release-planning model, which has nurses, physicians and pharmacists working together to make sure inmates being released into the community have access to the medications they need as part of continuation of care.
For Jaymie Kennedy, Chief Nurse of Health Services at the minimum-security William Head Institution in Victoria, the Pacific Regional Pharmacy staff are key members of the health-care team. William Head Institution has many offenders working towards their transition to the community. As they transition to employment some will need to access Fair PharmaCare, which plays an important role in making sure the cost of medications is covered. As the CSC drug formulary may be different than B.C. PharmaCare's formulary, medication reviews are essential.
"The Regional Pharmacy is very valuable to our institution. The pharmacists will review the meds they are on and if they can't get it, they recommend switching meds," Kennedy says. "It gives the doctor here the time to get the meds changed and monitor their usage before they are released."
Pharmacists also do assessments for patients who are doing their own self-care. In the prison's canteen, inmates can buy over-the-counter Nonsteroidal Anti-inflammatory Drugs (NSAIDs) like ibuprofen. The pharmacy team makes sure that patients, who might already be on NSAIDs in their daily blister packs, aren't taking too many or duplicating their medications.
It's this kind of care that has helped improve life quality for a 63-year-old prisoner suffering from lung capacity and mobility issues. He is on multiple medications for pain, high blood pressure, opioid substitution (methadone), insomnia, respiratory and mental health conditions. Yang visits him regularly to check on his medication adherence, side effects and to answer any questions he has about his medication.
She set up medication charts for him to follow making sure he remembers the times of day and the amounts of each medication.
In and out of the prison system since he was 17, he says the treatment and care he receives now is like no other he has experienced. "This is the best I've ever seen in all the years," he says. "The pharmacists here go above and beyond. They have a mindset of compassion and care."