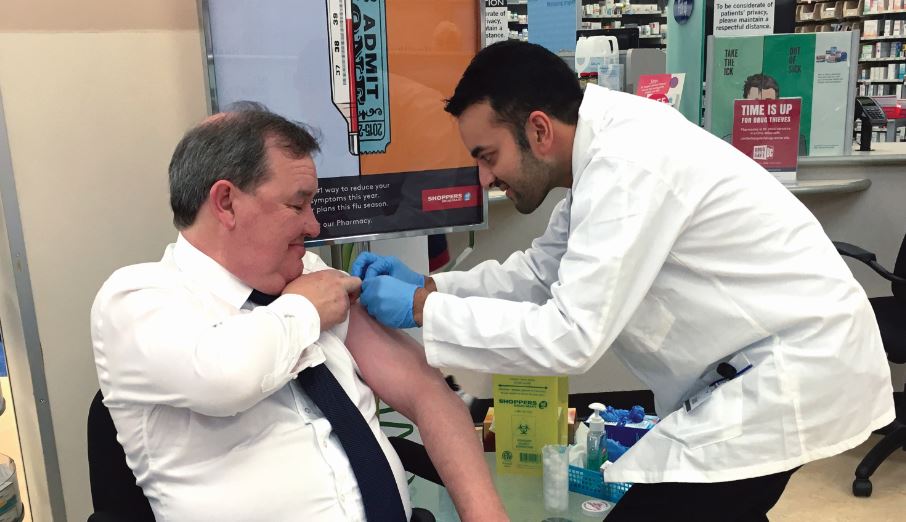 MLA Shane Simpson (Vancouver-Hastings) received his influenza vaccine from Pharmacist Anoop Khurana during the 2015 flu season. B.C. pharmacists have a role to play in immunizations beyond the flu.
In 2002, my wife, son and I were put on a 'Black List.' My wife, who was 38 weeks pregnant, and my three-year-old son both had upper respiratory infection symptoms, with my son's nasal swab confirmed to be pertussis (despite having his immunizations up-to-date). We were all placed on antibiotics and planned for a delivery in isolation at the maternity ward, should my wife go into labour before completing the antibiotics. While, fortunately, my daughter was born three weeks later, antibiotics were finished and respiratory symptoms had resolved, this whole scenario might play out differently today.
In March 2018, Health Canada's National Advisory Committee on Immunization (NACI) issued an update to recommend that immunization with the tetanus, diphtheria and acellular pertussis (Tdap) vaccine be offered to all pregnant women, ideally between 27 and 32 weeks of gestation, but also that it may be considered from 13 weeks up to the time of delivery in some situations.
Immunization recommendations are always evolving; the use of Tdap in pregnancy is just one of the most recent examples. As newer vaccines come to market and as studies explore new indications for existing vaccines, it is important to stay current and know where to access the most current information (see sidebar on page 27 for resources).
Pharmacists are well placed to play an important role in vaccine provision in British Columbia. This role includes both providing immunizations and client education. Education can include answering immunization-related questions, screening for unmet immunization needs and providing counselling and follow-up that reinforces prescriber recommended immunizations. Together, these services put pharmacists on the front line for improving the rate and extent of immunization protection for adults in B.C.
While pharmacists have embraced their role in improving access for annual influenza immunizations, thinking beyond publicly funded influenza vaccines are a key component to ensuring pharmacists help meet overall public health strategies. In addition, development of newer vaccines and changes in national and international recommendations have increased the number of Recommended but Unfunded Vaccines (RUVs) – a vaccine not part of the publicly funded program.
For example, NACI's current recommendation for adults over 65 years of age for individual immunity is that High Dose Trivalent Influenza vaccine (HDTIV) be offered over the standard dose trivalent product (TIV). This becomes especially important in those who have a high risk of influenza complications. Comparison of HDTIV vs. Quadrivalent Influenza Vaccine (QIV) cannot currently be made and there are no recommendations by NACI in this respect.
When considering immunization needs for a client you should ask yourself:
What unmet immunization needs does this client have that may qualify for a publicly funded vaccine?
Does this client fit into a category that may benefit from an immunization that is recommended but not currently funded by the public program?
Improved screening for both publicly funded and RUVs provides many opportunities for pharmacists to make valued contributions to patient immunization protection. Consider these screening opportunities:
Medication reviews/reconciliation
When clients present for other immunizations; an excellent opportunity is during influenza immunization season – include a question about other vaccines on the consent form (history for tetanus/diphtheria, pneumococcal and zoster immunizations are an ideal starting point)With changes in health status (new diagnoses, new medications, pregnancy) and milestone ages (50, 60 or 65) that may expand immunization indications.
While the cost of RUVs may present a barrier, many clients will have third-party insurance coverage that may assist with these costs. Keep in mind that third party payers often require a physician's prescription for coverage. Remember to always notify the client's physician for all immunizations provided. For clients under 19 years old receiving immunizations other than influenza, you can also notify your local health unit. You can also add a clinical note to PharmaNet so that vaccination information is viewable for longer than the standard 14 months. Follow-up is essential for tracking adverse events and for ensuring clients complete multi-dose vaccine schedules.