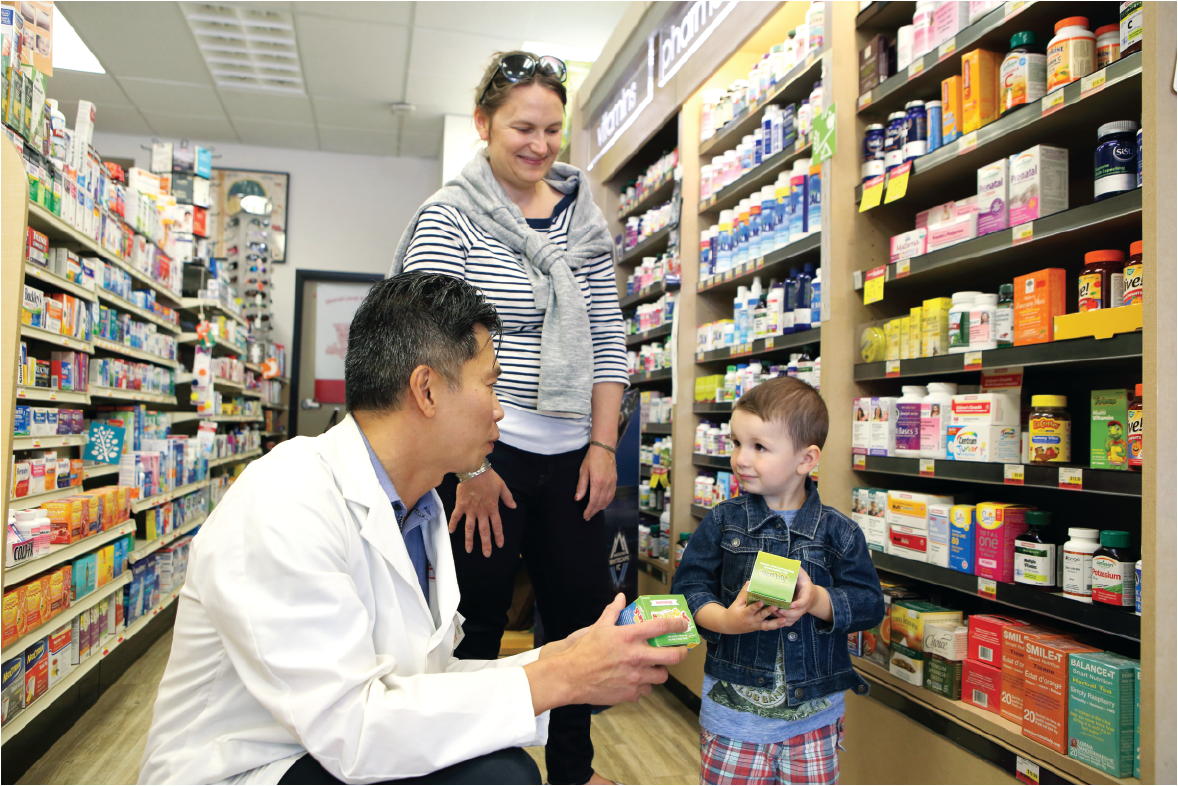 Pou speaks French with three-year-old customer Milenko Foucault and his mother Celine, originally from France. The young family is one of many in the Commercial Drive neighbourhood that frequent Pou's pharmacy and simply drop by to say, "Bonjour."
For the last eight years, French-speaking Vancouverites have found a safe haven in the Pharmasave on Commercial Drive, co-owned and operated by pharmacists Kunakar Pou and wife Ja Kyung Kim. While the pair – both fluent in French – didn't set out to open a bilingual pharmacy, it didn't take long to realize the unique need within their neighbourhood. Not a day goes by without Pou speaking French with at least one of his regular clients, who will often pop by just to say, "Bonjour!"
"Since I moved, I've never spoken more French than here on Commercial Drive," says Pou, who moved to B.C. from Quebec in 1993 after meeting Kim.
Pou has spoken French his whole life – first as a second language in his native Cambodia and then as a student, after immigrating to Montreal in 1976 with his family, at the age of eight.
In addition to their Francophone community, the pharmacists have embraced their local clientele, tailoring services to meet the strong demand for overall wellness and alternative therapies through a thriving compounding business and strong inter-professional network.
What led you into pharmacy?
For me, it was a natural fit. I was drawn to a profession caring for people. Growing up, we were strongly encouraged to help my grandparents as well as other family members. I also have other family members who chose a career in the health care field.
Having lived and studied in Quebec, how did you end up practicing in Vancouver?
I completed both a bachelor's and master's degree in Pharmaceutical Sciences, at the University of Montreal. I met Ja while doing research. We completed our master's degree in 1993 and decided to settle in Vancouver. I worked in various community pharmacies before opening this Pharmasave location on Commercial Drive. I was interested in setting up a practice focused on taking the time to talk to my patients. I wanted to hear their stories and work toward their health goals. We strongly emphasize educating, or more accurately, learning alongside our clients. This is very much in line with what we're hoping to achieve in our pharmacy practice.
Your pharmacy caters to French-speaking Vancouverites. Was this your goal, or did it happen naturally?
I have always thought of language as a tool. When I originally moved to Vancouver, I never expected to be speaking French on a daily basis. It just so happens that there are a lot of Francophones in this neighbourhood. Each language affords specific ways to express health issues and it is helpful to use the most precise way of sharing information. We didn't plan it this way, but our entire pharmacy speaks French, including our locum pharmacist.
What are some unique aspects of practicing pharmacy in your neighbourhood of Commercial Drive?
I was surprised by the young demographic in this neighbourhood. There is a strong emphasis on natural products and alternative therapy treatments. Optimization of health is never limited to just the medication; it is one piece of the puzzle. It is more of a whole person, nutrition and lifestyle approach. Our clients arrive with relevant questions and we learn together on the latest trends in alternative therapy choices. Our compounding services focus on meeting client demand, whether human or beloved pet. We work with many patients, from those who cannot swallow tablets or capsules to pleasing a finicky cat who refuses most formulations. It's really encouraging and rewarding as a pharmacist to listen to what the patient wants and to be able to meet their needs. It's a team-based approach, working with naturopaths, psychiatrists, GPs and tailoring the treatment to the patient. It feels great to be such a part of the neighborhood and my community. We love being part of the Commercial Drive village.
What do you feel are some of the most important issues facing pharmacy now and in the future?
There are a lot of patients that don't have GPs, so there's a lack of follow-up. I would like to see an expansion of our scope of practice within areas such as prescribing for minor ailments – things like cold sore treatment, conjunctivitis, nail fungal infections. We also receive a lot of questions about the legalization of marijuana and the products that comes from the marijuana distribution locations. All of these new emerging areas impact our clients and our practice. Appropriate safeguards and proper training will help the pharmacists move into an expansion of our role as a health-care team member.
Why do you think it's important to be a member of the BC Pharmacy Association? What value does it bring to your career?
The BC Pharmacy Association offers a strong voice for pharmacists when negotiating with the government. The Association also helps to carve out new territory, everything from the inclusion of pharmacies in the distribution of naloxone kits, support for the pharmacist-led flu vaccination programs and the introduction of genetic testing that may impact tailoring of treatment.