Sukh Sidhu
Collaborative Care Award
Title Owner and Pharmacy Manager
Workplace Pharmasave Fort Langley
Location Fort Langley
On any given day, Sukh Sidhu might take an hour to get home after work. But it isn't due to a long commute. Rather, the self-described "people-oriented" pharmacist gets busy chatting with the many patients he encounters along the way.
"It's a very tightknit community," says Sidhu of Fort Langley's charming village environment.
A community pharmacist since 2004, Sidhu's career trajectory took a leap when he inquired about a job with Fort Langley Pharmasave's then-owner, Firoz Jiwani. Sidhu got an unexpected offer to partner in the business.
Buying into the store in 2011, Sidhu inherited not only a roster of longtime, loyal customers but also an established relationship with local family clinic, Fort Family Practice. He quickly ingrained himself into the fabric of the community where colleagues and patients "have welcomed us into their circle of care," he says.
Striving to provide superior clinical services for his patients, one of Sidhu's first tasks in his new role was to complete the ADAPT course in 2013, which he says gave him confidence in his ability to communicate effectively with prescribers, interpret laboratory results and provide more patient-oriented care.
"By slowly implementing changes, step by step, where we do more clinical work, our physicians have understood the asset that we can be to them," he says.
The foundation he laid as a collaborator with Fort Family Practice paid off, when just one year later, Sidhu's pharmacy was asked to join the clinic as a co-tenant in a brand new commercial space. As health-care partners, the pharmacy and clinic challenged the status quo.
"From the very beginning, we asked ourselves if we could do things differently and be more active in patient care than the typical pharmacy," he notes.
As the medical building was constructed, the partners factored in having an Ethernet connection between the two floors and a shared phone system. Patients of Fort Family Practice who wish to patronize Sidhu's Pharmasave are asked to sign a consent form that allows their files to be seamlessly shared with the pharmacy, offering full access to laboratory results, physician notes and updates.
This allows Sidhu's team to document patient encounters, reconcile medication changes from other prescribers, update the patient's list of medications, document vaccinations administered by the pharmacy and streamline communication with the prescriber via instant messenger. This enhanced collaboration offers a more complete record of a patient's history and may contribute to improved outcomes, he says.
"This model works for us because of the location and the uniqueness of the clinic that we work with," says Sidhu, noting the Fort Family Practice team is very open-minded and collaborative. "But it's taught me to think more clinically in general. We can go chasing patients' information if we need it."
As patients from Fort Family Practice make up about 60 per cent of his business, Sidhu empowers his remaining patients to engage in positive health outcomes by accessing their own data such as laboratory results online.
Sidhu is also involved in providing pharmaceutical care for his community's local First Nations band, the Kwantlen First Nation. Collaborating closely with the band's community health nurse, Sidhu offers home visits, educational seminars on relevant topics such as diabetes and men's health and drug coverage oversight. Since transitioning to PharmaCare's Plan Wellness in 2017, mounting coverage issues led Sidhu to offer a bold plan — that no patient had to pay out of pocket until reviewed by Sidhu.
Ultimately, Sidhu managed to have about 90 per cent of the band's claim issues resolved, thereby avoiding unnecessary stress and financial burden for his patients: "We made sure there was no interruption to their drug regimen."
Sidhu was later asked by the FNHA to share his experience with several insurance representatives to help address the issues affecting FNHA clients in Langley and across B.C.
As a passionate care provider, Sidhu's focus on clinical services is evidenced through his staffing model. At all times, he has two pharmacists and two assistants on the floor, allowing ample opportunities for injections, med reviews and physician collaboration. And when Sidhu needs to work out an issue with his extended health team, he simply walks upstairs.
"They have an open door policy with us. It makes us feel great knowing we are like members of their team."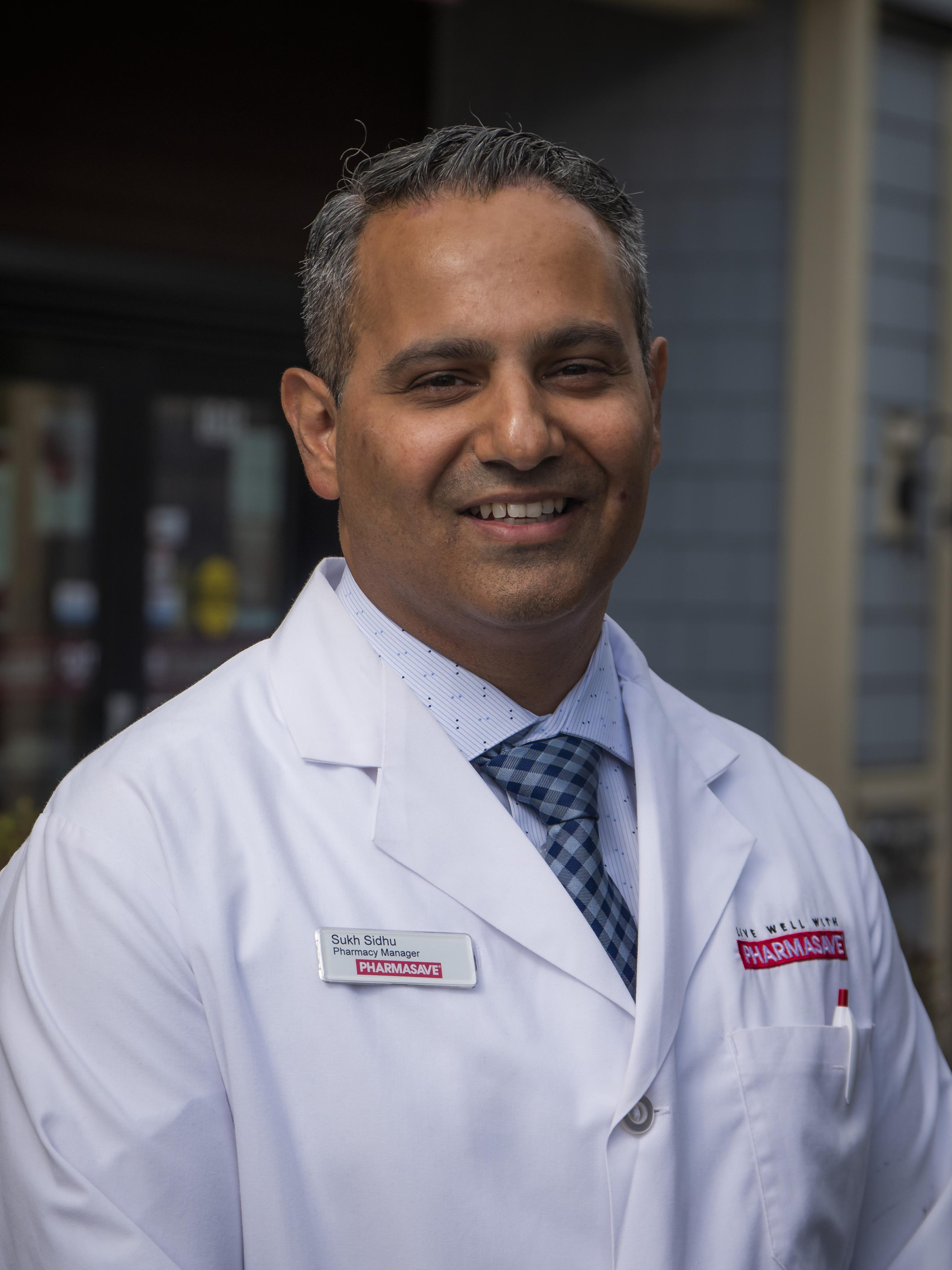 Dr. Andre van Wyk
Friend of Pharmacy Award
Title Physician
Workplace Fort Family Practice
Location Fort Langley
One of the oldest practices in Langley, dating back to the 1950s, Fort Family Practice is a bustling community clinic run by a group of six family physicians, who work collaboratively with a team of nurses and licensed practical nurses.
One of the team's physicians, Dr. Andre van Wyk, was drawn to the clinic's alternative model of care when he relocated to Langley from Manitoba in 2002. Medically trained in his home country of South Africa, van Wyk immigrated to Canada in the early 1990s and worked in several small towns across the country until settling in Langley.
Passionate about patient empowerment, van Wyk sought a better way to provide patient care to not only allow for greater patient choice but also cut down on wasted health-care dollars spent on preventable medical services.
"I am passionate about patient choice and patient empowerment," he says. "About each individual picking up their own burden as best they can."
Rather than the typical fee-for-service model, where physicians are paid per patient visit, Fort Family Practice operates on an alternative payment plan, where the practice receives a fee, based on the average cost of caring for patients in B.C.
"The thing that attracted me to this model of care is we are able to divorce the immediate action from the immediate reward and look at the long-term outcome for the patient," van Wyk says.
Motivated by a foundational desire to seek positive outcomes for its patients, in addition to its alternative fee structure, Fort Family Practice's guiding principle is to encourage patients to take charge of their own health outcomes.
One way van Wyk and the practice works toward that goal is by collaborating closely with pharmacists, and more specifically the Fort Langley Pharmasave owned and managed by pharmacist Sukh Sidhu. With a longstanding partnership in place long before either van Wyk or Sidhu were in their current roles, the two patient-oriented businesses have been partners in providing patient-centred care for the local community.
"The pharmacy has always had a reputation for being community-oriented and looking at long-term outcomes of patients," says van Wyk. "That fits well with our philosophy."
Van Wyk says he regularly relies on the medical expertise of Sidhu and his team, and that through working collaboratively with the pharmacy, the practice is better able to provide "wrap around care" for the patient, ensuring more consistent outcomes.
Pharmacists are essential members of the health-care team, offering a different perspective on the same set of problems, he says. They look at drug interactions more thoroughly and have a more intimate knowledge of the patient's financial status and overall lifestyle.
Therefore, it was only fitting that when the nearly 65-year-old practice was ready to move into a brand new building in 2015, they invited Fort Langley Pharmasave to move into the building's street-level retail space, right below their practice. Although he's quick to point out that the two businesses have separate entrances and operate independently of one another (to give patients choice of care), he also champions the collaborative care network, encouraging patients to share their records with Sidhu and regularly consulting on shared patients via their mutually connected software and phone systems.
"When the pharmacist can see a patient's records, it gives wider access to what's actually going on and they can serve the patient better," he says. "If a patient has a relationship with both a primary care team and the pharmacy that is part of that team, how could it not improve care?"