L-R: Lucy Zhou, Marcus Lo and Lilyan Jia of Team VaPE!
A project to develop pharmacy resources to help patients stop vaping took home the top prize in the BC Pharmacy Association's 2021 Student Video Competition.
Vaping – a relatively new term used to describe the act of inhaling heated liquid nicotine using electronic cigarettes – is a growing habit among young people, and to date, there are few if any successful programs in pharmacies helping patients quit the vape. The three-member Valient Pharmacy Effort (VaPE) team, notably the smallest team in the competition, decided it was time to change that. 
Team member Marcus Lo noticed the lack of current resources to guide patients towards vaping cessation first-hand during his first-year practicum, when a patient complaining of chest palpitations came into the store.
"He was prescribed a patch and he was trying to stop vaping, but he was experiencing heart palpitations because the patch was too strong," Lo said. "The pharmacist wasn't sure what to do and just said, 'stop using it, we'll give you a lower strength patch.' It was a guessing game."
The reason Lo's pharmacist had to guess was because there are no current resources available to pharmacists to identify the appropriate-strength nicotine replacement therapy product tailored to individual patients' vaping consumption. With thousands of vaping products on the market, all available at differing strengths, there is no singular answer on how much nicotine an individual absorbs when vaping.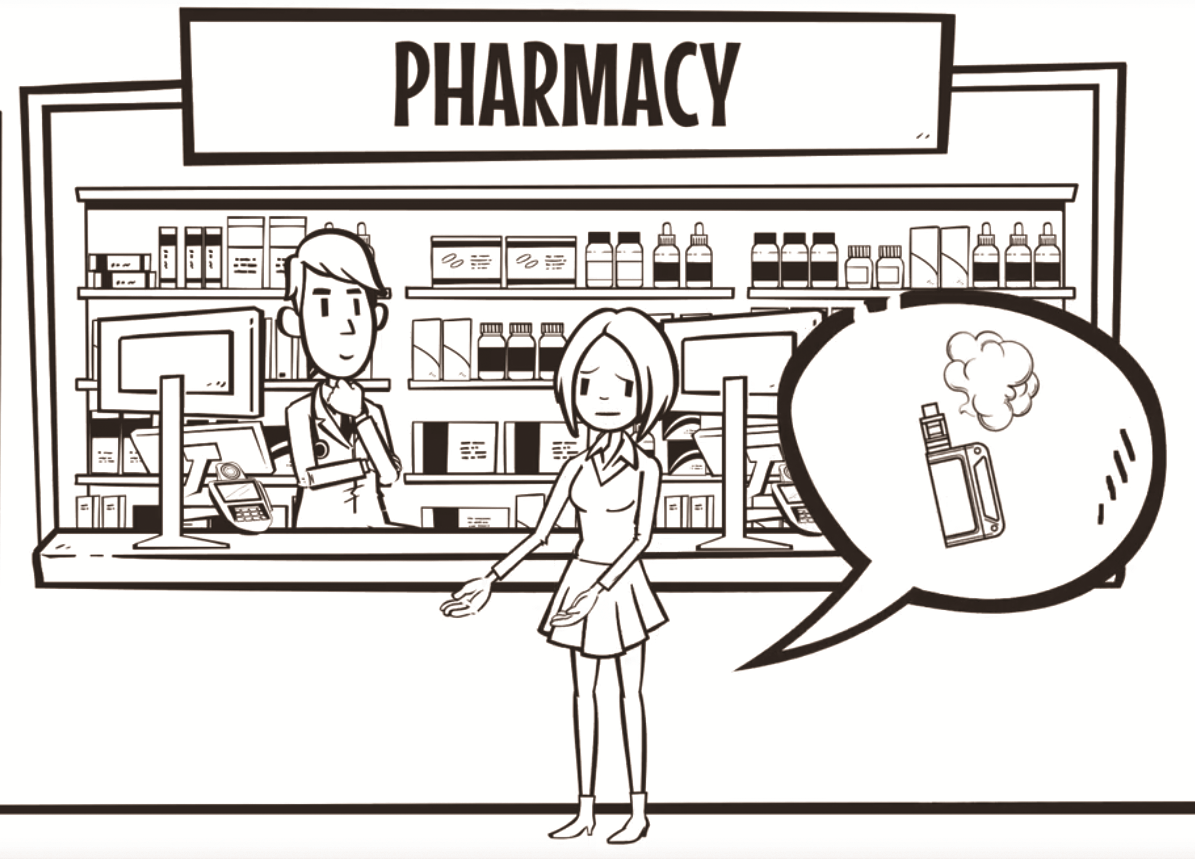 Team VaPE decided to focus their project on creating an online vaping-cessation resource after noticing that there was a lack of resources for pharmacists to counsel patients who wish to quit vaping.
But as luck would have it, the team did identify one leading vape company – Juul – estimated to capture about 35% of vape users, along with research papers that provided information on nicotine absorption among users of Juul products.
Team member Lilyan Jia said the team decided to propose a website: vapingcessation.ca. The site would incorporate the research on Juul products, along with nicotine absorption information from other companies, to help pharmacists determine the best nicotine replacement therapy dose by asking a series of questions about vaping habits to rank a patient's nicotine dependence.
"We wanted to create a resource that was readily accessible," Jia said. "We've seen a lot of amazing clinical tools in class created by our faculty members, and that was something we were inspired by. We wanted to do something similar."
Jia said the video project was a great test of some of the skills pharmacy students are taught, including problem solving, identifying gaps in research, and seeking out and analyzing trustworthy evidence.
Lucy Zhou, the team member who animated VaPE's video presentation, said the project has already helped her provide a teen with smoking cessation advice, with a referral to the teen's doctor for behavioural intervention.
But if the project were to expand into real life, Zhou said, the next challenge for the team would be to collect nicotine absorption information from all the other companies who offer vaping products.
"The first step would be to get more information from various vaping companies so we can convert the information to appropriate nicotine replacement therapy doses," Zhou said. "The future step would be to collaborate with clinicians and others who are currently involved with smoking cessation to create a website or guidelines to help disseminate the information."
As for funding, the team anticipates reaching out to existing government resources that have earmarked grants for smoking cessation.
To see all the student videos, please visit bcpharmacy.ca/2021-student-video-competition
Team summaries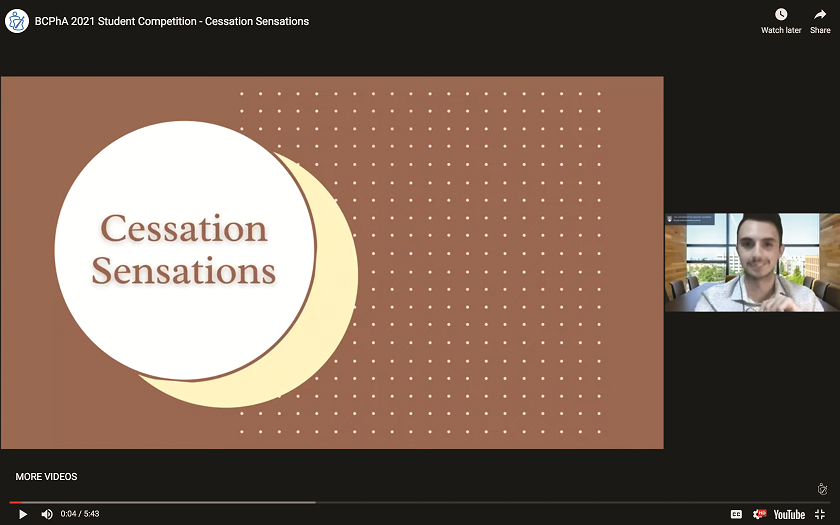 Cessation Sensations hopes to create a solution to increase the abstinence rates among those who want to quit the use of tobacco products. The group proposes an individualized, patient-centered, smoking cessation clinical service delivered by a Certified Tobacco Educator. Patients will have a smoking cessation action plan where they will be asked to document their reflections, and followed up with biweekly patient-pharmacist consultations. The program focuses on patients who have been unsuccessful at abstaining using the BC Smoking Cessation Program. Patients will pay a $29.99 monthly fee plus the cost of their nicotine replacement therapy products.. Team: Parsa Shahbazi-Amin, Gurtinder Bisla, Ali Smaha-Muir, Amy Jradi, Maya Zelembaba, Noorden Haji and Neelam Hundal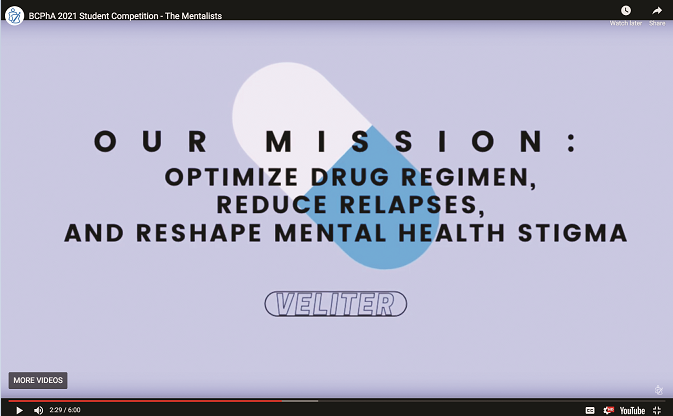 The Mentalists (3rd place) team aims to ensure the wellbeing of university students through a clinical service targeted towards students in the 18 to 25 age group, with an overall mission to optimize students' drug regimen, reduce relapses and reshape mental health stigma. The group proposes its "Veliter" program at a campus pharmacy, in partnership with a psychiatrist, in order to expose young patients to pharmacy care. Veliter will be offered from 4 p.m. to 10 p.m. daily, accepting walk-ins, appointments and online consultations to help students with their mental health challenges. Students would be charged $45 for their first 30 minutes of one-on-one consultation, where the pharmacist would help the patient create an action plan suited to their mental health. Team: Eric Jeong, Brian Lin, Ginny Chen, Dale Paul, Grant Guo and Celia Dossot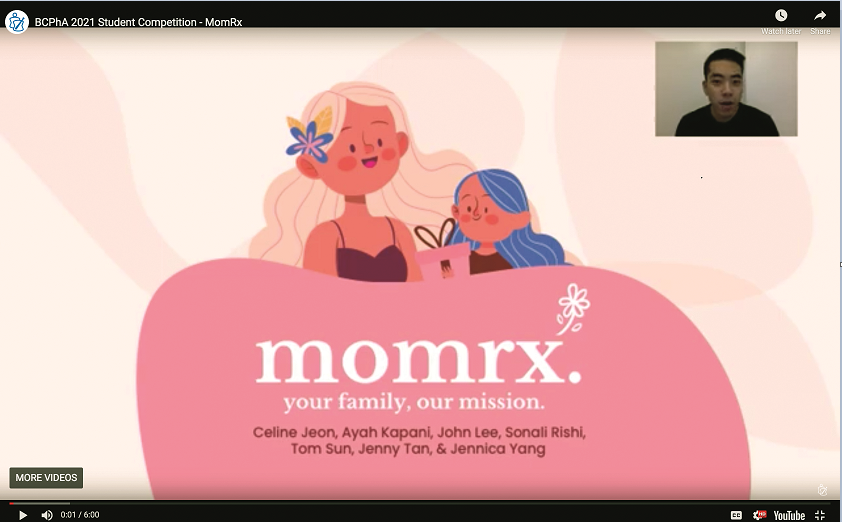 MomRx (2nd place) plans to develop a clinical service that focuses on pharmacist-led medication consultations with a focus on maternity and women's health. The service works by first having patients conduct a survey about their health, followed with an optional consultation with pharmacist, to selection of health products, with products organized in a daily regimen, delivered monthly to the patient. The product would be delivered in a Kerrisdale pharmacy, selected for the growing number of families in the area and high traffic. Clients will be charged a monthly subscription of $49.90, with additional revenue to come from medication reviews and over-the-counter product mark-ups. Team: Celine Jeon,
Ayah Kapani, John Lee, Sonali Rishi, Tom Sun, Jenny Tan and Jennica Yang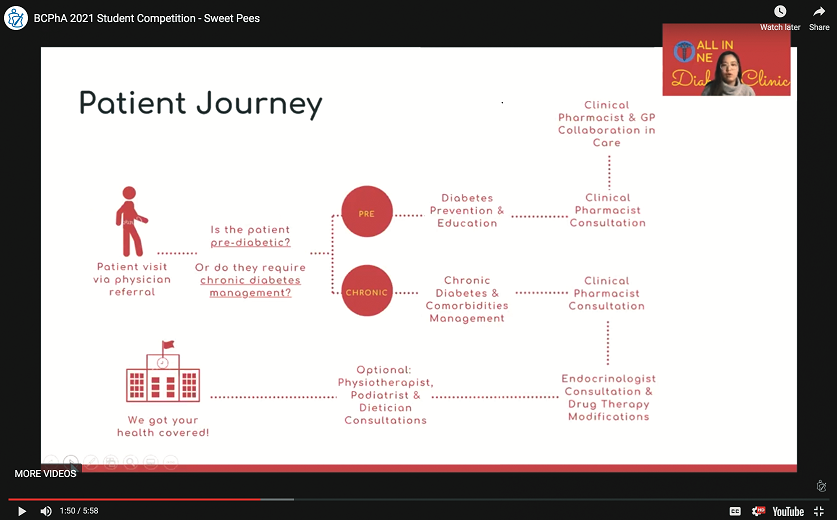 Sweet Pees proposes an interprofessional diabetes clinic for the Surrey community, aiming to provide diabetes education, prevention and chronic management services for patients referred to the clinic by physicians. Surrey was chosen due to the large number of residents of South Asian, Asian and Filipino descent and the higher risks these populations have to develop diabetes. All pharmacists serving the location will be Certified Diabetes Educators. Pre-diabetic patients referred to the clinic will receive diabetes prevention and education by a pharmacist, while chronic diabetes patients will receive diabetes and comorbidities management in consultation with a pharmacist and endocrinologist. Group members: John Antelo, Giordano Bua, Sylvia Chung, Dildeep Gill, Matthew Mah, Cecilia Qiu, Catherine Zang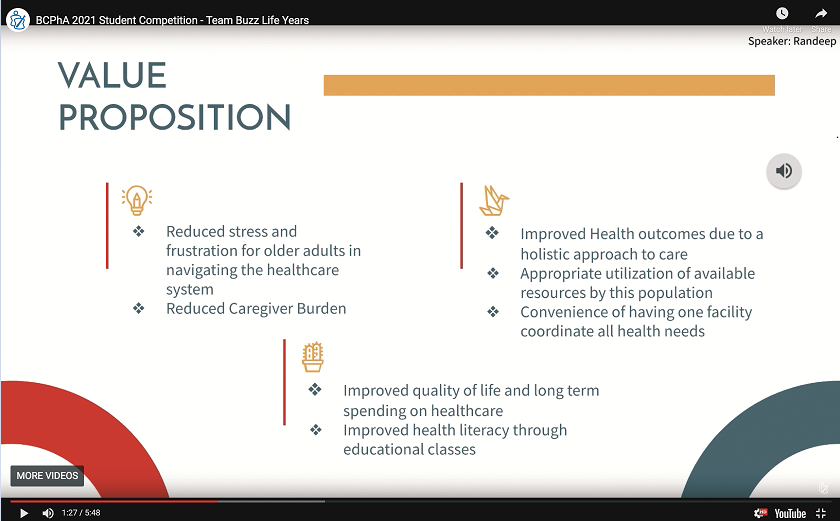 Team Buzz Life-Years - GPS Pharmacy prepares to target the older-adult patient in the White Rock region through a monthly health-monitoring subscription. Patients receive a consultation to discuss everything from medication management to transportation. The pharmacy will hold one to two educational classes for seniors health each month, and health monitoring will include monthly follow-up phone calls in addition to referring patients to relevant health-care practitioners, including making appointments on patients' behalf. The cost for the subscription would be an orientation fee of $40, with an ongoing subscription of $39.99 per month. Group members: Randeep Dhillon, Jasmeen Dhaliwal, Jonah Khanna, Jasmin Jhaj, Arman Gill, Tejeshwar Dhadial and Manrubby Dhillon