By Parm Johal, BSc(Pharm), RPh
The COVID-19 pandemic and the additional demands brought onto health workers across Canada was a perfect storm. In British Columbia, from early on, the government began setting up vaccination clinics for at-risk populations, which required the use of community vaccine providers such as pharmacists and licensed practical nurses to help administer injections.
This began putting a strain on the labour system relied upon by community pharmacies. We began seeing some of the initial impacts from pharmacists we would rely on for on-call. Normally, when something came up, there was the possibility to call on pharmacists who were off-shift or on the pharmacists pool within our organization to see if they were available. Some of those pharmacists were no longer available, and this particularly affected our long-term care services team.
The pandemic also impacted support staff. Federal wage subsidies for the pandemic meant that it was becoming harder to retain support staff such as delivery drivers. So that pool shrank as well. In addition, like many other workplaces, we had split our staff into A and B shifts to shield them from COVID-19, which put an additional strain since that meant staff from the A team couldn't step in to help out during B shifts, and vice versa.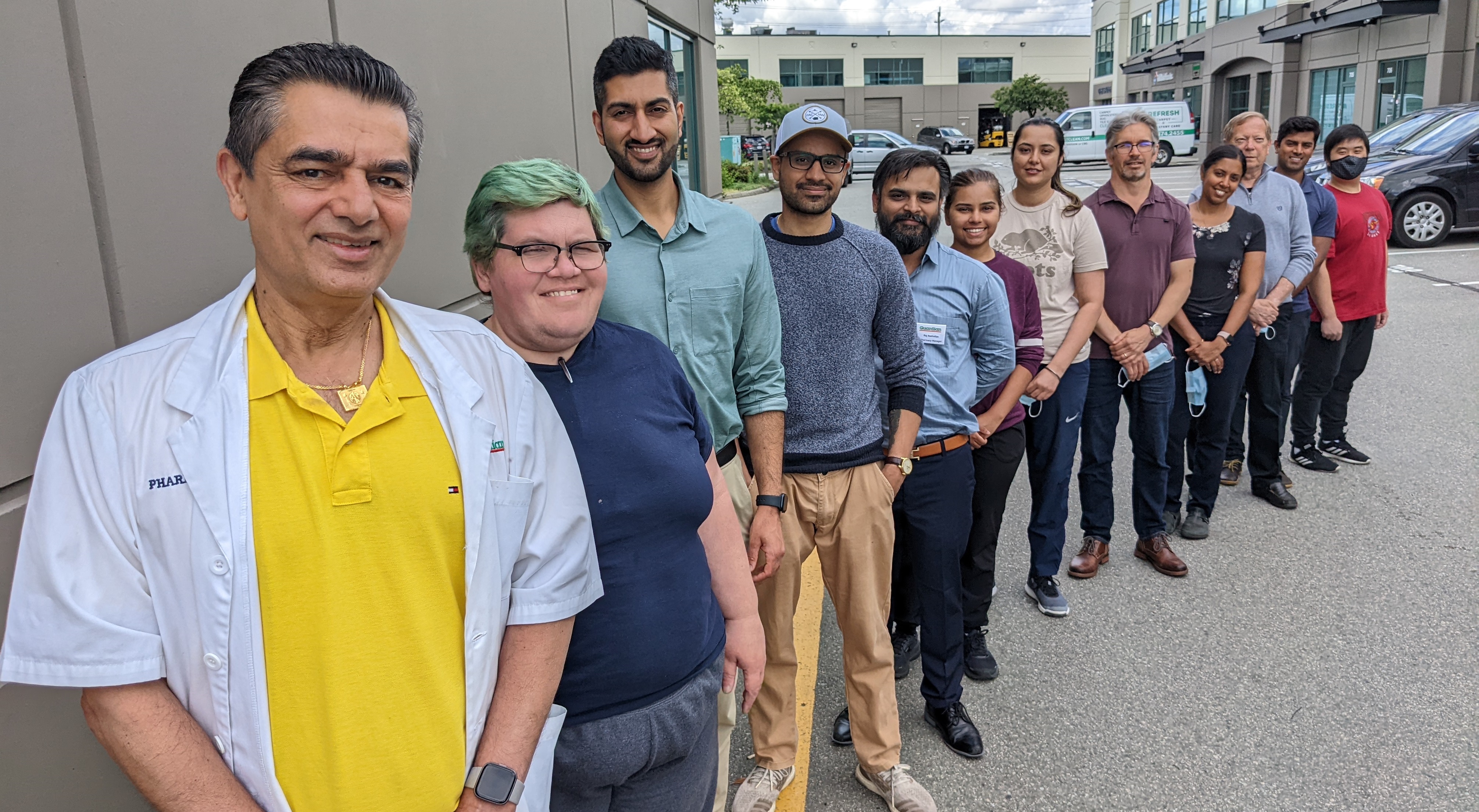 Parm Johal (left) poses with his team outside the Wilson Pharmacy Group warehouse in Port Coquitlam.
Recruiting agencies were also exhausted as the pool of pharmacists wasn't big enough. This reduction in available labour meant that prospective employees also began asking for higher and higher starting salaries. This created an additional challenge for ownership and management.
As the pandemic wore on, we had additional issues in the form of severe weather and supply disruptions. Meanwhile, pharmacists are being pulled to do more in the area of COVID-19 vaccines and dispensing therapeutics such as Paxlovid. In a way, it was the perfect storm.
I think one of the primary things we had to do was to pivot. Pharmacists are a resilient bunch. We took on these challenges and we are still here now, and we faced this adversity together with our team. There were a few things we did to ensure we could continue maintaining services at our pharmacies.
One of the most key things that allowed us to retain our team and continue to provide our services in spite of the pandemic's impacts on staffing was our relationships. We were unable to hire additional staff to come in because there was no one available, so this meant our existing team had to work harder, and they rose to the challenges.
With our employees, I have always promoted a culture of understanding and of camaraderie, where we all understood that we are in this together. As an owner, there is no job I considered to be beneath me. I would be unwilling to ask one of my employees to do something I was not willing to do. This means if I needed to come in and plug myself into any position that was required, I did. Our existing relationships meant that when some of our pharmacists took on relief shifts or did shifts at public health clinics, in their minds we were still their primary employer. Even though they might go off to work relief to earn additional income, they came back. I heard of some employers who prohibited their full-time pharmacists from taking on outside work, but to me, I felt that would be burning bridges and I didn't want to do that. We would be supportive of our team and make sure they were taken care of, whether they have adversity in other areas of their lives or not. These relationships also extended to pharmacist friends we have made over the years, some of whom are now retired. We were able to talk to a few of them and one of them was able to step in and help us out.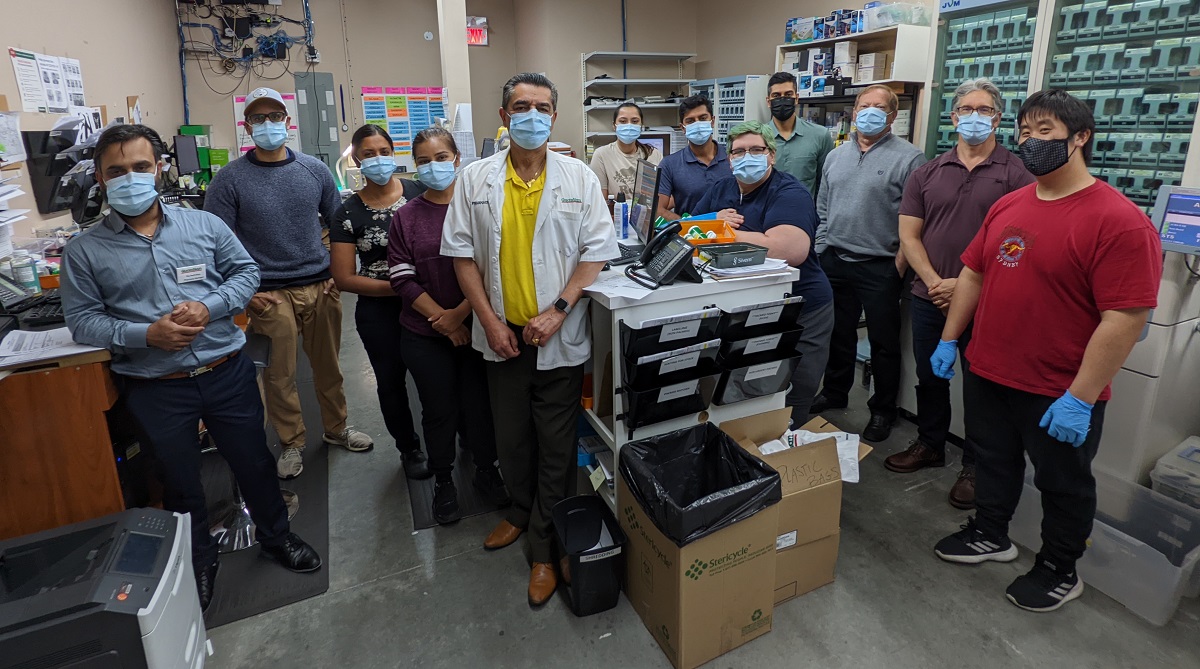 Parm Johal (centre) with his team inside the Wilson Pharmacy Group warehouse, which prepares prescriptions for long-term care homes.
Creating a back-up team was also very important. We have four pharmacies and three home health-care business units, with approximately 65 employees in total. At our pharmacies and warehouse, we began creating a dedicated back-up team using our management team and also my family, which includes my sons and my wife. Effectively, this meant we had a C shift that could step in on short notice to fill in any gaps in case we were hit with COVID-19. Sometimes this requires some of the family to come in during holidays, such as Easter, to help catch up.
Reducing our hours was also effective. We moved from the pre-pandemic eight hours per day, five days a week schedules to 10 hours per day, four days a week, for many of our staff. We began by canvassing our team members first on their feedback, and received pretty resounding agreement. This flexibility in scheduling allowed our team to get a break to catch up, and also gave staff three days off per week for that additional break. We also try to ensure we have scheduled 80% of staff vacations on the calendar in the first quarter of each fiscal year to minimize the impact of holiday breaks, so there aren't gaps from sudden vacations.
At our long-term-care pharmacy, we decided to close for some Saturdays. We serve numerous mental health facilities within the Lower Mainland. The value of our relationship also came into play with our partners in long-term care where they understood our decision to close on Saturdays to operate one day less a week.
Over the last few decades, I have seen the cycles where at times there are an abundance of pharmacists, and other times, a shortage of pharmacists. However, these were extraordinary events that we experienced in the last two years.
For the most part, I am optimistic that the worst of the pandemic impacts are behind us. First, our pharmacists have now been through this. We have created processes and experience to better manage our resources during these crises. We hope it will never happen again, but if it does, we have the experience for extra preparedness.
As time goes on, we will see new graduates enter the workforce and there will be more pharmacists available. As pharmacists, I think it is important to takeaway from this pandemic that we are in a very privileged position in the community. We are the first point of contact of health-care for the public and each day we have an opportunity to change the health outcome and wellbeing of people.
As a positive note, the pandemic gave an opportunity to showcase our profession. We have demonstrated that we can make a difference. We demonstrated that we can stand up, we add value to society, and we help British Columbians fight the adversity that our society faces. We believe that the community and the decision-makers have taken note in our ability to decrease the social and economic burden of our health-care system. We remain hopeful that the pharmacists will be given opportunities for more expanded scope of practice in the near future like in other provinces.
Parm Johal has been a community pharmacy leader for the past 35 years. Parm opened his first independent pharmacy in Squamish, eventually becoming a cornerstone of health-care in a community with limited access to primary care services. In 2001, Parm relocated to Port Coquitlam where he established the successful independent Wilson Pharmacy and has expanded to Wilson-Davies Group. He continues to be actively involved in the community, including strong advocacy and support in mental health.