Community pharmacies in Prince George alone serve more than nine different First Nations communities. On the surface, this could seem like an impressive amount of support pharmacies in that community are providing for B.C.'s First Nations populations.
The reality, however, is that some of those nine communities are at least 13 hours away by dirt road, with flights only available once to twice a week, said Cindy Preston, Director of Pharmacy Health Benefits and Services at the First Nations Health Authority (FNHA).
"There are several factors that impact access to pharmacy services," Preston said.
"The health-care system structures and policies are definitely one huge impact and cultural safety within that and racism within the system. But geographic location is another huge impact to individuals' access to pharmacy care."
Preston and her team made a presentation in June to the College of Pharmacists of British Columbia, where she identified some challenges First Nations individuals and communities currently face in accessing pharmacy services.
The distance challenge is particularly aggravating for First Nations community members receiving treatment after being diagnosed with Opioid Use Disorder (OUD). Her team identified that 91% of pharmacies in B.C. serve First Nations clients, and many of these clients risk having their treatment disrupted due to multifaceted reasons, including travel and delivery disruptions.
These disruptions could happen when a champion community care provider moves away, or transportation is unavailable, or a pharmacy delivery gets delayed due to weather. The resulting harm, unfortunately, is on the patient, who risks possible destabilization and disengagement with the health-care system, and potential re-exposure to the toxic drug supply.
Nikhil Gandhi, pharmacist with the FNHA, said First Nations people in B.C. are disproportionately represented in toxic drug deaths at a rate of more than five times that of other B.C. residents in 2020. Some of the areas in B.C. with the highest rates of toxic drug deaths in 2021, he said, have been in the Northern and Interior health regions with significant rural and remote First Nations populations.
"Fewer people diagnosed with OUD receive Opioid Agonist Treatment (OAT) in rural and remote settings than urban settings, and also have lower retention than people in urban settings," Gandhi said.
"This clearly shows that there is a disparity between urban and rural remote OAT access … and while there are other factors involved for sure, we know that pharmacy access is a major contributor."
As a potential solution, part of the FNHA's proposal includes having pharmacies work directly with nurses who are already present in First Nations communities to store and administer OAT medication, instead of relying on frequent deliveries, or First Nations residents travelling to attend pharmacies in the nearest town.
"We know of stories where rural community members returned home from an urban setting for traditional activities such as gathering and harvesting food, only to find that they're unable to continue their OAT due to lack of pharmacy access," Gandhi said.
Twinkle Ruparel, another pharmacist with FNHA, said there are over 200 diverse First Nations communities in B.C., operating over 130 health facilities, with the majority self-determining their healthcare programs and services. The FNHA currently supports 31 such communities with opioid response programming, of which 14 involve distribution of Controlled Substances.
"Since the onset of the pandemic, our team collaborated with First Nations communities across B.C. in implementing community driven opioid response programs at health facilities," Ruparel said.
"With systemic supports and virtual clinician teams, these programs can be well-positioned to engage and retain clients in culturally safe care, and support with transitions and wraparound care."
The FNHA recently presented to the Board of the College of Pharmacists of BC to discuss some short, medium and long-term recommendations for their consideration. The College is now in the process of reviewing these recommendations and determining a path forward to ensure greater support for Indigenous Peoples.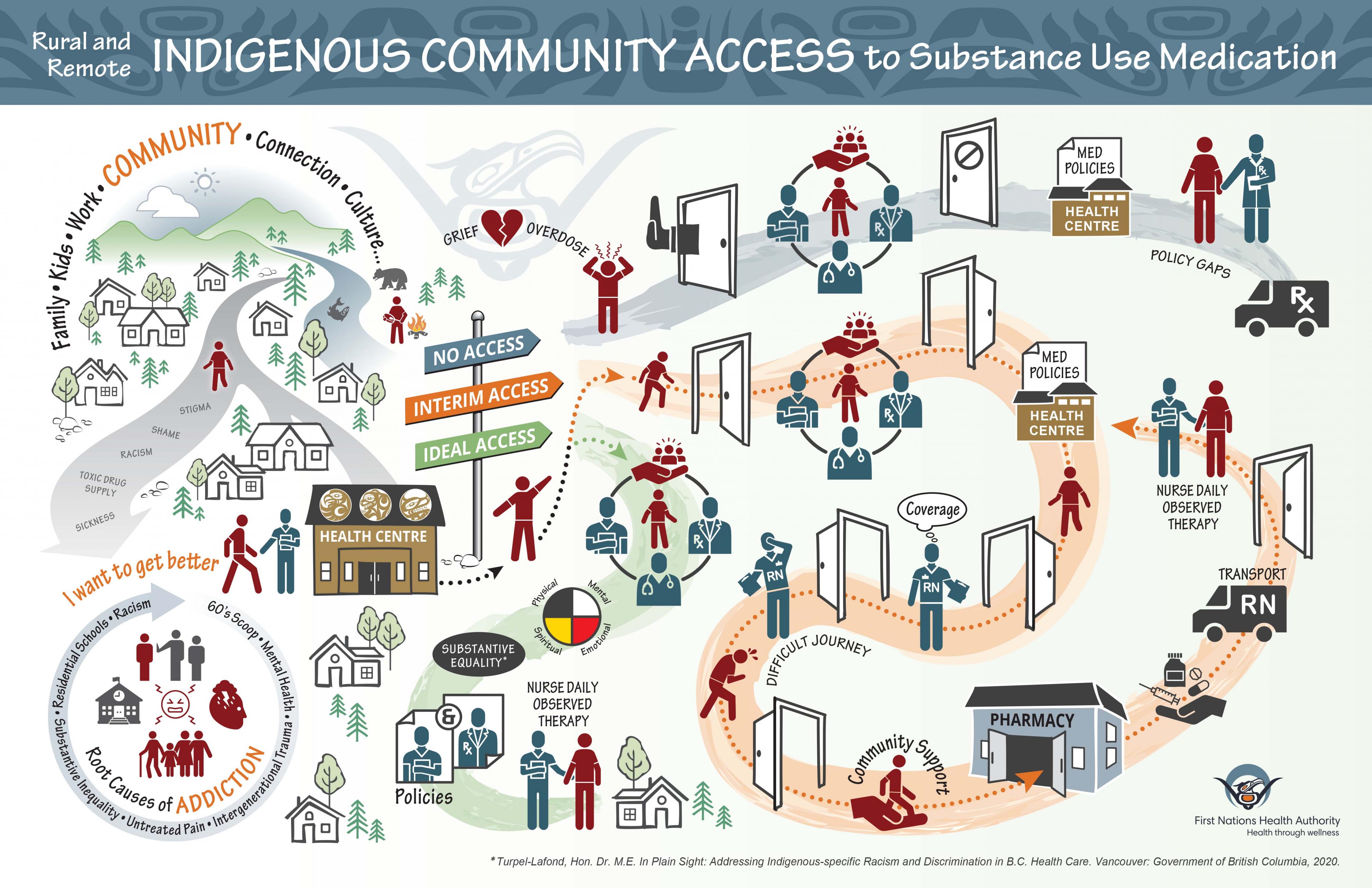 The FNHA co-created this visual, with feedback from health workers, people with lived and living experience, community health leaders, and First Nations colleagues. The FNHA learned about barriers and facilitators in rural and remote B.C. First Nations when accessing medications for OUD, the ongoing impacts of colonialism, and healthcare inequities as drivers and contributors to substance use. Community-led programs and services are central to advancing cultural safety and improving accessibility. There have been primarily two outcomes in the communities the FNHA has supported: no access to OAT (reflected in grey) or interim access (in orange).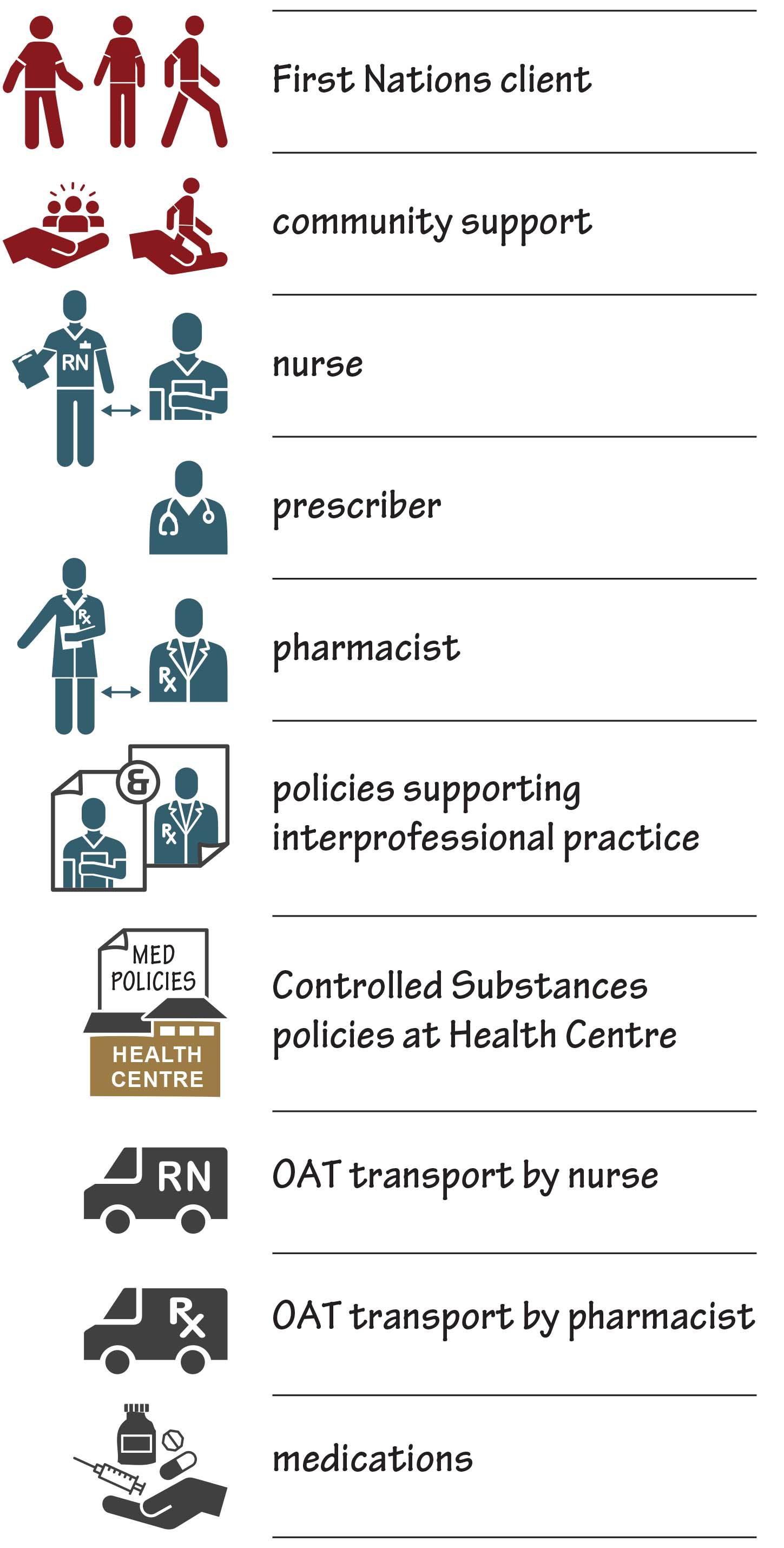 No Access:
Inconsistent or intermittent access to prescriber, nursing or pharmacy services
Inconsistent or no access to Health Authority based services
No implementation of medication management policies at community Health Centre
No access to pharmacy services to meet provincial OAT policy requirements
Interim Access:
Access to prescriber and pharmacy services via use of telehealth and virtual care
Community health nurses lead multiple facets of programming and service delivery
Prescriber-directed and nurse-led Daily Observed Therapy with nursing assessment
Nurse transport of Controlled Substances from pharmacy
Health Centre receiving delivery of medication and storage in a lock box
Community member transporting client to pharmacy for pick up or Daily Witness Ingestion
Ideal Access:
Access to consistent prescriber, nursing and pharmacy services via use of telehealth and virtual care pathway
Clear interdisciplinary framework of practice and pharmaceutical policies that support team-based care models
Community engagement and support in implementing services for substance use and harm reduction
Balance of Indigenous perspective on balance and wellness: mental, physical, emotional and spiritual aspects of The Medicine Wheel. This includes services centred on Indigenous healing, cultural and traditional practices