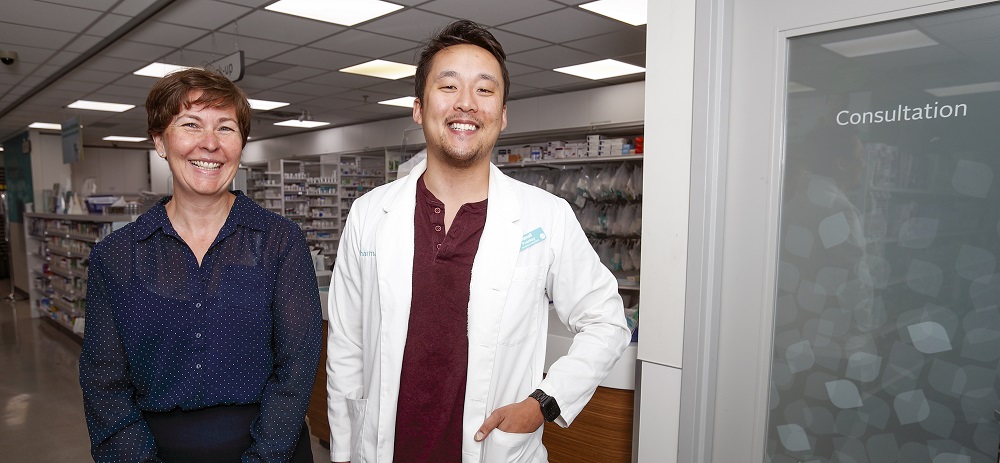 Sarah Wolfe (left) was patched up and given a tetanus shot by Rexall Colwood pharmacist Frankey He after accidentally stepping on nails.
By the time Sarah Wolfe entered Rexall #7139 in the Colwood neighbourhood of Victoria, she had already been turned away from walk-in clinic that was too busy to see her, despite the relative urgency of the puncture wounds in her foot.
It was a Tuesday evening in June, late enough that many clinics were already closing or well-past capacity. Earlier, Wolfe had accidentally stepped on a piece of wood with nails sticking out of it. Two nails punctured her shoe and went into the ball of her left foot. While being turned away from the walk-in clinic, it was suggested that she try to check if a pharmacy could assist instead.
She decided to check if the pharmacy near her workplace could help.
Frankey He, pharmacy manager at Rexall #7139, happened to be the perfect person to treat the wound. He's always up to date on his first aid certifications and even volunteers as a first aid attendant at various events.
"It's sort of lucky for her. I actually volunteered for St. John Ambulance for around five to eight years prior to becoming a pharmacist, just helping patch up people whenever they're injured," He said. "It's something I'm really comfortable with doing."
He said Wolfe's injury was still bleeding but minor, and after flushing out the wound and giving it a good clean, he bandaged up his patient and administered a tetanus shot, before sending her on her way.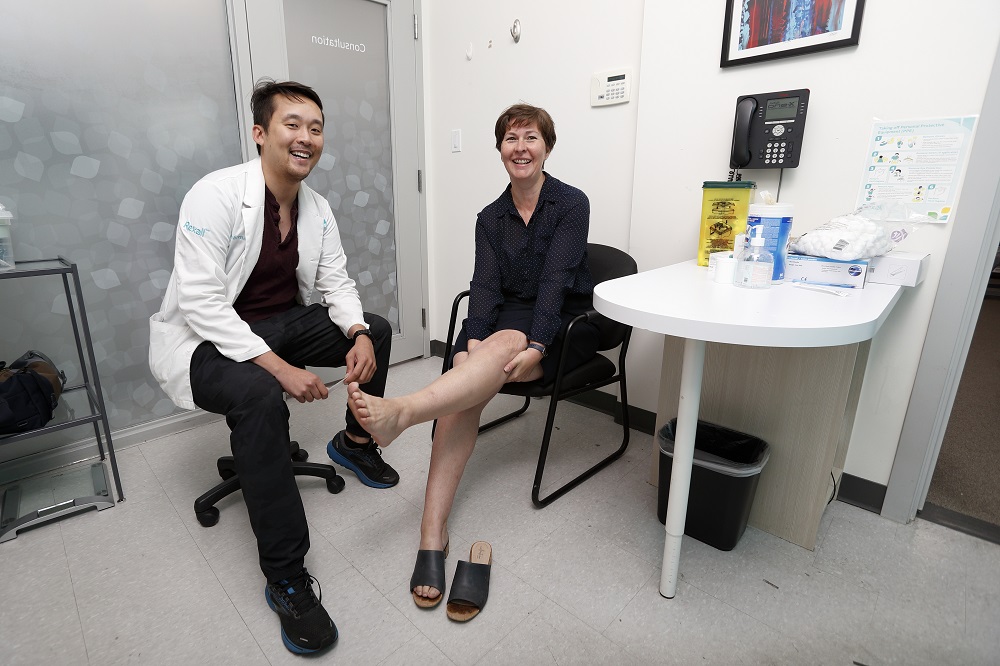 "Throughout the process, Frankey was thoughtful, articulate, patient, funny and kind," Wolfe said. "I know first aid isn't the pharmacy mandate but, with the current B.C. medical system as it is — walk in clinics are full, this wasn't a hospital emergency, and family doctors are scarce — I was exceedingly grateful that Frankey was available and willing to help me."
For He, a patient arriving with an open wound is not a normal occurrence at his store, but with the health-care human resource shortage in B.C., the need for accessible care is something he sympathizes with.
"We're actually quite a busy store. I've only been there two months or so just to help out the company because right now there seems to be a huge shortage of pharmacists, and it's particularly bad on Vancouver Island," He said. "But even though it's busy, after I heard that she checked other pharmacies and there was a walk-in clinic that wouldn't accept her — most of her options were closed because things close early in Victoria — I wanted to help in any way possible. I sort of live by the motto of: treat others how you would want to be treated. If I was in the same situation, I'd really hope that other pharmacists would help me out."
After the experience, Wolfe was so pleased with the level of service she received at He's pharmacy that she wrote a letter commending him and his team.
"Please give him a raise; he's exactly the type of employee you want interacting with your pharmacy customers," Wolfe wrote in her letter.
The fact that the patient thought a pharmacy may be able to help also speaks to the accessibility pharmacies provide, and the trust that patients have placed in their pharmacists.
"Patients are almost seeing us to be a resource that is much more accessible compared to physicians," He said. "If they try to call their family doctor to get an appointment for something urgent, or acute, and the appointment is going to be in two weeks, that's not going to do the patient any good."