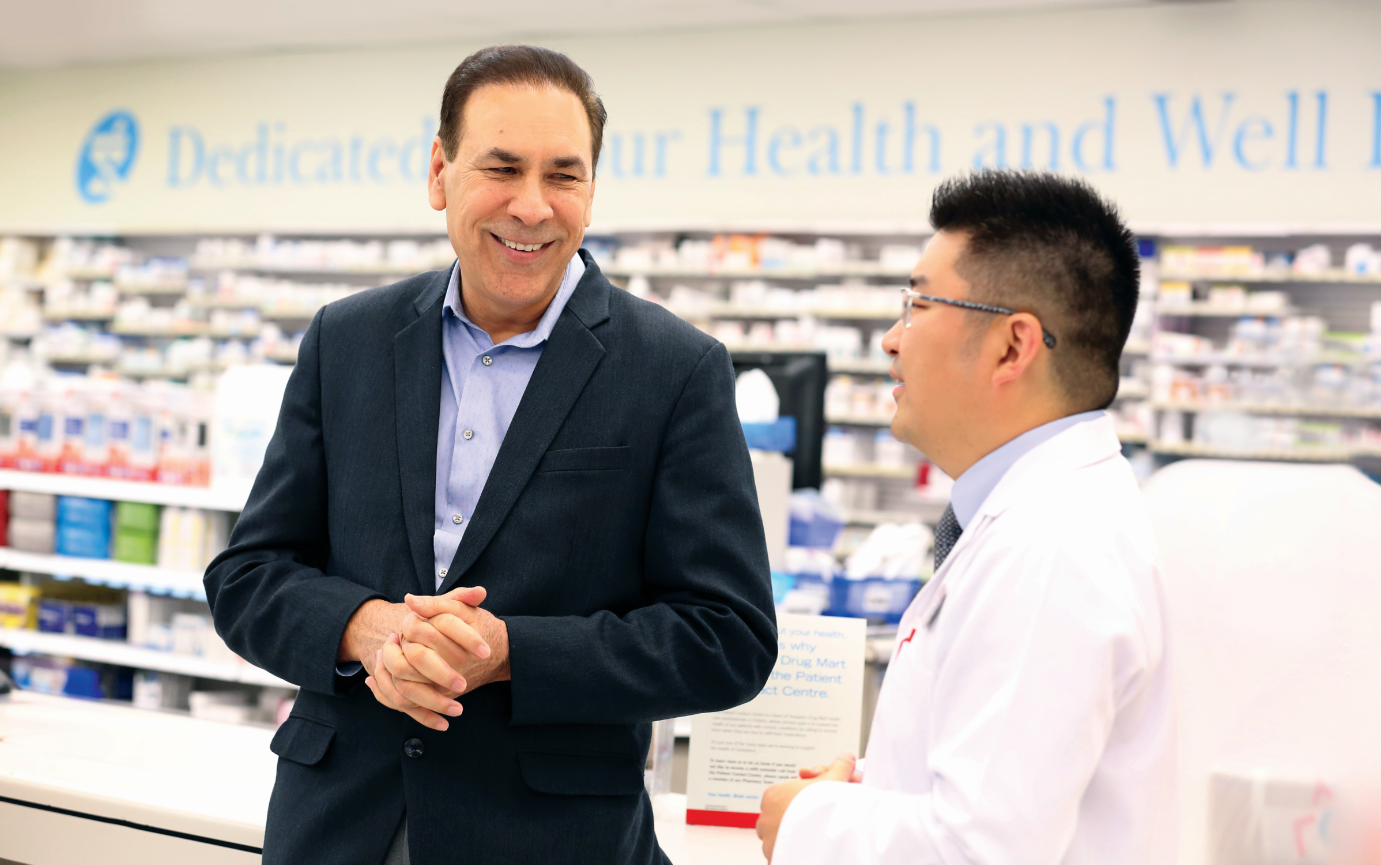 (Left) Surrey-Fleetwood MLA Jagrup Brar received his flu shot and a tour of a nearby Shoppers Drug Mart from pharmacist-owner Allan Wong.
This March, the BC Pharmacy Association will launch a new advocacy program, in honour of Pharmacist Awareness Month, which each year celebrates and educates Canadians about the contributions that pharmacists make in the delivery of health care.
The new program, called Take Your MLA to Work, will give MLAs an inside look at how pharmacies operate, showcase the many services that pharmacists provide and demonstrate pharmacists' accessibility to patients. Pharmacists in the MLA Outreach Program will be giving these pharmacy tours to MLAs.
"This program provides a unique opportunity for our community pharmacists to advocate for the profession through an effective, hands-on approach," says Geraldine Vance, CEO of the BC Pharmacy Association (BCPhA).
As B.C. faces growing demands on health resources and services due to an aging population, continued barriers in accessing family physicians and challenges in the recruitment and retention of health professionals in remote and rural areas of B.C., the BCPhA believes community pharmacists have the capacity to be a better utilized member of the health-care team.
"Pharmacists are trained to do more than dispense pills," says Linda Gutenberg, BCPhA's Deputy CEO and Director of Pharmacy Practice Support. "By expanding pharmacists' scope of practice, and using their expertise and their accessibility, B.C. can realize more value from our health system."
Some members of the BC Pharmacy Association had the opportunity to offer pharmacy tours to their local MLAs during the flu season, at the end of 2018. While some MLAs accepted the invitation to receive a flu shot as well as a brief pharmacy tour, others who had already received a flu shot chose to take a more in-depth tour of their local pharmacy.
Association Board Member and Pharmasave Regional Pharmacy Manager Annette Robinson gave tours of pharmacies to several MLAs including the Minister of Citizens' Services and MLA for Surrey-Panorama Jinny Sims and the MLA for Chilliwack John Martin.
"Through the pharmacy tours, we were able to show how pharmacists can adapt prescriptions and make a difference in patients' overall care," says Robinson. "We toured the MLAs through the pharmacy and showed the specialty compounding lab and discussed what goes on during the prescription filling process."
Robinson also showcased the differences that pharmacies provide outside of dispensing prescriptions, such as medication/hormone consultations and other clinical services to help enhance patient care.
"I felt that the MLAs were very engaged and interested in hearing how we work with patients to ensure they get the best possible care and to improve health outcomes," says Robinson.
Pharmacists across the province are working to build a better understanding of the importance of pharmacy in B.C. through our government relations program. Our goal is to ensure pharmacy's voice is heard during the development of B.C.'s health-care policies and to ensure the continuing economic viability of pharmacy in the province.
Take Your MLA to Work
The Take Your MLA to Work Program will be a component of the MLA Outreach Program. If you are interested in joining the MLA Outreach Program, please contact Angie Gaddy, Director, Communications, at angie.gaddy@bcpharmacy.ca or Andy Shen, Communications Officer, at andy.shen@bcpharmacy.ca.