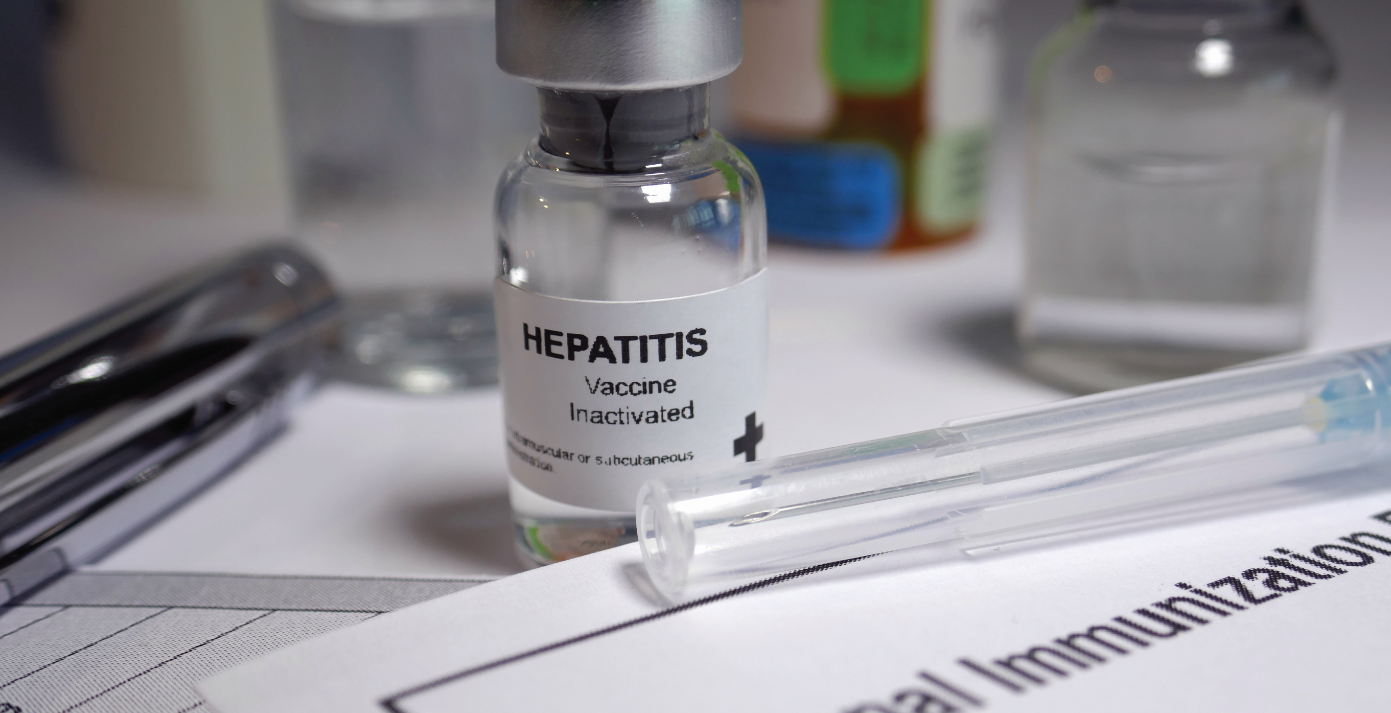 Since the early 1990s, hepatitis A and B vaccines have been part of B.C.'s publicly funded hepatitis immunization program for specified populations.
Since the early 1990s, hepatitis A and B vaccines have been part of B.C.'s publicly funded hepatitis immunization program for specified populations. As with many other vaccines, they are usually administered as part of the infant vaccine series and routine immunization programs given at schools for eligible individuals. These vaccines can also be accessed from local public health units and since 2009, from pharmacies. Pharmacists authorized to administer vaccines may request publicly funded vaccines for patients as per the guidelines outlined in the "Pharmacist Access to Publicly Funded Vaccines" document available at gov.bc.ca. Those who have indications for the vaccines but do not meet the eligibility criteria can also purchase the vaccine(s) from a pharmacy.
Despite the plethora of available access points, not all individuals needing protection against hepatitis A (HA) and B (HB) complete or follow the recommended schedule of vaccine doses. This can be due to various reasons, such as missed appointments, however the intermittent availability of hepatitis vaccines seems to be another growing cause and barrier for patients and vaccine providers alike.
At the time of writing, drugshortagescanada.ca, which contains mandatory drug shortages and discontinuation reports, listed ongoing shortages for some monovalent HA and HB vaccines and the combined HAHB vaccine.
In light of this situation, some of the more frequent questions that the Association's pharmacy practice support department receives revolve around strategies to circumvent this supply reality. Specifically, can vaccine schedules be delayed and are hepatitis vaccines interchangeable?
Can hepatitis vaccines' schedules be delayed?
Put simply, yes. According to the BC Centre for Disease Control's (BCCDC) BC Immunization Manual and the Canadian Immunization Guide (CIG), deviating from the recommended vaccine schedules for HA (0, 6 months) and HB (0, 1, and 6 months) does not have negative effects on final antibody levels. It is not necessary to restart the vaccine series if vaccines are administered at intervals longer than recommended. The subsequent appropriate dose can be given at the next available opportunity, as long as the minimum time has elapsed since the last dose. This applies to most vaccines, except for vaccines against oral typhoid, cholera and traveller's diarrhea, and rabies.
However, an accurate and reliable immunization history should be obtained as full protection and may not be achieved until the entire vaccine series is completed. This is particularly important for individuals at high risk of contracting a vaccine-preventable disease. BCCDC has provided the following pointers when assessing a patient's history for a particular vaccine:
Written immunization records such as Child Health Passport, CANImmunize app, etc. are preferred. If not available, verbal history from individuals and/or their caregiver should include:

Name of vaccine used
Date of vaccine administration

If sufficient details and history cannot be obtained, the individual is deemed unimmunized and the age-appropriate vaccine dose should be administered at recommended intervals (preferred).
Can other hepatitis A (or hepatitis B) vaccines be used to complete the hepatitis A (or hepatitis B) series?
Monovalent HA and HB Vaccines
Monovalent HA vaccines are considered interchangeable. There are currently three monovalent HA vaccines approved for use in Canada and any can be administered to complete the HA series regardless of the initial product used. However, the appropriate age-dependent dose of the alternate product must be used. This principle also applies to the two monovalent HB vaccines approved for use in Canada. Either product can be used to complete the HB series in the event that the previously used product is not available.
If the monovalent vaccines are unavailable, the HAHB vaccine may be given, at its recommended schedule, to an individual who is started on a monovalent hepatitis vaccine to complete either an HA or HB series.
HAHB vaccine
Although not included in B.C.'s publicly funded immunization program, the CIG recommends a combined HAHB vaccine for children and adults (except those with chronic renal failure and the immunocompromised who need a higher HB antigen dose) who need protection against both HA and HB. Ideally, the entire series should be completed with an HAHB vaccine. If unavailable, monovalent hepatitis vaccines can be used to complete the HA and/or the HB series as indicated provided that the appropriate dose and schedule is followed for the individual's current age.
Tables 1 and 2, adapted from the CIG, list some options for adult and pediatric patients to complete an HA and/or HB series depending on the patient's age and hepatitis immunization history. Table 3 contains the recommended hepatitis vaccine schedule and products that can be used by age group.
References available at bcpharmacy.ca.

TABLE 1 Adults: HA and HB Series Completion Options by Prior Hepatitis Vaccine History

TABLE 2 Pediatrics: HA and HB Series Completion Options by Prior Hepatitis Vaccine History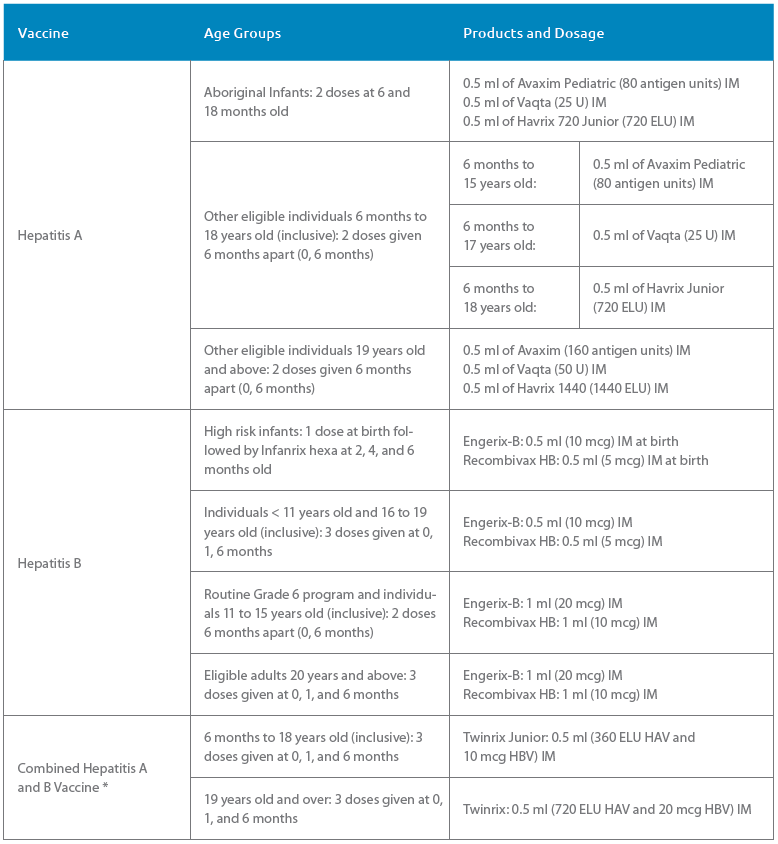 TABLE 3 Vaccine Schedules by Age Group
For full eligibility criteria and schedule information, please refer to BCCDC's Communicable Disease Manual Chapter 2: Immunization, Part 4: Biological Products. The above schedule can also be used for non-eligible individuals.
* Combined hepatitis A and B vaccine is not part of B.C.'s publicly funded immunization program.
NOTE: Schedules for all age-groups are included for completion only. Pharmacists are reminded to adhere to HPA Bylaws Schedule F Part 4 – Certified Practice – Drug Administration by Injection and Intranasal Route Standards, Limits, and Conditions when providing vaccinations.