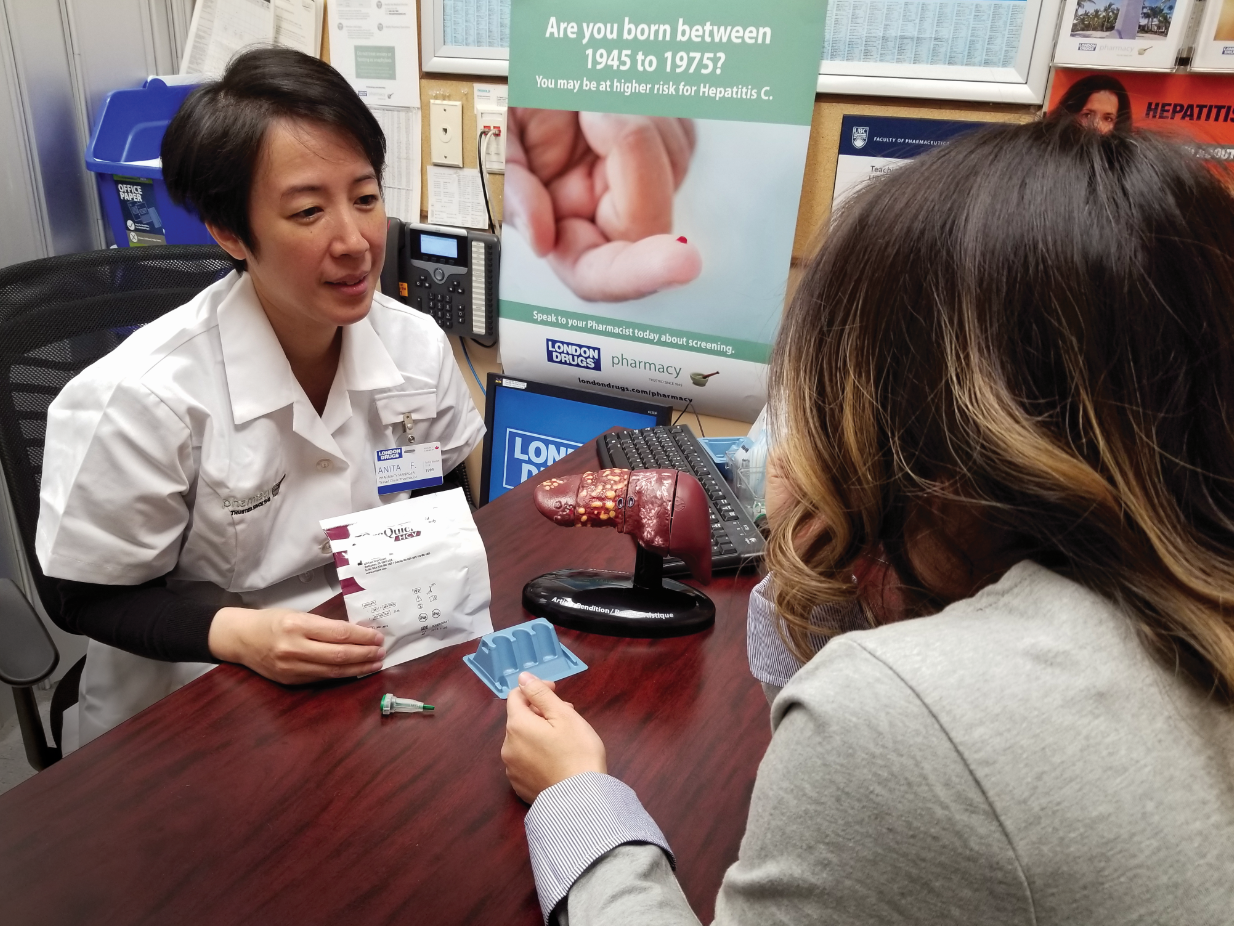 Pharmacist Anita Fong provides information on the London Drugs hepatitis C screening program.
A screening program for hepatitis C has been expanded at London Drugs, a member pharmacy with the BC Pharmacy Association. In November 2018, the B.C. pharmacy chain announced it would expand its potentially life-saving screening program from five locations to seven.
According to the BC Centre for Disease Control, approximately 80,000 British Columbians are believed to be infected with hepatitis C, with many unaware they harbour the blood-borne virus that can often take decades before symptoms are revealed. And with about 2,500 new cases of hepatitis C confirmed each year in B.C., our province is home to one of the highest rates of new cases per year in Canada. The Canadian Association for the Study of the Liver recommends that all Canadians born between 1945 and 1975 get tested for the virus.
"Making screening more accessible is critical to helping those at risk receive an early diagnosis," says Jane Xia, London Drug's manager of Specialty Pharmacy and Services. "Early diagnosis is important to help patients avoid potentially serious liver disease, including liver failure, cirrhosis and liver cancer."
The London Drugs screening process involves a finger prick test at the pharmacy using a technology called the OraQuick HCV rapid antibody test, which provides conclusive results for patients within 20 minutes. The cost of the test is $24 and not covered by health insurance.
For those receiving a positive result, patients will be referred by the pharmacist to their family doctor for a diagnostic lab test. Pharmacists also provide initial counselling regarding the potential diagnosis and education about the ability to cure hepatitis C.
"We are committed to expanding the program and increasing awareness among those who may have been exposed," says Xia, who adds that more London Drugs pharmacists are being trained to accommodate the expanded program.
Hepatitis C screening is now available at London Drugs locations in Richmond, Surrey, West Vancouver and in four stores across Vancouver (Victoria Drive, West Broadway, Granville & Georgia and Kerrisdale).
More information is available at londondrugs.com.