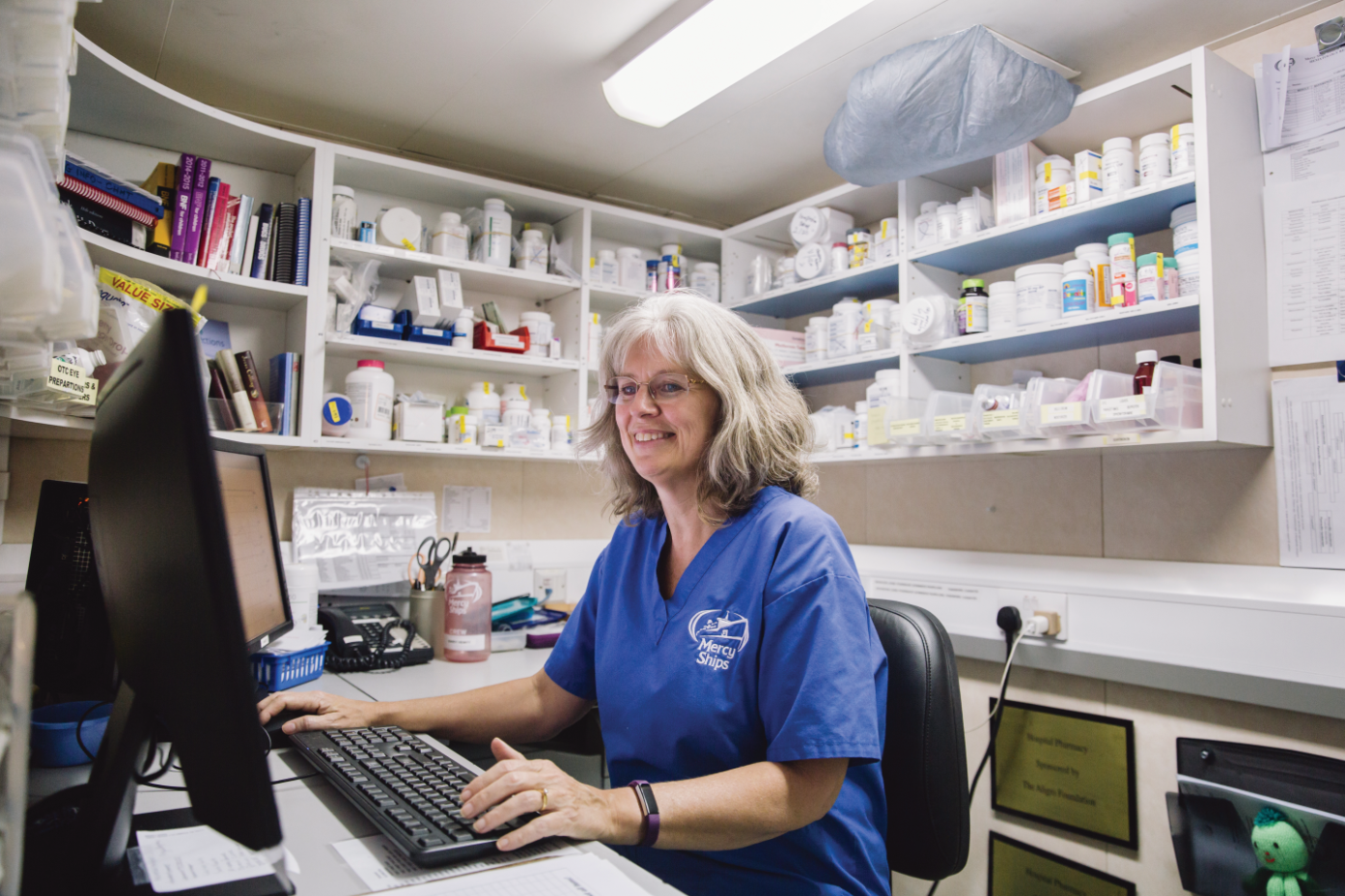 Sandy Hewitt is the senior pharmacist on board with Mercy Ships, stationed in Conakry, Guinea until June 2019. The volunteer medical team will provide more than 2,000 life-changing surgeries and more than 8,000 dental procedures in its 10-month stay in the African country. Photo Credit: Courtesy of Mercy Ships
For many people who come across an inspirational story on a humanitarian organization, they want to help — perhaps through a financial donation or a call-to-action to their friends and family on social media.
But for community pharmacist Sandy Hewitt and her husband Larry, a biomedical technologist, a feature story caught on 60 Minutes one Sunday evening while at their home in Prince George changed their entire lives, inspiring them to temporarily leave their jobs, family and friends behind to pursue an unexpected calling.
"We never, ever felt we would do anything like this," says Hewitt. "It was not part of our plan at all; it just came upon us."
The subject of that life-changing story was Mercy Ships, an international faith-based organization that operates hospital ships run by volunteers to provide free health care in developing nations. Now in their fourth year on board, the Hewitts are currently volunteering their time and professional skills as a senior pharmacist and senior biomedical technologist in Conakry, Guinea, a coastal country in western Africa. Stationed in the port city until June 2019, Mercy Ships will provide more than 2,000 life-changing surgeries for adults and children, as well as more than 8,000 dental procedures, in its 10-month stay.
How did you get started in pharmacy?
I wanted to do something in health care, and my dad suggested pharmacy, which likely swayed me in that direction. I enjoyed it while studying at the University of Alberta and spent 19 years working in various locations throughout Alberta — Edmonton, Calgary, Sherwood Park, Fort Saskatchewan — while also raising our two children (now 24 and 22 years old). In 2006, we moved to B.C. after my husband's biomedical technologist job with Canon Medical Systems (formerly known as Toshiba Medical) was transferred to Prince George.
When did you first learn about Mercy Ships?
My husband, Larry, and I were watching 60 Minutes one evening in 2015 and we saw an excerpt on Mercy Ships. I was quite intrigued and he was really interested as well. There was just something that sparked in us; it was the first opportunity where we could actually use the skills we had developed in our professional careers to serve people. We only later found out that we had both gone online that week to see what volunteer positions were available, and we decided that if we were both interested we should pursue it.
What is involved in volunteering with Mercy Ships?
Everything on the ship is entirely volunteer, from the doctors and dentists to the housekeepers, cooks and receptionist. In addition to that, we have to raise money in order to come and serve to pay for our travel, accommodation and food. As senior pharmacist, my volunteer commitment is a two-year position, which I have extended to four years. Each year, we stay in a country for 10 months, from September to June. During the summer break, the ship sails into the Canary Islands for maintenance and volunteers return home to see family and friends, and also raise funds for the following year. Each summer, we have spent two to three weeks driving around western Canada, visiting supporters, putting on information nights, talking at churches and in people's homes, in order to raise funds for serving on board Mercy Ships.
What is your role with Mercy Ships?
As senior pharmacist, I manage our team of three pharmacists. We alternate in our roles; we restock meds, go on clinical rounds with doctors, do chart reviews with the wards, or stay in our ship pharmacy and dispense meds for either hospital patients or our own crew. I have a fair bit to do with ordering medications, which is an unusual process, being so far away from our regular supply. There is a lot of planning ahead, basing our orders on past years' surgeries and medical needs, in order to have the right stock at the right time. We receive our medications from both the U.S., which takes about two months to arrive, and Europe, which takes about one month to arrive. There are lots of individual patients who may have more complex medication needs, but as a whole, medications are actually fairly straightforward. Africans are very resilient people and their pain threshold seems higher than in North America.
What is life like on the ship?
Before it became the Africa Mercy, our ship was a rail ferry in Denmark, and it currently houses a crew of about 400 to 450 people, as well as up to 80 hospital patients at any given time. If you come as a single person, you might stay in a 4-, 6-, or 10-berth cabin, but couples have their own private cabin. We eat breakfast, lunch and dinner in a common eating area, and work Monday to Friday from 8 a.m. to 5 p.m., with a one-hour lunch break. We're very well cared for, and I love not having to cook or do dishes! From our cabin, we walk through a corridor, down a set of stairs and then we are at our offices! We all live and work in a very small space and we become close with our fellow crew members. We play board games, have movie nights, birthday parties and Christmas craft fairs. We sometimes have excursions where we'll hire a boat to take us to a nearby beach.
What is the most meaningful part of this experience?
We get to be involved with people who would have had no hope, but because someone was able to provide basic, simple surgeries, they suddenly have hope again. Seeing beyond yourself to make a difference in other people's lives is pretty amazing.
To learn more about Mercy Ships Canada or to make a donation, visit mercyships.ca. To read more about Sandy and Larry's story, visit larryandsandyhewitt.wordpress.com.