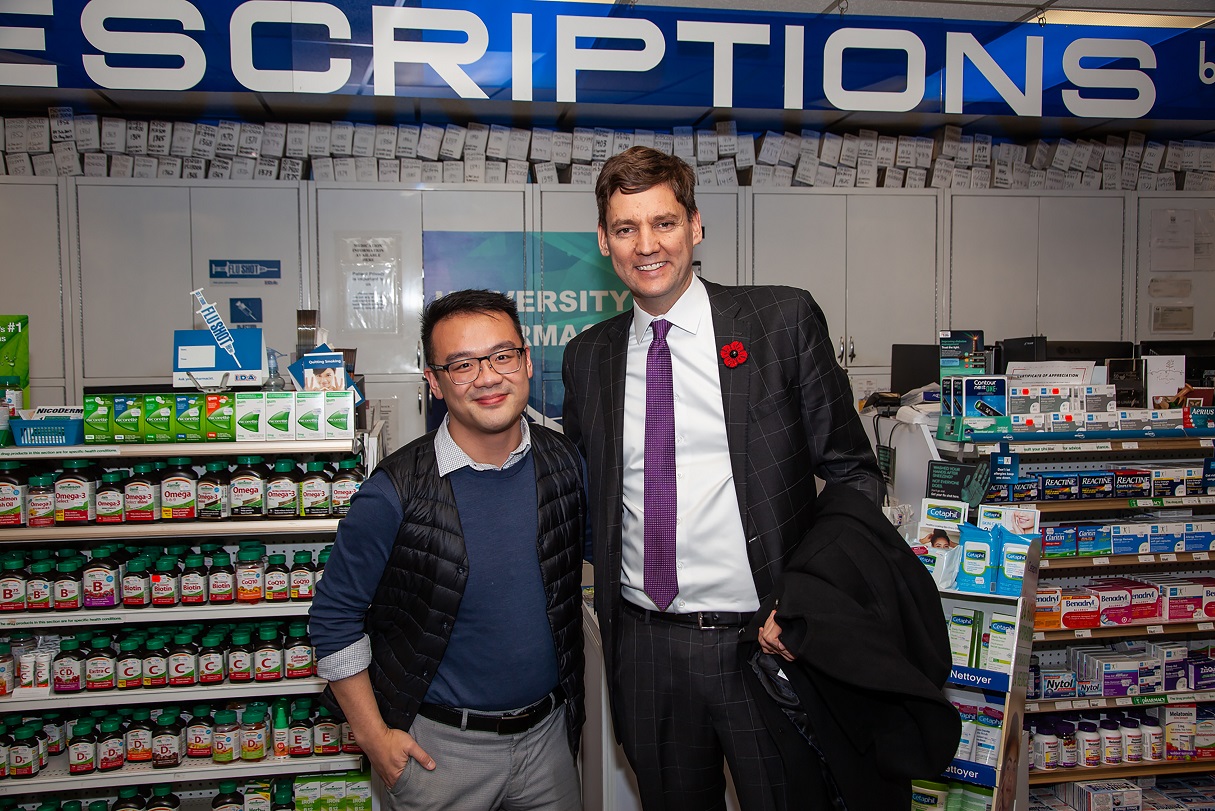 Pharmacy manager Mario Linaksita of University Pharmacy poses for a photo with B.C. Attorney General David Eby.
By Michael Mui
For pharmacist Mario Linaksita, the fact that even politicians choose to step into a community pharmacy for their flu shots is a testament to the convenience and accessibility of pharmacists above other types of health-care providers.

The BC Pharmacy Association has revamped its MLA Outreach Program and has given nearly two dozen pharmacy tours to MLAs since March, when the Association launched the "Take your MLA to work" program.

In late October, the Association began its outreach to MLAs, advocating for government officials to have their flu shots administered at a community pharmacy. So far, the BCPhA has heard from more than 20 MLAs, including four cabinet ministers, who chose a pharmacy for their flu shot. This is the third year all MLAs in British Columbia have been invited to visit community pharmacies for their flu vaccine and the numbers continue to be extremely positive.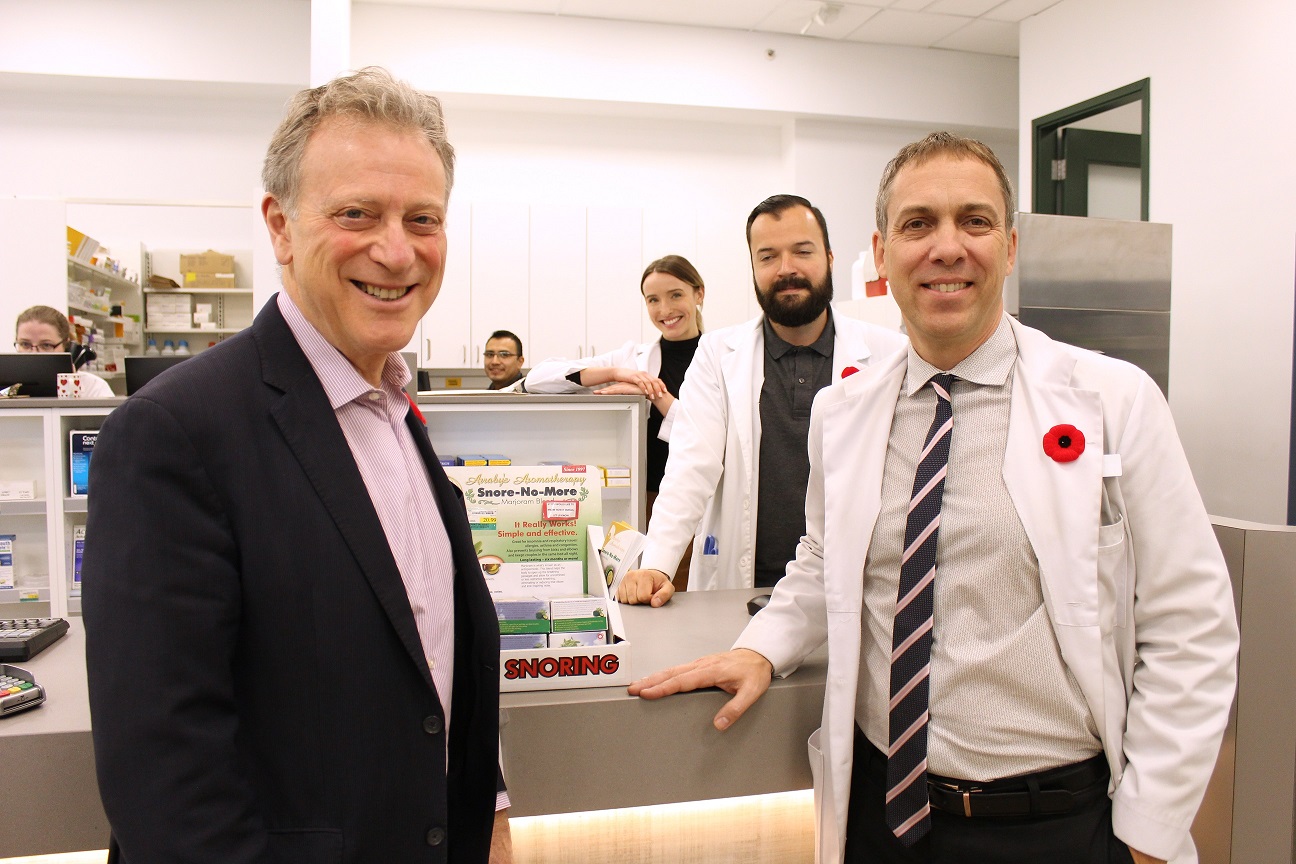 B.C. Minister of Environment George Heyman with Macdonald's Prescriptions pharmacy manager Jeffrey Curtis and his team during a tour.
For Linaksita, a second-generation pharmacist and pharmacy manager at University Pharmacy at the University of British Columbia, this year was his second time hosting B.C. Attorney General David Eby for his flu shot.

"We talked about the potential future of pharmacy. The expanded scope. Obviously, he knows about vaccinations, so I told him about medication reviews, and that there were some rumours of expanding injection authority," Linaksita says. "He knew quite a bit about the health field."

The progress being made through the MLA program is substantial. Several of the MLAs expressed interest in attending the same pharmacies they received flu shots from in previous years due to the connections they have made with the pharmacists.

Many of them, who previously admitted to having no knowledge of pharmacy practice in the past, have now received opportunities to be educated in the one-on-one interactions with pharmacists generated by these visits.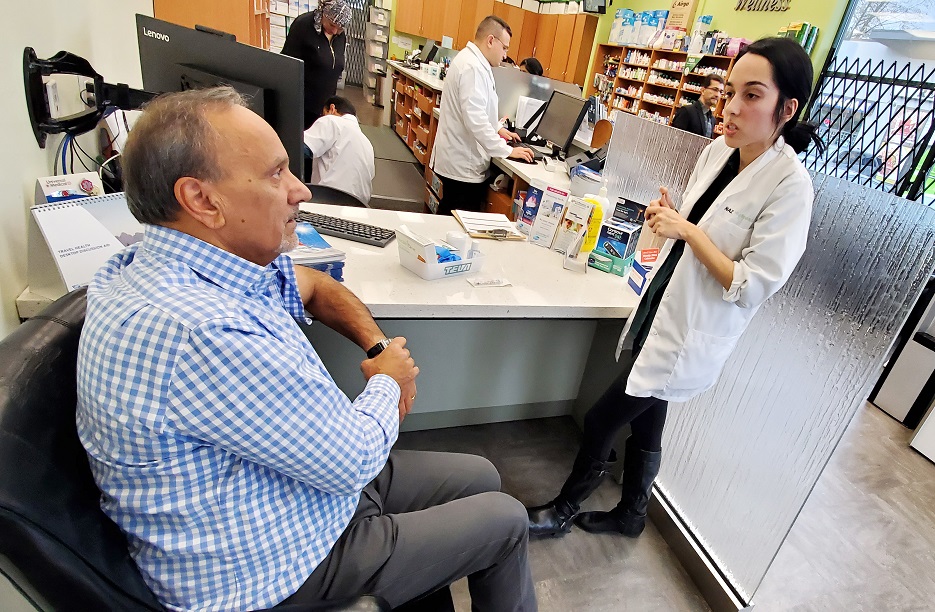 B.C. Labour Minister Harry Bains prepares to receive a flu shot at Naz's Pharmacy Newton.
This participation in hosting provincial MLAs to pharmacies continues to offer excellent government relations opportunities, in addition to offering beneficial learning experiences to educate pharmacists on how legislative decision makers think.

"I hope the MLAs that visited the pharmacies can walk away with a better appreciation of what pharmacy can do for the public," says Gary Go, regional manager, pharmacy operations at Save-On-Foods, who recently hosted Minister of Tourism, Arts and Culture Lisa Beare on a tour. "Educating the MLAs on what can be done in a pharmacy can only pay dividends because they have a say in the government and how health care is delivered to the public."

Pharmacists have been authorized to provide flu vaccines since 2009, following the H1N1 outbreak. Community pharmacists are B.C.'s most accessible health-care professionals, present in 153 of 160 communities across the province.

Last year, pharmacists in B.C. administered 707,573 flu shots, representing 47 per cent of all publicly funded flu shots administered across all health professions in B.C.
Sign up for the MLA Outreach Program by contacting angie.gaddy@bcpharmacy.ca