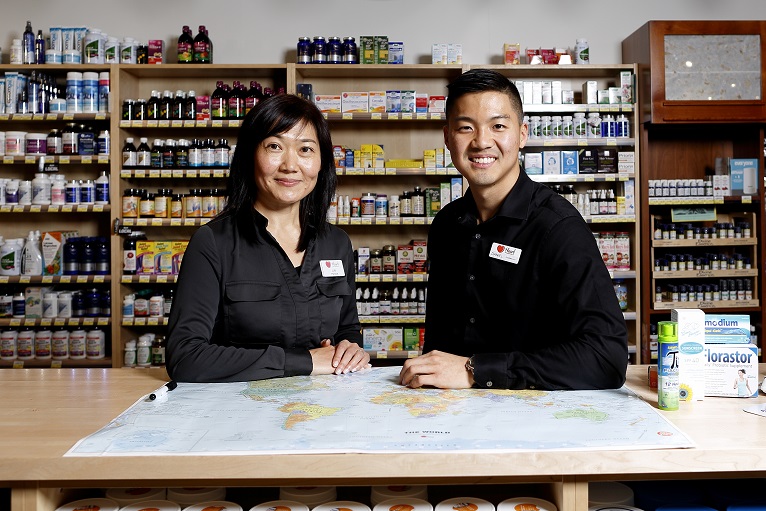 Pharmacists Lin Ma (left) and Daniel Hong (right) make up the travel medicine team at Victoria Travel Clinic.
By Michael Mui
For the pharmacists at Heart Pharmacy's Victoria Travel Clinic, it starts with wanderlust. It's something in a shared passion for exploration that invites a level of trust between the pharmacist and patient that would otherwise be missing.

It's a connection that sparks instant acceptance. As pharmacists Daniel Hong and Lin Ma have discovered, patients coming to their travel clinic have specifically sought them out. They are here to see Hong and Ma, who together function as the travel clinic team at the pharmacy banner's 1594 Fairfield Rd. location in Victoria, and have crafted such a beloved reputation that their positive online reviews are the source of a regular stream of new customers.

"These guys had all the stars. So I said, 'Oh, I'm going there!'" says patient Terry Guise, after concluding a one-hour travel consult with Ma for an upcoming trip to Mexico. "Who wouldn't go to a travel clinic before travelling? You talk to so many people who had these terrible experiences, where they've missed a week of their holidays because they've been so sick. It's better to be proactive and do everything you can, then you can enjoy your holiday."

Initially founded in 2012, Heart Pharmacy's travel clinic was originally run by a nurse before it was integrated into the pharmacy team in 2015. These days, Hong and Ma take turns running the travel clinic. It's hosted three times a week—with the travel clinic open eight hours each clinic day.

For Ma, the key qualification any pharmacist who wants to open a travel clinic should have is education. Though not a regulatory requirement, nearly every pharmacist serious about offering travel medicine services will have obtained certification from the International Society of Travel Medicines, considered the gold standard in recognizing health professionals for their travel knowhow.

"Travel medicine is quite complicated. Between the schedules of the vaccines and the medications to recommend patients, there's quite a lot of knowledge to learn. You have to be prepared for these consultations first before you make any recommendations," says Ma, who pointed to additional training courses offered through the University of B.C. and the BC Pharmacy Association as further recommended learning resources.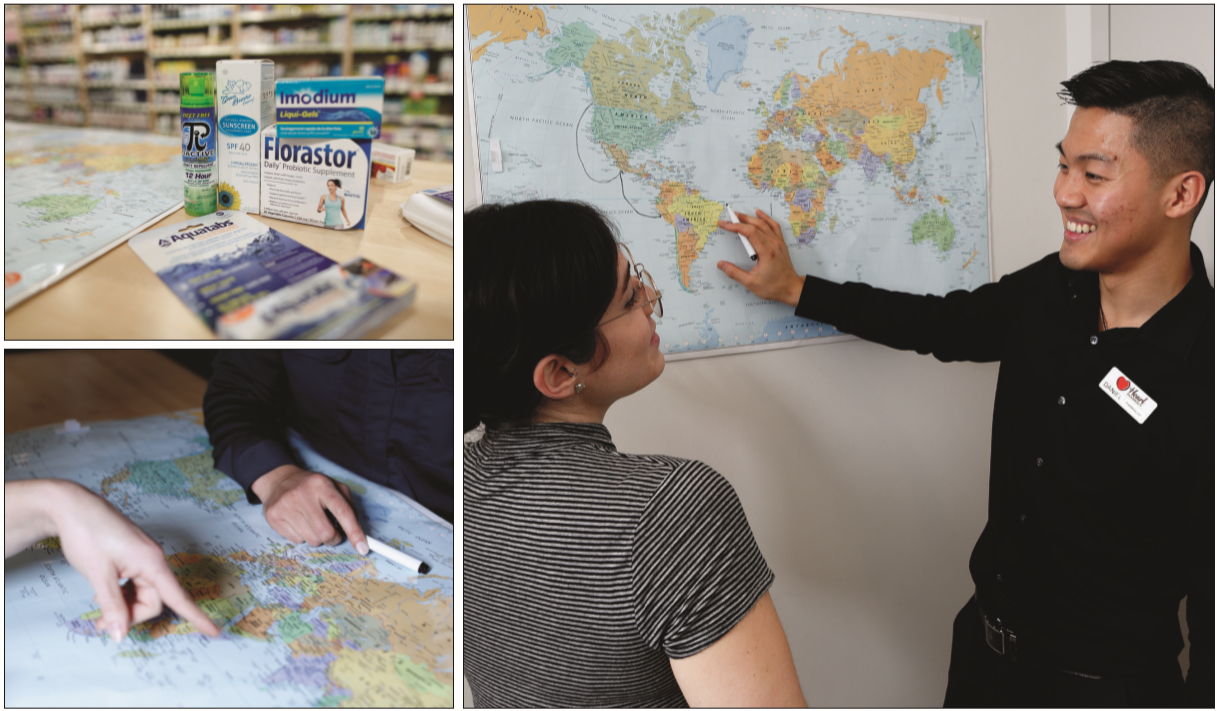 Meanwhile, Hong notes the greatest determinant of success for a travel clinic is demographics. Travel clinics should be in an area with a population that routinely travels to destinations where preventative health measures may be a strong consideration, he says. But having found such a location, there will likely be competition—other travel clinics, be they run by nurses, doctors or pharmacists, which will also be marketing to your audience.
In an area of heavy competition, one of the biggest factors to find the edge amongst your competitors is the type of service you provide, Hong says.

"Show that you care about their travels," says Hong. "Make the experience memorable for the client. Or as Lin says, 'from the heart.'

"A lot of times, someone planning to travel will come in and they'll ask, 'Oh, what do I need for Cuba?' What they're really asking is what diseases are at risk, and what is relevant for them based on their medical history, their travel destinations and any medications they may be taking," Hong says.

And quite often, patients leave a travel consultation armed with more than just medical knowledge and relevant vaccines. The consultation is also an opportunity to educate patients on non-prescription means of staying healthy while abroad.

For Ma's patient, Guise, that meant remembering to also pack mosquito repellant and hand sanitizer.
"As travellers we owe it to others around us to take every precaution to keep everyone safe," she says. "If you contract any disease while travelling you put everyone in jeopardy when you board your flight home as well as when you return to your own country."

Finally, says Hong, an indispensable component at the Victoria Travel Clinic is the presence of a connected doctor's office, which has partnered with Heart Pharmacy to ensure a prescriber is available to sign off on the recommended medicines and vaccines for travellers.

"If you don't have a relationship with a doctor, you're just recommending that they go to their doctor, but that doctor does not know what you discussed. Coming from that doctor's perspective, how can he or she trust you?" Hong says. "Having that collaboration with a doctor is ideal."
To learn more about the Victoria Travel Clinic, visit their website at http://www.victoriatravelclinic.com/