By Mohamed Zeid, BSc(Pharm)
We are in a very unprecedented time and not solely because of our profession. Since the start of the COVID-19 pandemic, we have en-tered a time of uncertainty. Every day, we are overwhelmed by additional news and infor-mation that threatens to steer us off course. But this is also a time of opportunity: to set a new standard of clinical practices and help save lives. Now is the time for a shakeup to advance health care and we, as pharmacists, should be at the forefront of those advances.

By March 2020, the pandemic had arrived and with it came a barrage of uncertain recommendations to fight the virus. The public wanted answers. At our pharmacy in Victoria, I decided to take a different approach by conveying to my patients that the key to fight this virus besides following the guidelines of public health is to strengthen their immunity by controlling and managing the chronic conditions that they may have, in addition to updating all the possible vaccines that are due for our patients.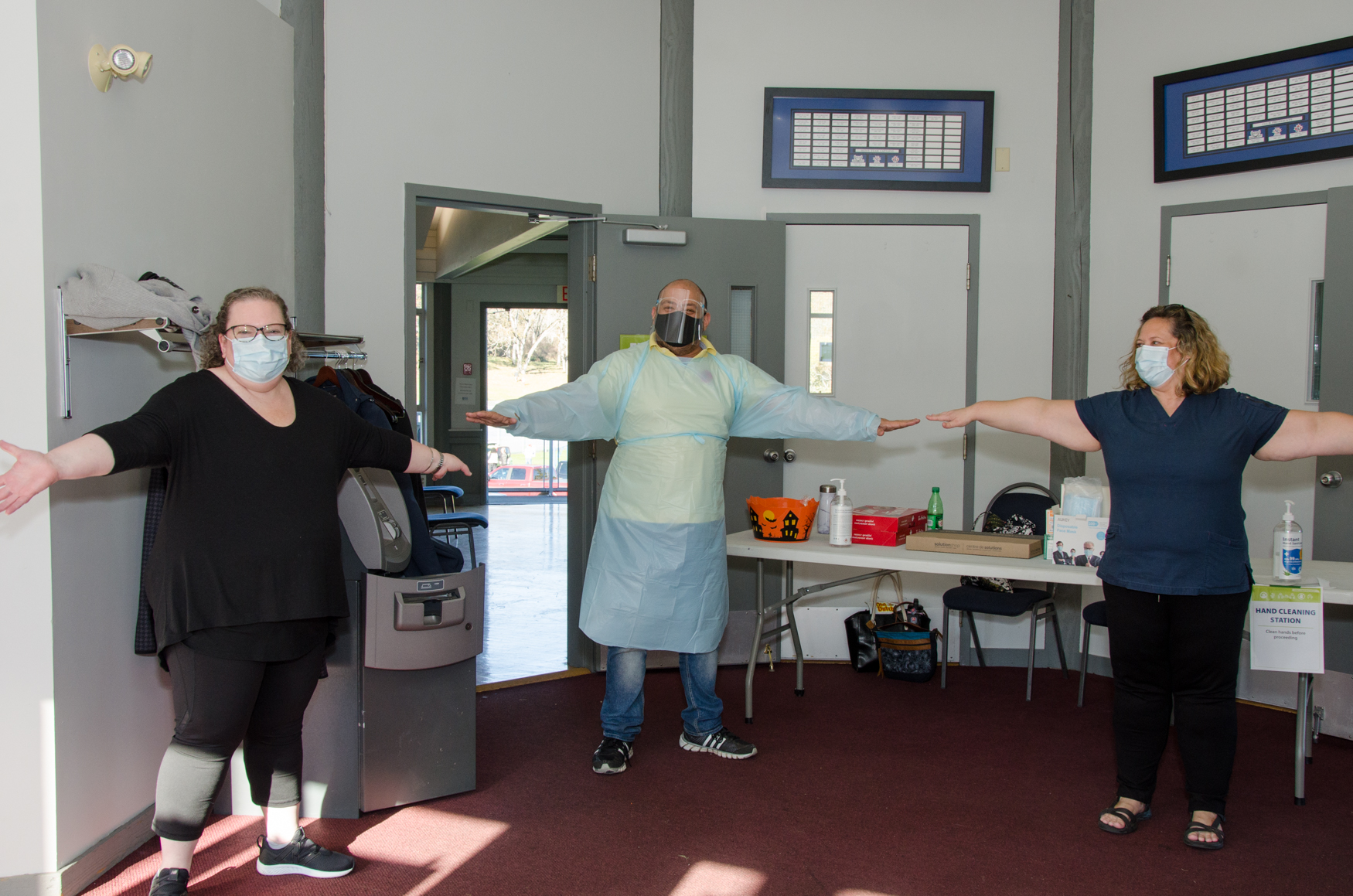 Care aid Carmen Monaghan, pharmacist Mohamed Zeid and fire hall volunteer Toni Choo make sure social distancing requirements are met.
We began to vaccinate patients by appointments and through assigned clinics at my store to assure COVID safety guidelines were followed to protect staff and patients. For any patient who is under the age of 65 with respiratory conditions, or anyone who is 65 years or older, my advice was to complete the pneumonia protocol and consider that as an indirect fight against COVID-19. Then our thoughts turned towards the 2020/21 flu season. After speaking with my team, we agreed vaccinations against flu and pneumonia are cornerstones in our fight against COVID.

In previous years, we would arrange clinics with the Seniors Information Centre of Metchosin, typically vaccinating 350 patients in two days. This year, we predicted that the demand would be doubled, so we had to work with other departments of the municipalities in our community that would help us host this vaccine clinic in a safe way. We also knew we needed to plan early, so our preparation work began in the summer.

The first step was to contact both the cities of Metchosin and Colwood to see how they could help.

In Metchosin, we contacted Fire Chief Stephanie Dunlop, who we had communicated with for previous flu clinics organized at the Metchosin Fire Hall. She worked with us to organize a location an old elementary school in Metchosin which would be reserved entirely for the clinic.
As fire chief, Dunlop was aware of all the COVID-19 safety protocols. We set up waiting areas for before and after injections. Junior firefighters helped manage the crowd and traffic, while paramedics were notified and put on standby in case anyone should require emergency help. The Seniors' Information Centre of Metchosin also provided 25 volunteers to help.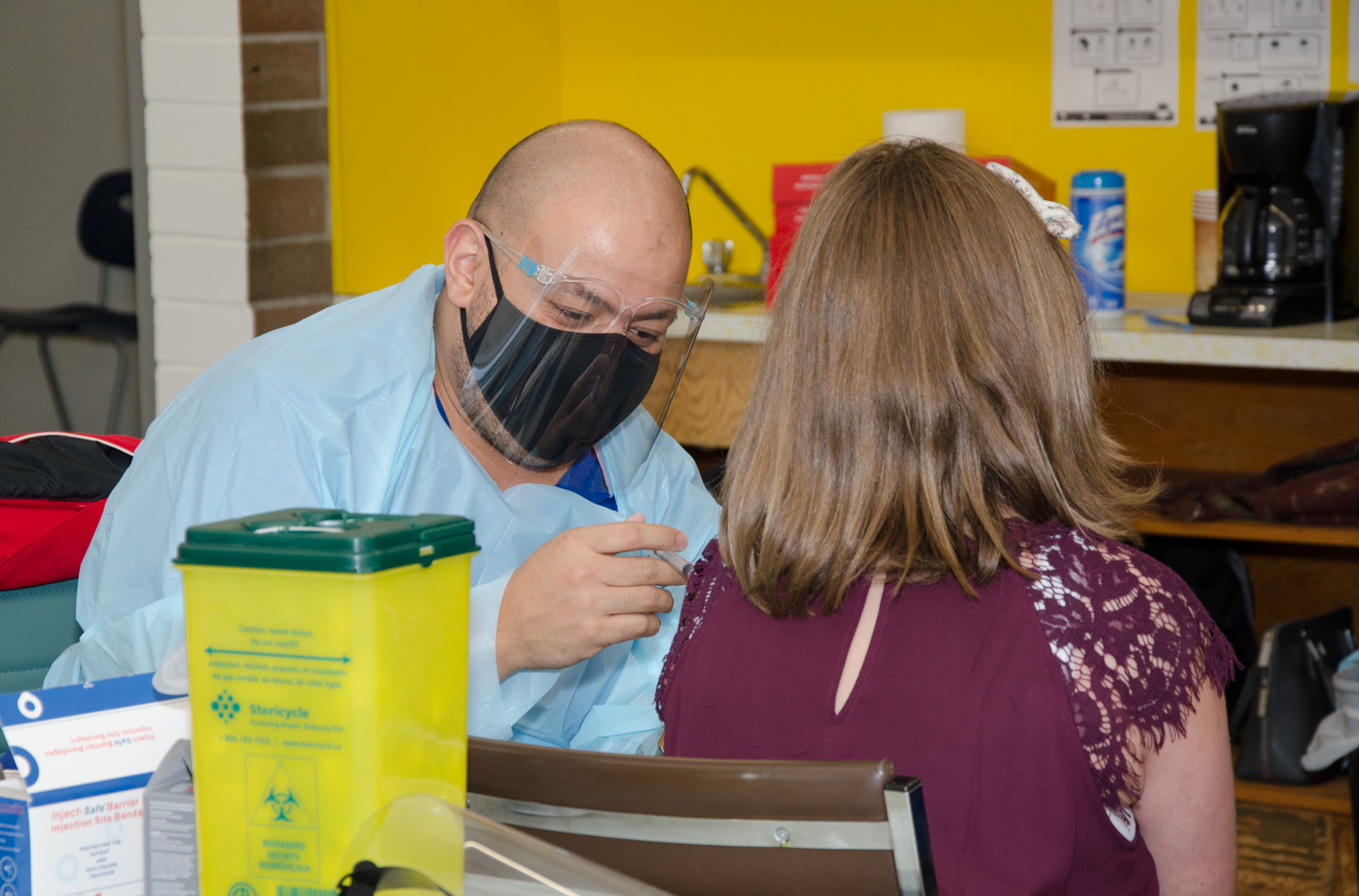 Mohamed Zeid administers a flu shot for a patient at the Metchosin flu clinic, a mass clinic organized as part of a community effort.
In Colwood, our team contacted the city's strategic planning department. At the time, the city was working on a safe reopening program for their municipality. Our pharmacy's idea was included as a cornerstone of their program. With the city's involvement, online booking was set up through the city's website. Mayor Rob Martin also supported the program by announcing our vaccine clinic through the local radio station, resulting in fully booked clinics within days of online booking being set up.

The Juan de Fuca Recreation Centre was chosen as the location for the clinic. It was large enough to accommodate 50 patients every 30 minutes and was set up to include one-way entry and exits. The city further supported the event by providing signage for the venue, and volunteer firefighters with experience managing crowds also attended. During this time, we also consulted the local health officer to ensure all safety measures were being complied with.

With plans for these clinics in place, our pharmacy approached the West Shore Health Unit in June 2020. We explained our projected vaccine numbers, the expected age category we are targeting, along with the timing of the vaccinations in a presentation. Th e health unit was very enthusiastic, and this communication was crucial to ensure we received the vaccine supply to cover these public clinics. In addition, the health unit ensured we had adequate supplies of HD Fluzone for residents of the two senior homes.
In total, through these public clinics, our pharmacy administered 2,500 doses of fl u vaccine for our communities this year. Among these patients, they included people who are essential for the safe reopening of our city, people who have other medical conditions that make them immune compromised, and people who are taking care of their vulnerable loved ones. In addition, we administered vaccines for children between 5 to 17 years who are going to school, which added extra protection for their families.

Mohamed Zeid serves as pharmacy manager at Latoria Pharmacy IDA, located at 611 Brookside Road in Victoria.