Lindsay Dixon
Ben Gant Innovative Practice Award
Pharmacist, Heart Pharmacy Group.
Victoria, B.C.
It was a simple gesture. A kind act to help a neighbour who wanted more information about COVID-19 at the beginning of the pandemic. At least, that was the intention before pharmacist Lindsay Dixon realized just how many others were in the same situation as her neighbour – in the dark, bereft of accurate information as the fear of COVID-19 settled in the psyches of British Columbians.
Worst yet, some of those who did not have accurate, reliable information about COVID-19 sought questionable sources, often from online social media.
"This is a problem," Dixon said. "Misinformation is a pandemic of itself right now. So if we have a voice that speaks to dispel misinformation and if this voice comes from a pharmacist, then I can't think of a better way to educate the public right now."
Armed with a smartphone camera and her laptop, Dixon saw the opportunity to be that voice. She began making videos to provide coverage on topics where she believed more education would benefit the public. Slowly, she saw herself being able to turn the tide of misinformation before a public audience that was increasingly tuning out traditional, mainstream news and favouring their preferred social media platforms.
"As I started making these videos, I started noticing that people were really paying attention," Dixon said. "They were learning, and they were also seeing pharmacists in a different light. I had people even come up to me to say they had no idea a pharmacist had this kind of knowledge. "This was changing the way people thought about pharmacists. That's what really inspired me to keep going."
And she did. Dixon's Friendly Pharmacy 5 project now has a library of more than 100 videos – thousands of hours of labour in all – and some of her top videos are receiving tens of thousands of views from across the country and beyond. And as if intending to headbutt the source of misinformation itself, Dixon chose social media platforms to share her education.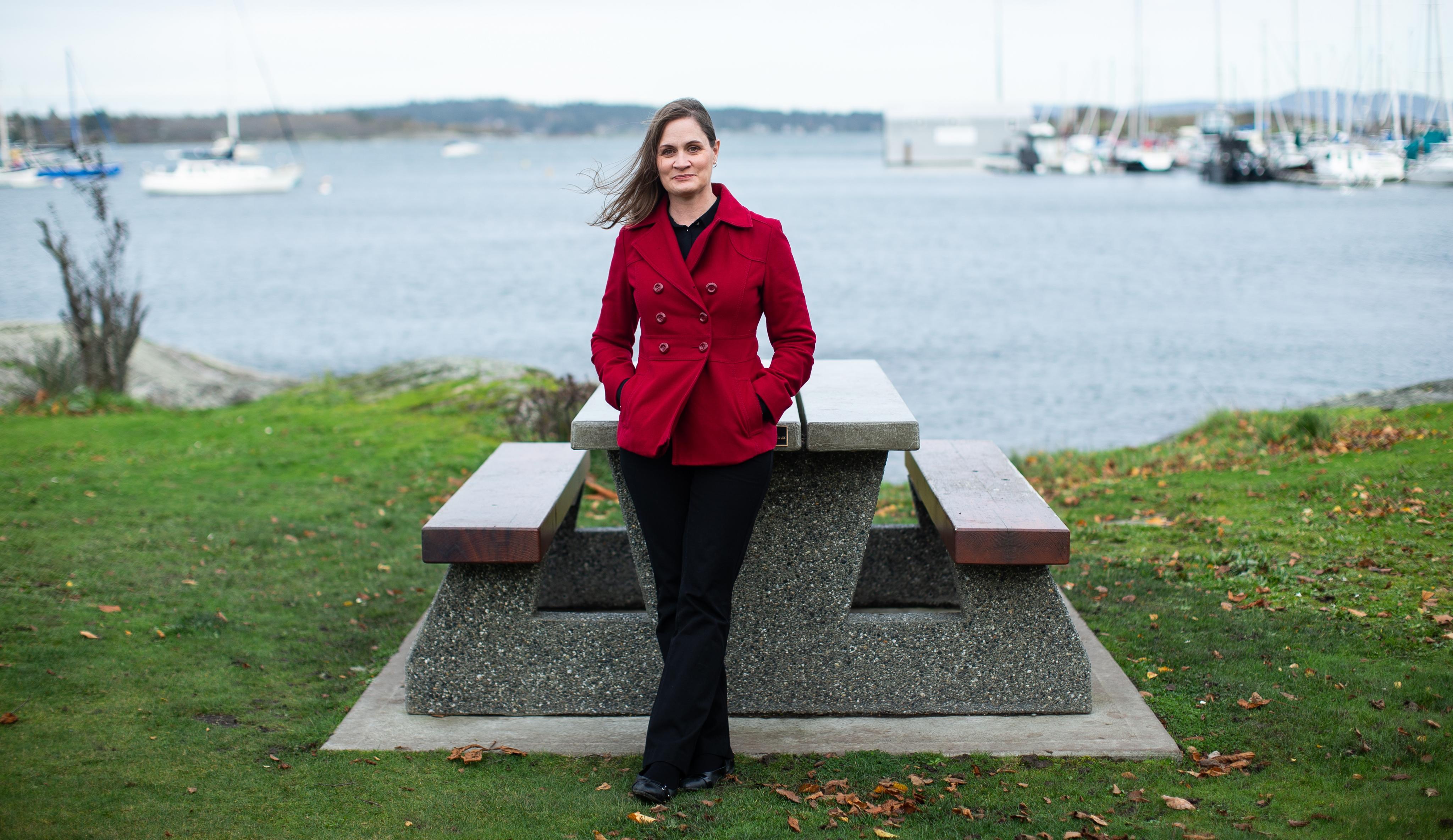 Lindsay Dixon, recipient of the Ben Gant Innovative Practice Award, spent thousands of hours putting together educational videos to dispel misinformation.
"Lindsay is one of the more innovative pharmacists in B.C. right now," said Jason Cridge, owner of the Cridge Family Pharmacies group. "Lindsay is dispensing a lot of information to the people that need it and I think that really signifies the direction the profession of pharmacy is taking, in that we're a resource of information for patients into the future, rather than just dispensing medications."
Zahra Rayani-Kanji, owner of the Heart Pharmacy group where Dixon is employed, said Dixon is a natural when it comes to translating the complexities of health-care for patients and the public.
"You may not know this about her, but she was living in Brazil and that's where she did her pharmacy degree. She learned Portuguese, she did her degree in Portuguese and then she came back to Canada to practice as a pharmacist. That speaks volumes to her capacity to take in information, translate it, and understand how to connect with others," Rayani-Kanji said.
Before she embarked on the Friendly Pharmacy 5 project, Dixon had never previously produced a video for publishing.
"It was really hard to actually first put myself on camera. As pharmacists, it's not something that really comes naturally to us," Dixon said. "But when I saw it was really helping people, none of that mattered. Every time I make a video I try to make it a little bit better."
Some of Dixon's latest topics include information on N95 mask efficacy, herd immunity, sleep medications, therapeutics for COVID-19 and more. Her videos are short, factual and to the point, with a focus on being as accessible to the wider audience as possible.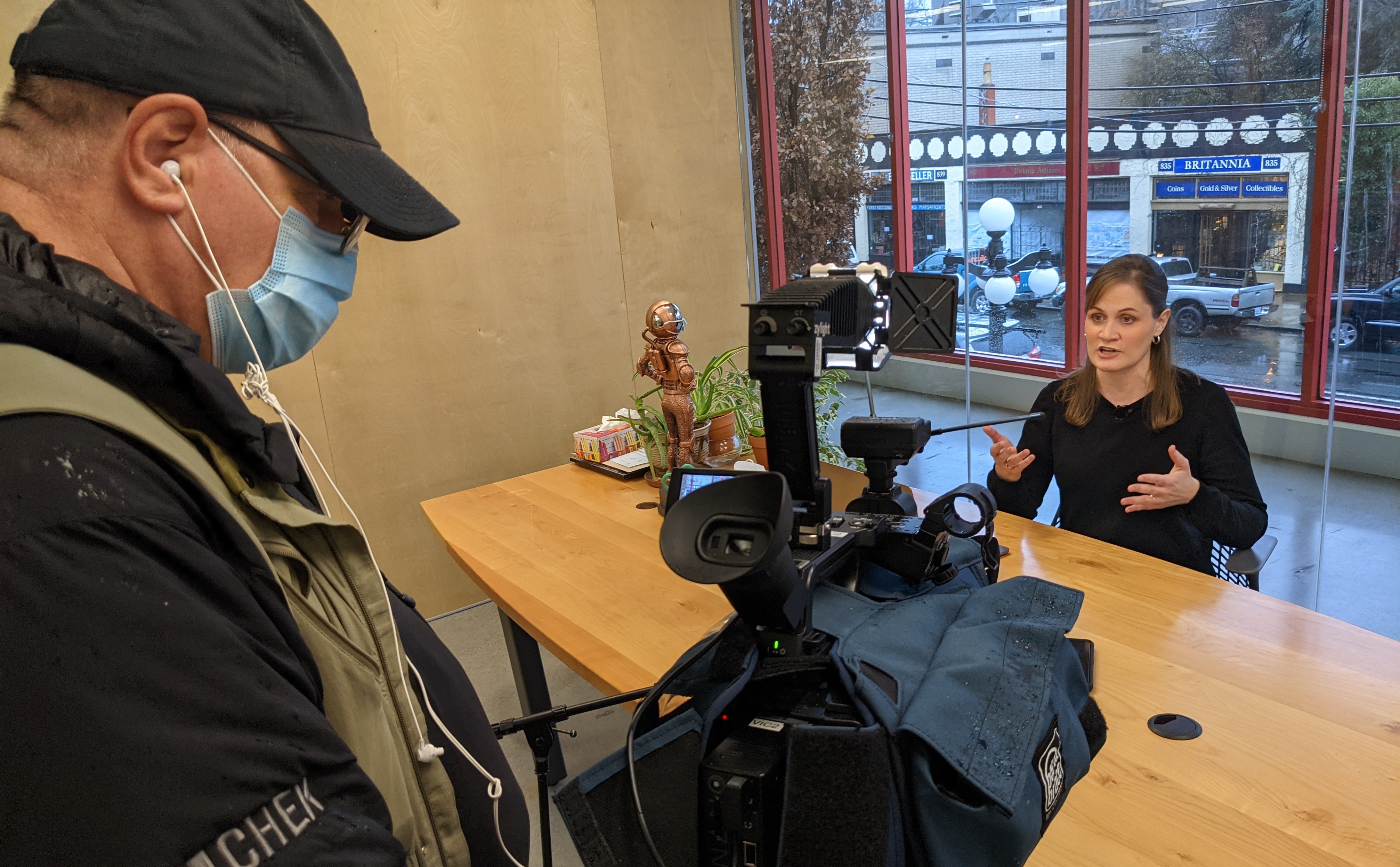 Dixon is seen here being interviewed by CHEK News on the topic of masks and COVID-19 in November 2021.
She is also gaining support among her colleagues, and also encouraging those others in the profession to take their voices to social media.
"We often Tweet back and forth," Cridge said. "I watch her videos on YouTube. It's definitely a fresh, unadulterated perspective of what's going on in pharmacies. Just her voice on YouTube, on Twitter, especially during the pandemic was great."
And like many pharmacists, Dixon is not naturally one to seek the limelight, said Rayani-Kanji.
"I think it speaks to her empathy. She's very humble. I don't think she's superbly comfortable with the attention from the videos, because she's not somebody who seeks the limelight. Instead she really believes in the need to make sure people have the right information, or at least information they can make informed decisions with," Rayani-Kanji said.
"There's a fearlessness in her and I think it's coming from knowing it's the right thing to do. Lindsay has been phenomenal. Everything she has shared has been an education for our team at Heart Pharmacy, so every member of our team is actually taking Lindsay's information and communicating it."
These days, Dixon even receives routine invitations from the local television media requesting her presence on health-care news segments.
"Often we see doctors in the news, we see different scientists, but it's not that often you see a pharmacist," Dixon said.
"This is a pharmacist speaking."