Pharmacist Leanne Dale was on the way back to Vancouver from Penticton when severe weather washed away parts of Highway 1 and locked off access to the community of Hope, B.C. Dale, who works at The Pharmacy Yaletown in downtown Vancouver, said she was trapped in the town with about 1,200 others. Here's what happened.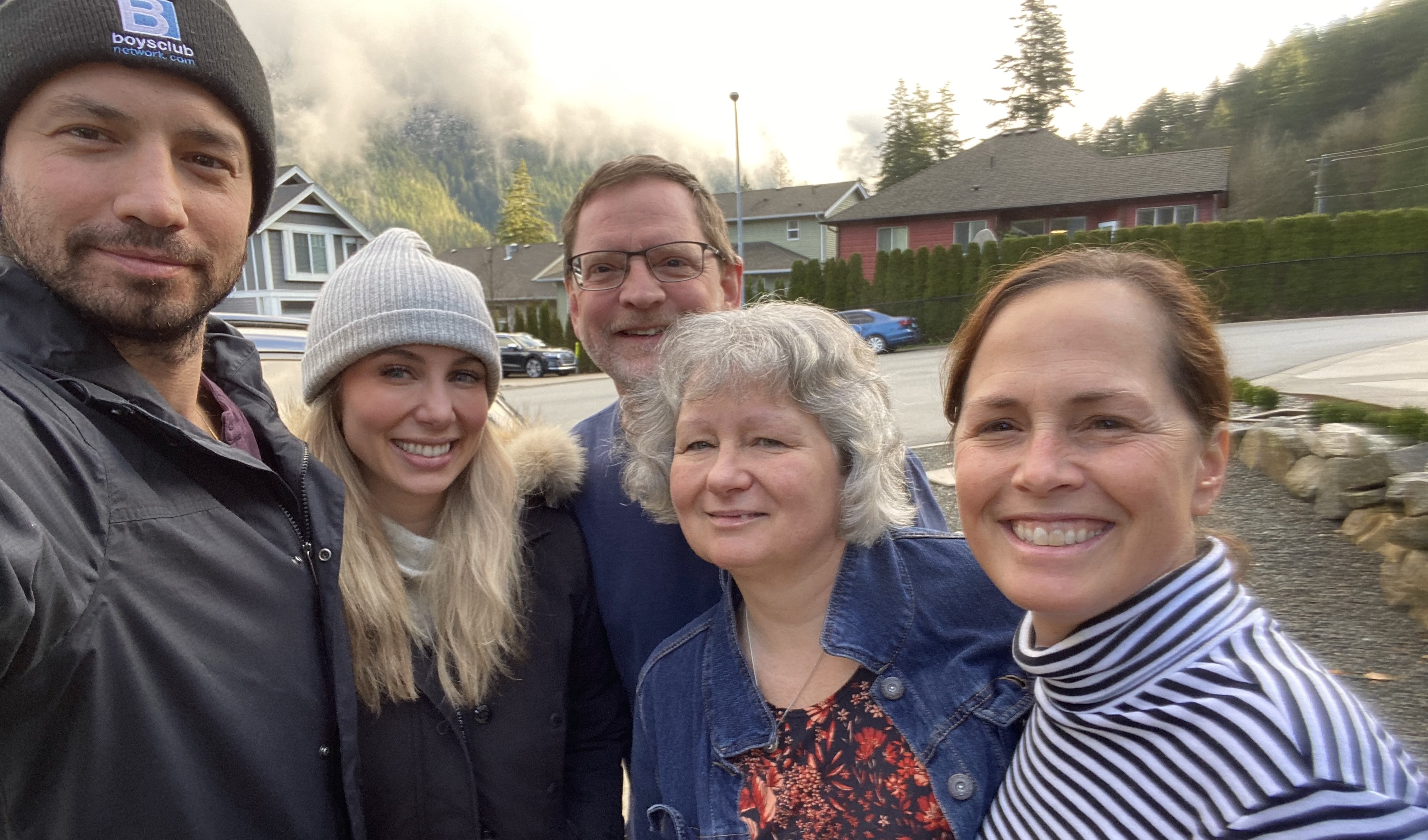 Leanne Dale (second from left) was among 1,200 travellers stranded in Hope, B.C., during mid-November's severe weather event.
You were stranded in Hope during the catastrophic floods last year in B.C., what happened?
I was up in Penticton with my boyfriend and dog and we were coming back home to Vancouver on the afternoon of Sunday, Nov. 14. The mudslide happened and we couldn't figure out what was going on. Traffic was not moving, cars were parked in gas stations and all these random places. So that first night, we slept in the car. We couldn't get food, water, gas, there was no power and we couldn't use our phones because there was no reception.
The next day, we drove around the town to assess the situation and we saw a high school with power on. There were a bunch of people, they had generators and they were giving people food, water, coffee and shelter.
I had told some of my friends that I was stuck in Hope by then, and fortunately there was an older couple who were friends with the relatives of a friend of a friend, and they told us we could stay at their home during the disruption. One of them is actually a nurse, and when I told her I'm a pharmacist, she told me there was only one pharmacist in all of Hope, and they were desperate for help because there were about 1,200 people stuck in Hope.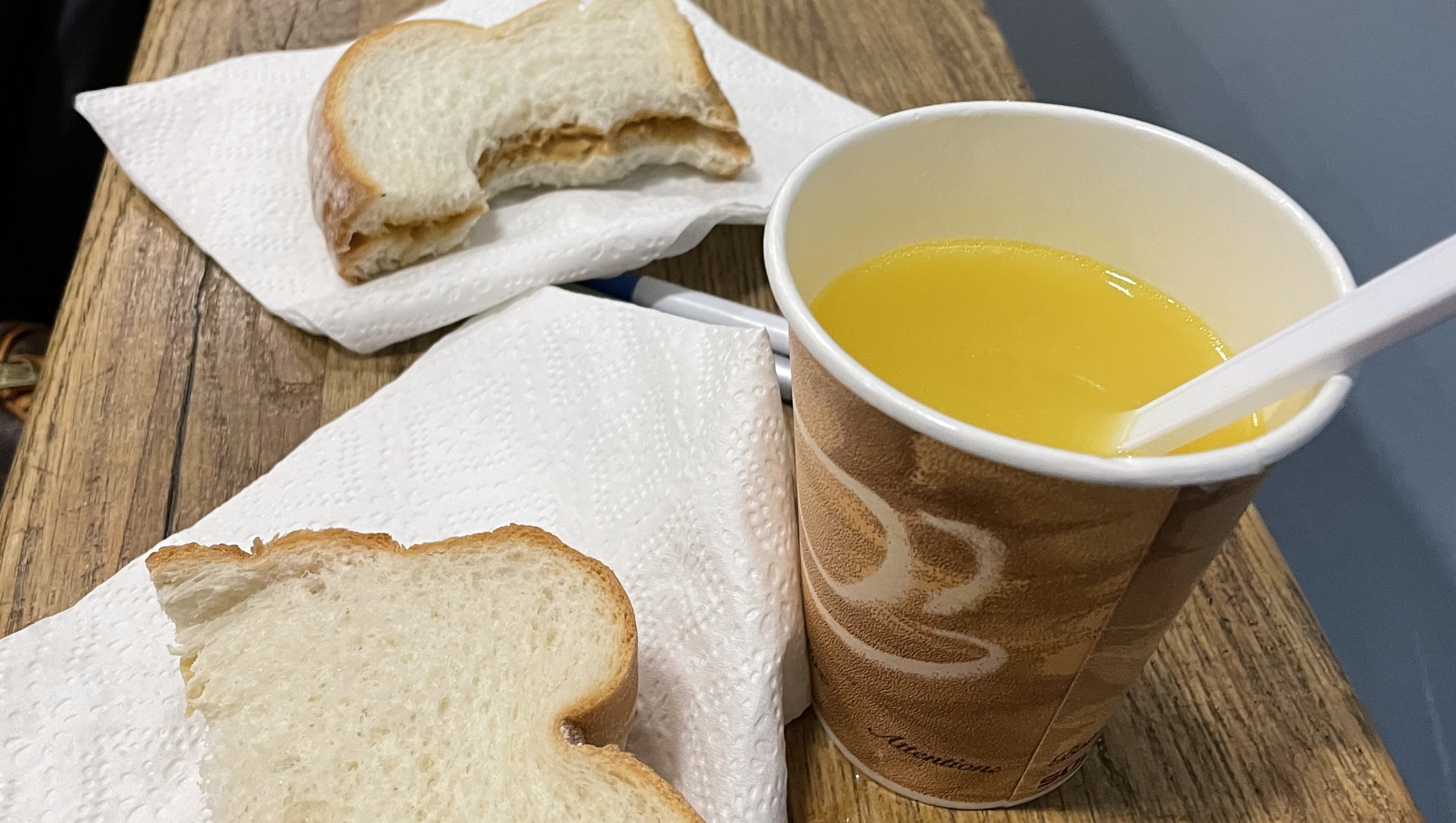 Many travellers gathered at the local high school, where supplies such as food and drink were handed out to those who needed it.
So you went there to help?
I only had a couple of outfits, so I showed up in ripped jeans and a sweater at Hope Pharmasave. We were working 12 hour days, not taking a break, arriving there an hour before opening and staying a couple of hours after close.
I've never worked in anything like that. You can imagine the amount of traffic going through Hope that day. There were people who needed their diabetes supplies, their heart medication, antidepressants, emergency supplies for everything and there was only one pharmacist who was able to get to work because of the mudslides.
The phones were ringing off the hook and the line-ups were so long, filled with people who were stressed out about their medications. They were mostly people from out of town and we're trying to make sure all these people have enough medications to survive.
People were obviously stressed out because they were scared, especially if they're insulin dependent or on beta blockers, or any sort of medication that has serious withdrawal if you stop taking it. I was mostly behind the counter doing final checks and the counselling, and we had an assistant and a tech mostly at the front and filling the medication. It was quite the scene.
How did you make sure people got what they needed?
We were just doing maximum one week supply for any medication unless we had a lot of that certain medication. Luckily, the pharmacy was pretty well stocked up, but the distributor wasn't able to do deliveries because of the mud slides so we were being very careful and only giving a small amount to each patient. We were doing well over 500 prescriptions a day, with just two pharmacists.
There were a lot of different people who were either in the Interior for the weekend or in Vancouver for the weekend caught travelling through, it was a whole variety of people. There were more than 600 people staying at the high school, where there were a couple of doctors who stepped up, so there was even a station set up by the doctors in case anybody needed medical attention.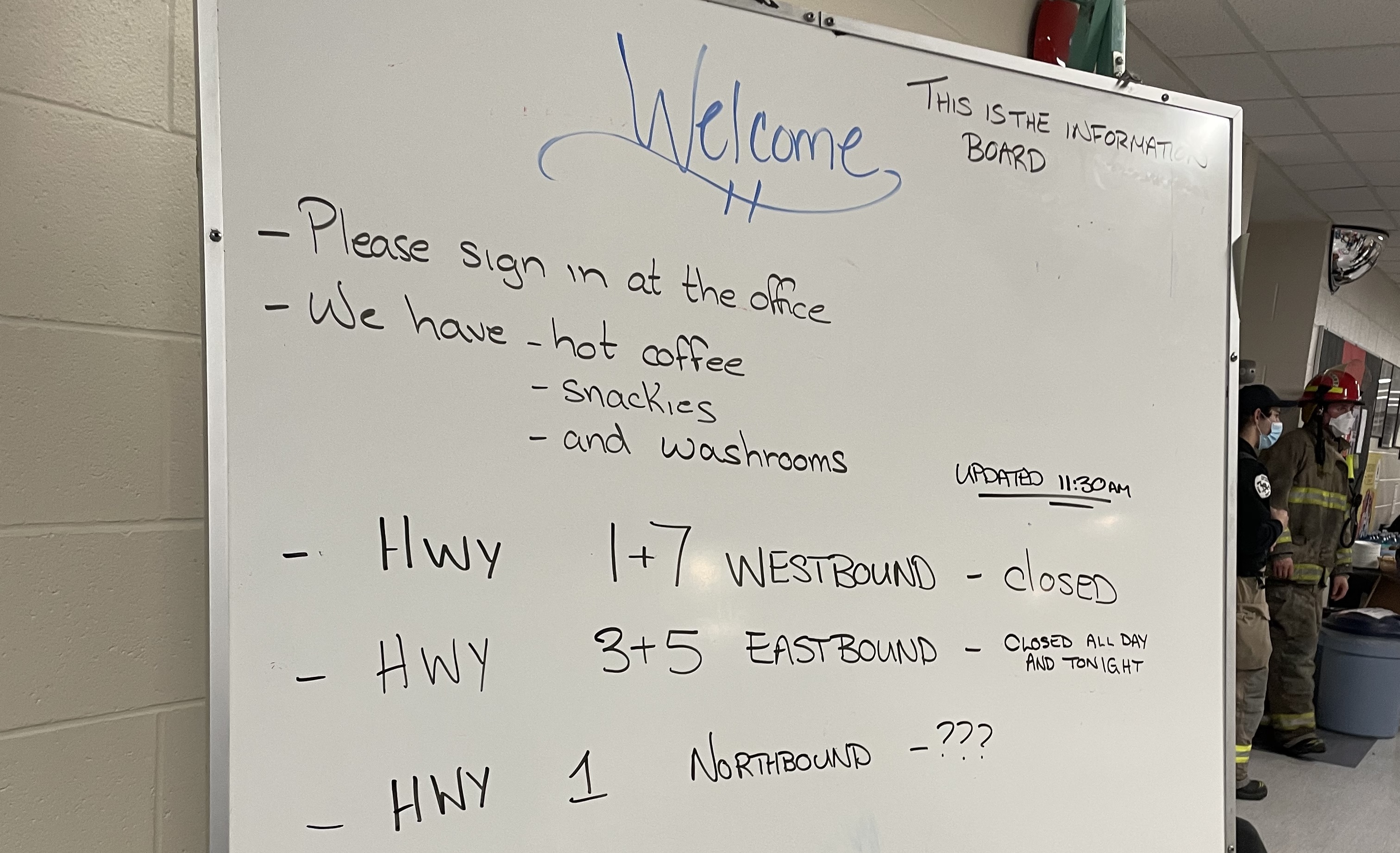 A community white board used to communicate highway access information to those gathered at the high school.
How did you eventually get home?
My boyfriend happened to be talking to a friend, who knew someone who was coming in by helicopter to bring supplies in town. They said we could hitch a ride back with them on the way back to Fort Langley.
Michael, the pharmacy owner, was really thankful. My boyfriend and I were both missing work at home. Obviously there was nothing we could have done about it, but I just knew it would work itself out and I was happy to be able to help, and make a difference.