Justin Dovale
Collaborative Care Award
Pharmacist and Co-Owner, Two Nice Guys Pharmacy
Kelowna, B.C.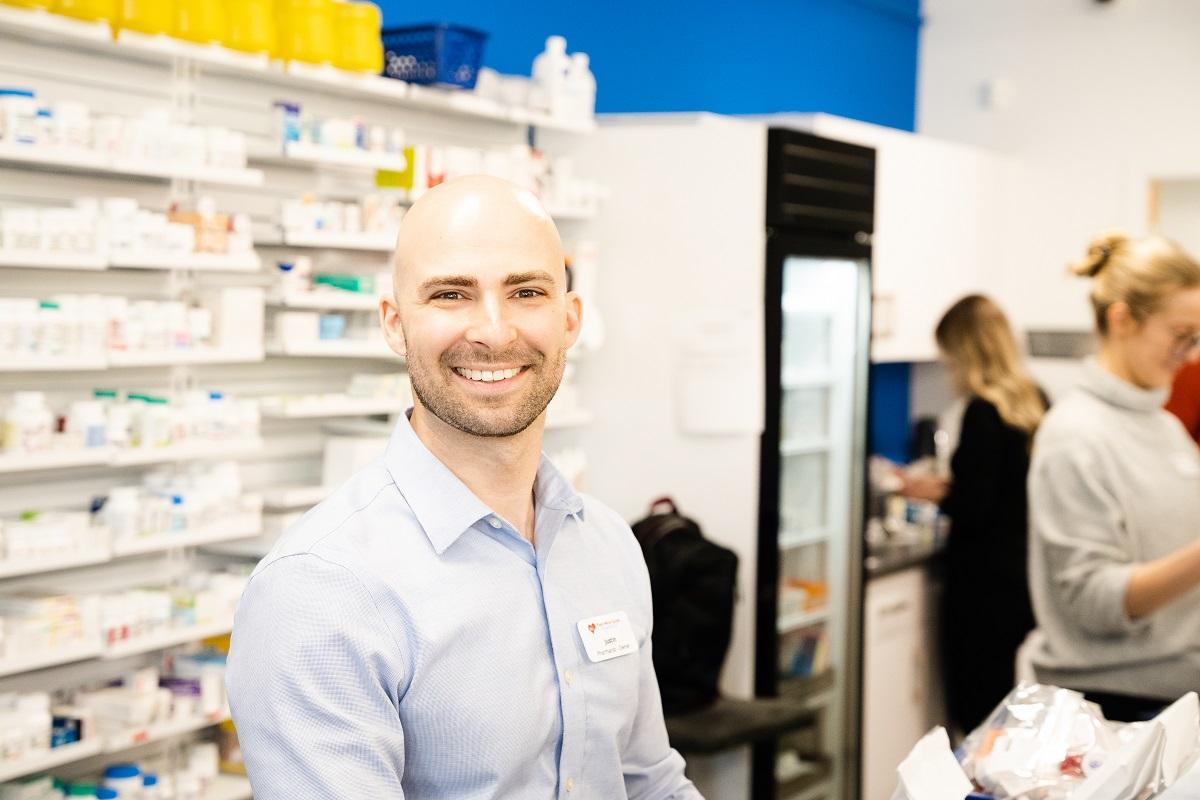 The timing was right for Collaborative Care Award recipient Justin Dovale. The former hospital pharmacist opened his own community pharmacy in March 2021, right at the height of the pandemic. It was a decision that proved to be instrumental in positioning his new business as a provider of solutions for public health.
Along with business partner Chris Kemppainen, the two decided to name their pharmacy after themselves: Two Nice Guys Pharmacy.
"Our goal right off the bat was just to help solve problems and fill gaps in the healthcare system. From my experience in the public sector, I realized that there are a lot of places where community pharmacy can step up," Dovale said.
One urgent area Dovale and his team quickly stepped up to was the issue of opioid agonist treatment patients becoming sick with COVID-19, and due to public health restrictions, could no longer come into their regular pharmacies for their witnessed doses while isolating. Unfortunately, many pharmacies in the region simply were not equipped with delivery services.
Dovale decided to take on those patients and began making deliveries to several dozen opioid agonist treatment patients who were isolating at home or in public health funded hotels.
"We took in lots of referrals and we started delivering," Dovale said. "And from there, we ended up getting connections back to the providers, whether at the OAT clinic or Outreach Urban Health, at the hospital – social workers and discharge coordinators at the hospital – and that's really how we built up our reputation."
Typically, Dovale would receive a call from a patient's social worker or physician to notify that the patient has caught COVID-19. At that point, Dovale would work with the patient's health team to determine when the patient's deliveries would begin and to ensure the patient's prescription is valid for Dovale's pharmacy.
"A lot of times the conversation is simply logistics. But other times we'll be talking drug interactions, for example, if someone isn't well managed on Kadian, what could we do as an alternative? Or how could we bridge someone on Suboxone until their next Sublocade injection … a lot of times it's really just about making sure people aren't experiencing any breaks in therapy," he said.
Through this work, Dovale has created close relationships with numerous physicians, public health pharmacists and other care providers in the region. Many are on a first-name basis with him and have exchanged cell numbers.
"Literally just picking up the phone or sending a text message after hours and getting a new prescription started or something changed, other pharmacies might have to wait until the next business day," Dovale said. "Sometimes it helps to go straight to the provider, and the fact that we can do that and the fact that they trust us … it's been a real game changer."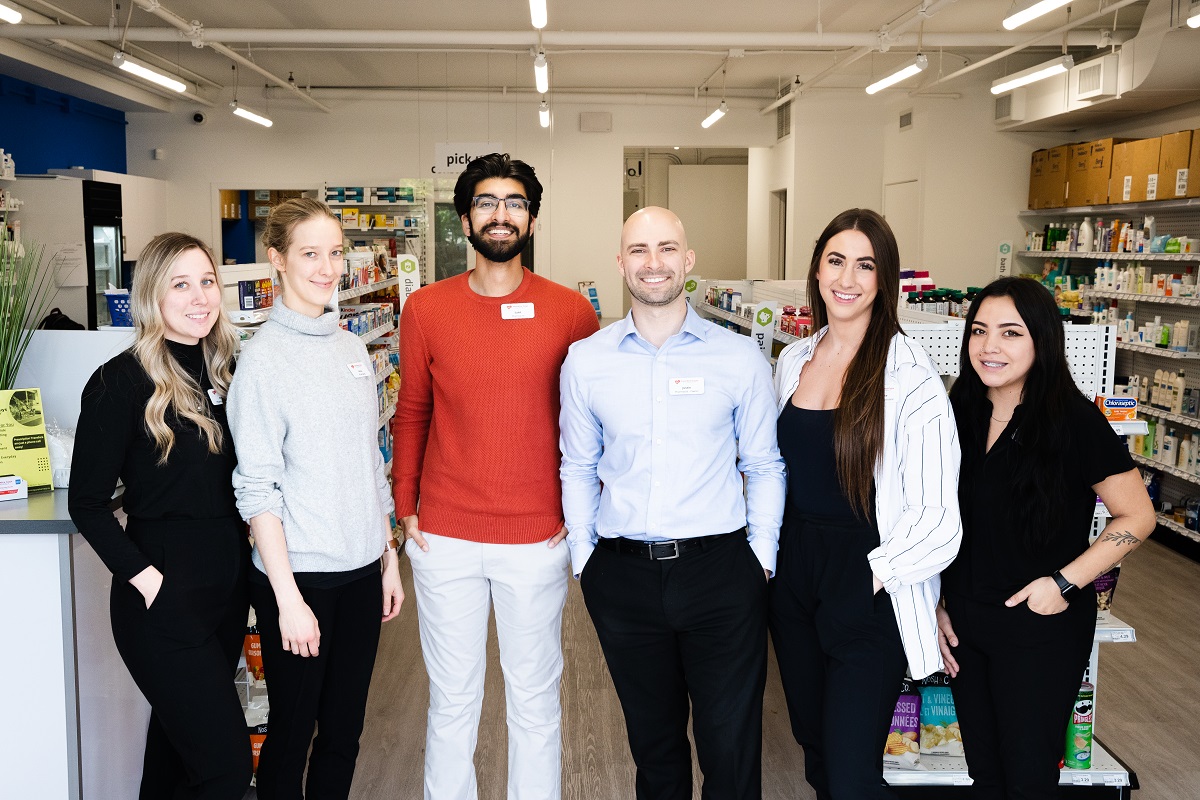 Sahil Ahuja and Justin Dovale (centre) along with their team at Two Nice Guys Pharmacy in Kelowna.
Sahil Ahuja
Collaborative Care Award
Pharmacist, Two Nice Guys Pharmacy
Kelowna, B.C.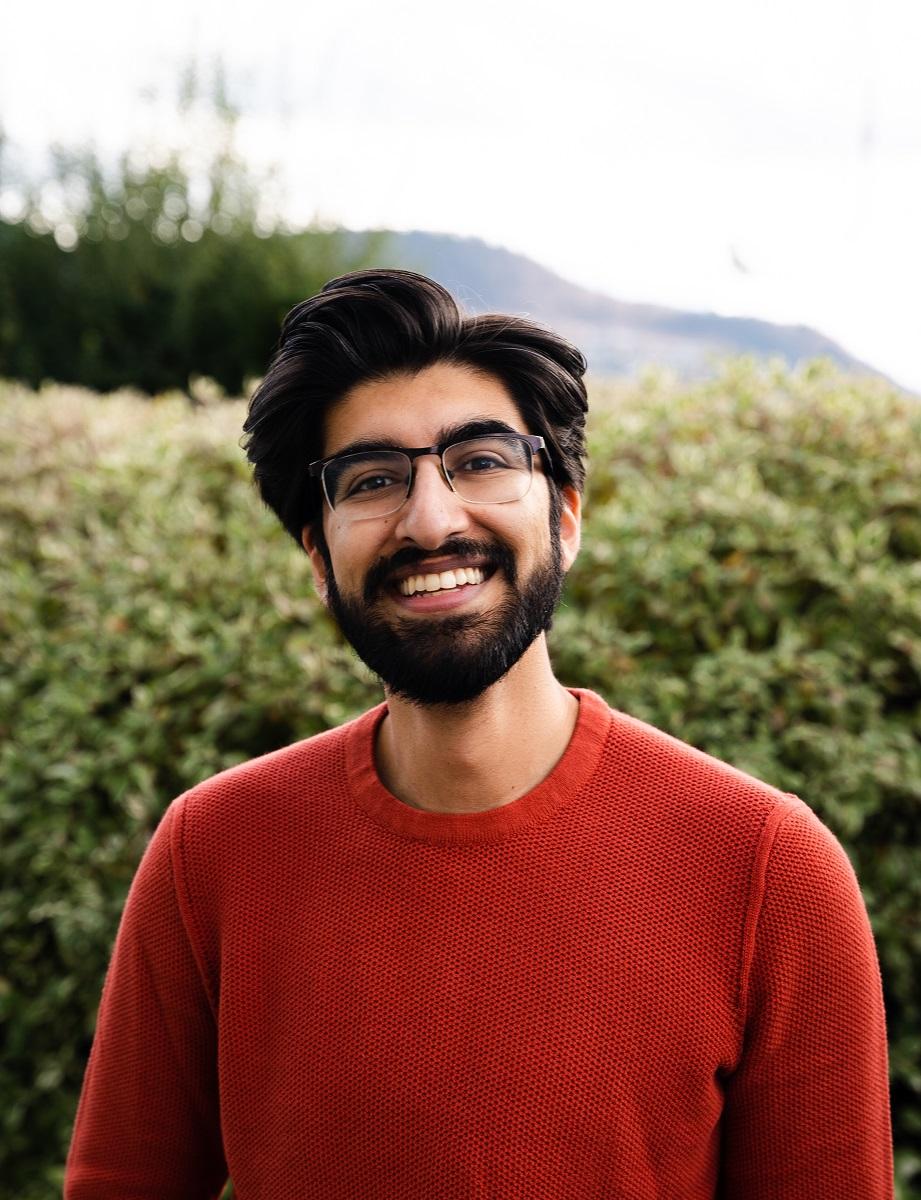 For Collaborative Care Award recipient Sahil Ahuja, there is nothing that demonstrates the expression 'the whole is greater than the sum of its parts' better than collaboration in the delivery of health-care. The 2019 graduate had already worked with one of the owners at Two Nice Guys Pharmacy at a previous community pharmacy when he was offered the opportunity to join the team.
In the early days, however, business at the pharmacy was slow. The pharmacy had just opened in the middle of the pandemic and the volume of prescriptions was not high. Ahuja decided he needed to do something about that.
"You're here for a full eight to 10 hours and there's no scripts. We had all the time in the world. With all that time, what I started doing was reaching out to local organizations, whether it was the Canadian Mental Health Association, or charities or other organizations, just to see, what are their pain points? We have all this time in the world to help them address that," Ahuja said.
"Where it really got started, we got a phone call from the pandemic health coordinator for the Okanagan region. Through the grapevine, she had found out that we do OAT delivery directly to patients. She asked if we could help."
Ahuja at that point had already been doing deliveries, sometimes personally delivering the medications, to existing opioid agonist treatment patients at Two Nice Guys Pharmacy who were isolating due to COVID-19. It was easy for them to expand that service to those who needed their treatment, but were unable to secure deliveries.
He sees this level of collaboration, between physicians, public health and pharmacists, as a force multiplier when it comes to what can be achieved as a team.
"There are so many things that are really difficult for other parts of the health-care system to solve. For example, delivery. It relieves a tremendous burden for them, which then opens them up to do that they need," Ahuja said.
"I truly believe that collaboration is a 1+1 equals 11 situation."