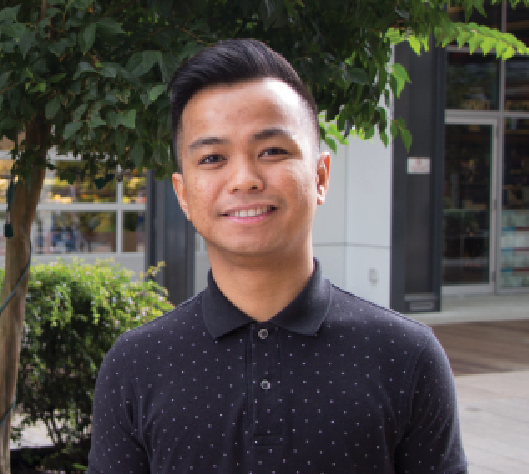 BC Pharmacy Student Ambassador Jerry Mejia is grateful for the opportunities and mentoring he's had over his past four years as a pharmacy student.
Jerry Mejia didn't plan to become a pharmacist, but he's glad he found a way to combine his love of working with people with his passion for science. Jerry is in his fourth year at UBC, and is currently doing his last community rotation at Loblaw Pharmacy in Richmond. He has been actively involved with student affairs and currently serves as VP Professional Affairs on the Canadian Association of Pharmacy Students and Interns (CAPSI)'s national council. He is also a BCPhA Student Ambassador and was a winner of the Apotex Inc. Future British Columbia Leader Award earlier this year.
How did you decide to go into pharmacy?
To be honest, I didn't initially consider pharmacy as a career choice. Like so many other science students I came to UBC and wanted to go to med school. But as I went through my undergraduate courses and after shadowing physicians, I realized that medicine wasn't a good fit for me.
Luckily, a few of my friends were in the program and they encouraged me to consider it. I learned that it combines patient interaction and health science quite well. I applied. In 2014 I was accepted and have loved the profession since then.
What have you learned so far during your fourth-year rotation?
My third-year rotation preceptor taught me that the transition from being and thinking like a student to being a pharmacist is probably one of the most challenging obstacles I'll have to face once I graduate. In my final rotation, I'm trying to learn as much as possible to better prepare myself for this by shadowing my current preceptor, staff pharmacists and trying my hand at helping manage workflow as much as possible.
I'm also taking this time to further put my therapeutic knowledge in practice and develop my own approach to patient care. It really is a time where what we learn in school is coming together with the realities in the community.
What advice do you have for students just starting in pharmacy at UBC?
Take every opportunity to get involved with the profession. The program is intense, but pharmacy isn't just about academics. It's also about the experiences you have outside school and the people you meet.
As a student, sometimes it's easy to feel you don't belong at an event or that your presence is insignificant. But being a student is actually an advantage. You can ask a lot of questions and pharmacists are amazing professionals willing to share their stories and experiences. You'll get a lot of great advice. Get out there and take advantage of the next four years to attend networking and professional development events.
Lots of people are willing to support you. I owe what I do today to what other people have done for me. I think it's important to be grateful for the opportunities you are given and make sure to pass it on — to give other pharmacists the opportunities and support you've received.
Where do you see yourself after graduation?
Next year, I'll have graduated and I'd love to become a community pharmacist. I love coming out from behind the counter and helping customers. I also really like the idea of forming a long-term relationship with my patients.
But first, I think I'd like to be a floater and experience BC. I moved to Vancouver from Edmonton and have only really experienced the Lower Mainland. I did a placement in Kelowna, but most of my rotations have been around Vancouver. I'd love to see different communities and learn what pharmacy practice is like in these areas.
Eventually, I'd like to bring these lessons back with me and practice in the Lower Mainland and perhaps take on a leadership role. I've been involved with many leadership opportunities as a student and I'd love to apply these experiences in my practice.
What changes do you expect to see in pharmacy during your career?
I really expect us to continue to further establish our role as key players in our patients' drug therapy. I want us to become more involved with the issues surrounding our profession and take active roles in advocating for our own profession. It would also be exciting to see an increase in inter-professional team-based approach to primary care, especially in community settings.