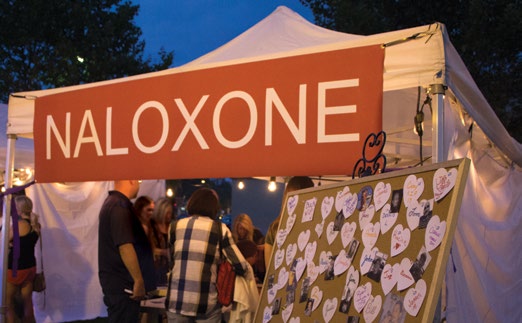 With dedicated volunteers from BC Pharmacy Association and Living Positive, over 127 naloxone kits were handed out from this tent.
Three Kelowna pharmacists volunteered to spend one of the last evenings of summer helping educate and possibly slow down the opioid overdose crisis that had already taken 96 people in their community, and made Kelowna ground zero in per capita opioid overdose deaths.
To mark International Overdose Awareness Day, an event was held in Kelowna's Stewart Park on the evening of Aug. 31, 2017. BC Pharmacy Association members Amy Newport, Dawn Laurienzo and Wendy Jansen, from two Kelowna Shoppers Drug Marts, were there, handing out free naloxone kits and training people how to use them.
"It was a great opportunity to reach out to people who had lost a loved one," Newport says. "Lots of people are still in the situation where they could witness an overdose. We were able to provide training without judgment or stigma."
More than 200 people attended the event in the popular lakeside park. Along with volunteers from Living Positive, a local non-profit that advocates for harm reduction, the trio of pharmacists handed out kits provided by the BC Centre for Disease Control. They trained 127 people how to administer naloxone.
Pharmacists had been invited by mother Helen Jennens, who lost two sons to opioid overdoses. "Pharmacists are the last line of defense in dangerous drug prescribing," Jennens says. "They are the ones who offered to step up and help at this event."
For pharmacist Wendy Jansen, the biggest takeaway was that the general public wants to be knowledgeable about naloxone and how to use it. "Many people, like security guards, people who work late at night and walk downtown, or friends of users, are really interested in naloxone and want to have kits on them or in their cars to help if they come upon someone in need," she says.
Jennens is already planning on holding the event next year. "I heard so many people that night say they didn't understand the depth of the crisis. I think we need to keep up the awareness."