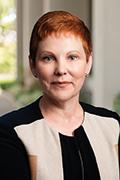 We are inundated with social media — Facebook, Instagram, Twitter, podcasts, blog posts — our days are filled with so many messages coming at us. Mostly, the sea of images and information washes over me and it is only the rare post that sticks.
A couple of months ago I read a blog exchange between some community pharmacists. On the one hand, they were advocating for the opportunity to provide more services to their patients, but at least some could see little point in doing more for the same money. "Why," one commenter asked, "should I do more when I am paid the same hourly rate?"
This was not the first time I have heard both these positions. They seem to be in conflict with one another. And, the 'why would I bother' position is one that troubles me a great deal.
I trained as a journalist and went on to spend the bulk of my career in the communications business. While journalists and communicators think of themselves as professionals, they are not in the truest sense of the word. Journalists and communicators are not regulated or licensed. While codes of conduct and standards of practice certainly exist for both disciplines neither face the rigours of legislative regulation that pharmacists do.
As a communicator, much of my time was spent proving that the work I did was valuable and was just as important to an organization as that done by the professionals — lawyers, accountants etc. Communications was the business that developed the idea of reputation and how it affected public confidence and the overall value of an organization. I did all I could to gain all the available credentials to prove that I was indeed a professional.
So perhaps I am more sensitive than some might be to any regulated professional having a cavalier attitude about not working to their maximum capacity to shore up the reputation of their profession. We all know that pharmacists have struggled to be recognized as the experts they are within the health-care team. They take a backseat to physicians and nurses and all too often are not even included on the list of health-care team partners.
I can't help but think linking patient care to how much you might be paid is a dangerous message for a profession that is working hard to prove its value and gain trust. I am not dismissing the economic challenges faced by pharmacists. The sector has had its financial underpinnings ripped away over the last five years. Drug price compression has taken millions of dollars out of the sector and there are no easy answers to how to find new revenue sources. Smarter people than me spend all their time looking at those issues.
But what I do know for sure, is that the only way pharmacists will get more opportunities to deliver patient care and work as trusted members of the health-care team is if they earn the reputation of being indispensable. Adding value through every patient interaction and through contacts with prescribers is what's needed to make that happen. Going the extra mile is the only pathway to demonstrating professionalism and, in turn, increasing the service pharmacists are paid to deliver.
Geraldine Vance is the CEO of the BC Pharmacy Association.