Diabetes concerns every family - Discovering Diabetes (Source: International Diabetes Federation)
World Diabetes Day 2018 takes place on November 14, 2018. Through the theme "The Family and Diabetes", the International Diabetes Federation hopes to raise awareness of the impact that diabetes has on the family and support network of those affected and promote the role of the family in the management, care, prevention and education of diabetes.
The warning signs can include: excessive thirst, frequent urination, a lack of energy, blurred vision, slow healing wounds, and numbness in the feet and/or hands.
Whether you have or are at-risk of type 1 or 2 diabetes, many pharmacies across British Columbia offer diabetes screening, education and management as part of their clinical offerings. A pharmacist with a Certified Diabetes Educator (CDE) designation can help you with diabetes education and management so that you can make informed decisions about your health and lifestyle.
Spotlight on Pharmacists: Community Pharmacists Bring Heart To South Asian Population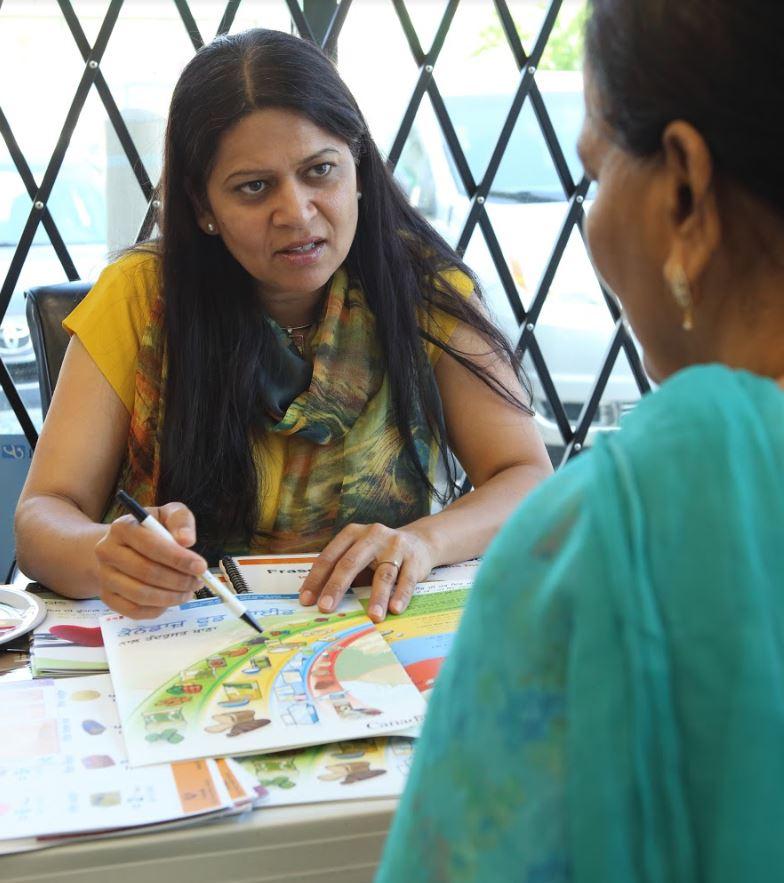 Pharmacist and business owner Nafisa Merali walks through the doors of her Surrey-based pharmacy, Naz's Pharmacy, and immediately recognizes a patient, stopping to ask how they are doing. The popular pharmacy, located at 72nd Avenue and 125th Street is brimming with a steady stream of patients, many lining up for free glucose testing and counselling, at times blocking the entrance.
Located in a tiny neighbourhood strip mall across from a South Asian grocery store, the cozy pharmacy has become a pillar of health and wellness to the Surrey community, where many patients struggle with the negative effects of diabetes, high blood pressure and heart disease, among other illnesses. In fact, according to Fraser Health's South Asian Health Institute (SAHI), South Asians are two to three times more likely to develop heart and kidney disease, stroke and diabetes 10 years earlier in comparison to other ethnic groups.
"Every day, our goal is to educate patients and guide them in their journey to health and wellbeing," says Nafisa "We have witnessed firsthand the difference that proper education, diet and medication can make in the lives of not only our patients struggling with diabetes and high blood pressure, but to their entire families, who now have a healthy member of the family again. It really is an honour to be a part of making that difference."
Click here to read more about what Pharmacist Nafisa Merali is doing to help the South Asian community gain a better understanding about their health, in particular when it comes to diabetes.
Resources for Pharmacists and the Public
Self-assessment questionnaire
Are you at risk of having pre-diabetes or type 2 diabetes? Take the self-assessment from Public health Agency of Canada to find out. Click here to begin!
The risk scores that you will receive is not a substitute for actual clinical diagnosis. If you have any concerns, please consider discussing your results with a pharmacist.
Training courses for pharmacists
The BC Pharmacy Association offers an accredited eTraining course called the "Diabetes Health Coaching Program" which allows pharmacists to offer health coaching services to patients who qualify. The goal of the eTraining course empowers pharmacists to help patients diagnosed with type 2 diabetes to take ownership and responsibility for their overall diabetes control. To learn more about this course, please click here.
In February 2018, the BC Pharmacy Association hosted a webinar called "An Update On Non-Insulin Glucose Lowering Medications For Type 2 Diabetes" for pharmacists. This course is accessible to members on the eTraining platform.
Read more about what B.C. pharmacists are doing for patients with or at risk of diabetes: