Community pharmacies across the province are preparing to administer another record number of flu shots to help protect British Columbians against influenza for this year's flu season. Last year, pharmacists provided more than 660,000 flu shots, an increase of nearly 20 per cent compared to the previous year. If these numbers are any indication, the BC Pharmacy Association predicts a similar, if not increased, number of flu shots administered by pharmacists for this year's flu season.
Pharmacists have not only become an increasingly popular choice for British Columbians wanting a flu vaccine, but health authorities across B.C. are now having their public health units refer individuals wanting flu vaccines to pharmacists and other health-care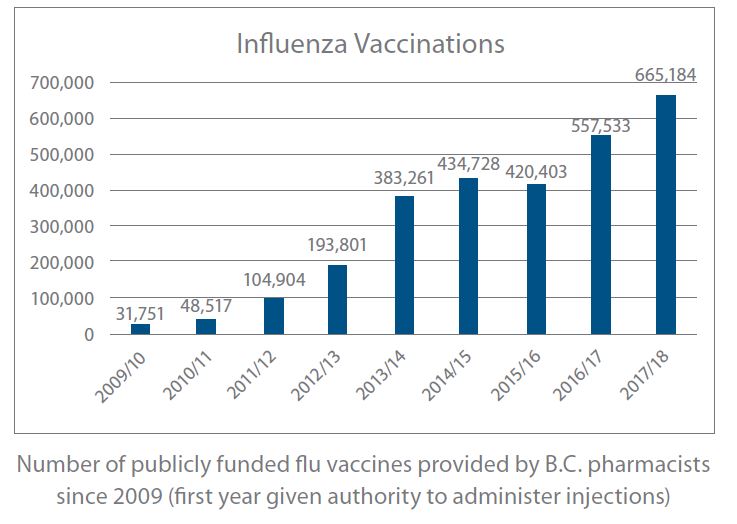 providers to help ease pressures they face.
"Our members have been incredibly busy. There has been quite a demand for flu shots from pharmacists," says Linda Gutenberg, Deputy CEO and Director of Pharmacy Practice Support at the BC Pharmacy Association.
One group that B.C.'s community pharmacists are hoping to reach are those ages 18 to 64 years old, who don't get their flu shots as often as other groups, like seniors or those with chronic conditions.
"Getting immunized is not only important for those with chronic conditions, but also for all family members and their caregivers," Gutenberg says. "We need to create a bubble of vaccinated individuals around those people with chronic conditions to keep them protected from the flu."
In B.C. care providers or family members of those with chronic conditions just have to declare their status to qualify for the publicly funded flu vaccine. "I don't think many of those people are aware they qualify for a free flu shot," Gutenberg says.
The BCPhA has also used the flu season campaign as a way of raising awareness about the convenience and accessibility of community pharmacists with elected officials. Members of the BCPhA's MLA outreach program, which is a grassroots advocacy program, have hosted MLAs across the province in their pharmacy and used that opportunity to help them understand the role pharmacists can play.
NDP MLA Jagrup Brar (Surrey-Fleetwood) was one of a number of MLAs who got their flu shot from a BCPhA advocacy program member. 
Allan Wong, with the support of the BCPhA team, invited Brar to his Shoppers Drug Mart pharmacy.
"In doing this we're able to connect with our MLAs and the media. It gives them a chance to be out in the community and see firsthand what constituents experience, what we do in pharmacy and how we can help increase access to care," says Allan Wong, pharmacist/owner of Shoppers Drug Mart 2122 in Surrey.   
Want to get more involved in the BCPhA's MLA outreach program? Contact Communications Officer Andy Shen.