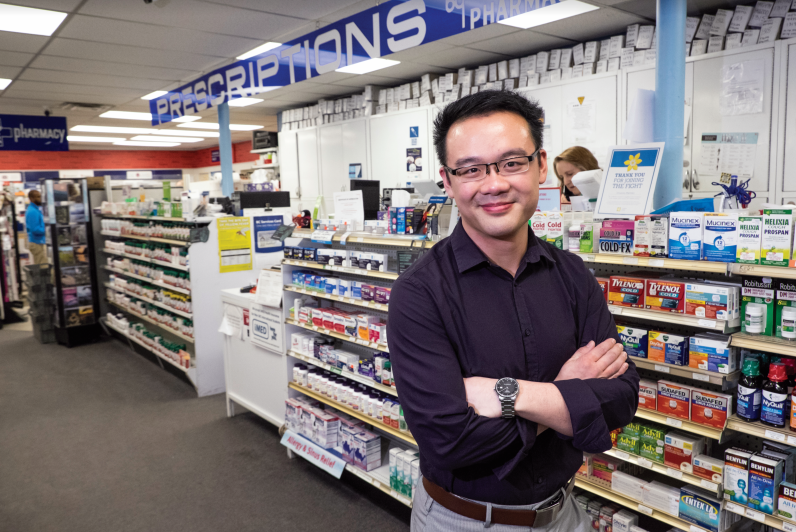 Mario Linaksita, pharmacy manager of University Pharmacy on the UBC campus, created a unique revenue stream by striking a collaboration with UBC Athletics to offer a wide range of clinical services for its athletes.
By Derek Desrosiers, BSc(Pharm), RPh
First off, time is always a big issue for pharmacists. You need to fully optimize your work time so that you are staying focussed on the business rather than spending your time working in the business. Figure out where your time is best spent to achieve your business plan goals instead of always just being reaction driven.
Your staff team probably need more attention than you are giving them. To maximize results you need a highly motivated team that have had the opportunity to receive all the training they need to do their job to the best of their abilities. They need to have strong product knowledge and a solid base of sales skills so that they are professional in helping your customers find the right solution while increasing sales volume for your pharmacy.
Be a socially responsible business. That starts with creating a caring culture within your pharmacy staff team. Then build upon that culture and team vision by having a pharmacy mission to contribute to your community. Be a community leader yourself by getting involved in things like volunteer opportunities.
Understand and anticipate your customers' needs. This can be a real differentiator. Although you probably already know, use your pharmacy system to run reports showing you who your top 100 customers are. The Pareto principle (also known as the 80/20 rule) comes in here. Generally, you will find that 80 per cent of your revenue comes from 20 per cent of your customer base. Talk with your customers from a strategic perspective and fulfill their needs with integrity. Go out of your way, occasionally, to do something special for them. Your actions will resonate with them and they will trust you, take your advice and be loyal to your pharmacy because you are delivering value to them. That translates into increased sales and great word of mouth marketing.
Your staff team also need to know who your key customers are so they can build a rapport with them. If they are graceful and ethical in their sales approach to your customers, it will be easy for them to upsell by offering additional products and services that will add to the value the customers are receiving. This can have a tremendously positive effect on sales growth.
Think about your overall value proposition so that you have identified the products and services that are most important and compelling to your customers. This adds to the trust factor and will lead to your customers relying on only your pharmacy and the expertise of you and your staff to fulfill their health requirements.
Spend some time reviewing your marketing strategies and make sure they are relevant to your target customer population. For example, if you are targeting millennials, then you want to be sure you are using various social media streams in your marketing strategy. Test them, measure them regularly and make changes as required.
Ensure that all of your workflow processes and systems are maximized for efficiency. Cut down on unnecessary time spent on activities that add no value to your business or your customers. Streamlining your processes will make things easier on you and your staff, which leads to increased profitability and more personal freedom.
Finally, and this is a BIG one, make sure you have an up-to-date business plan that covers at least the next 12 months. It should have goals and action points for you and your staff to follow. Everyone on the team should know what to do and how and when he or she should do it. You will see improved results and a better return on your investment.
Derek Desrosiers, BSc(Pharm), RPEBC, RPh is President and Principal Consultant at Desson Consulting Ltd. and a Succession & Acquisitions Consultant at RxOwnership.ca.