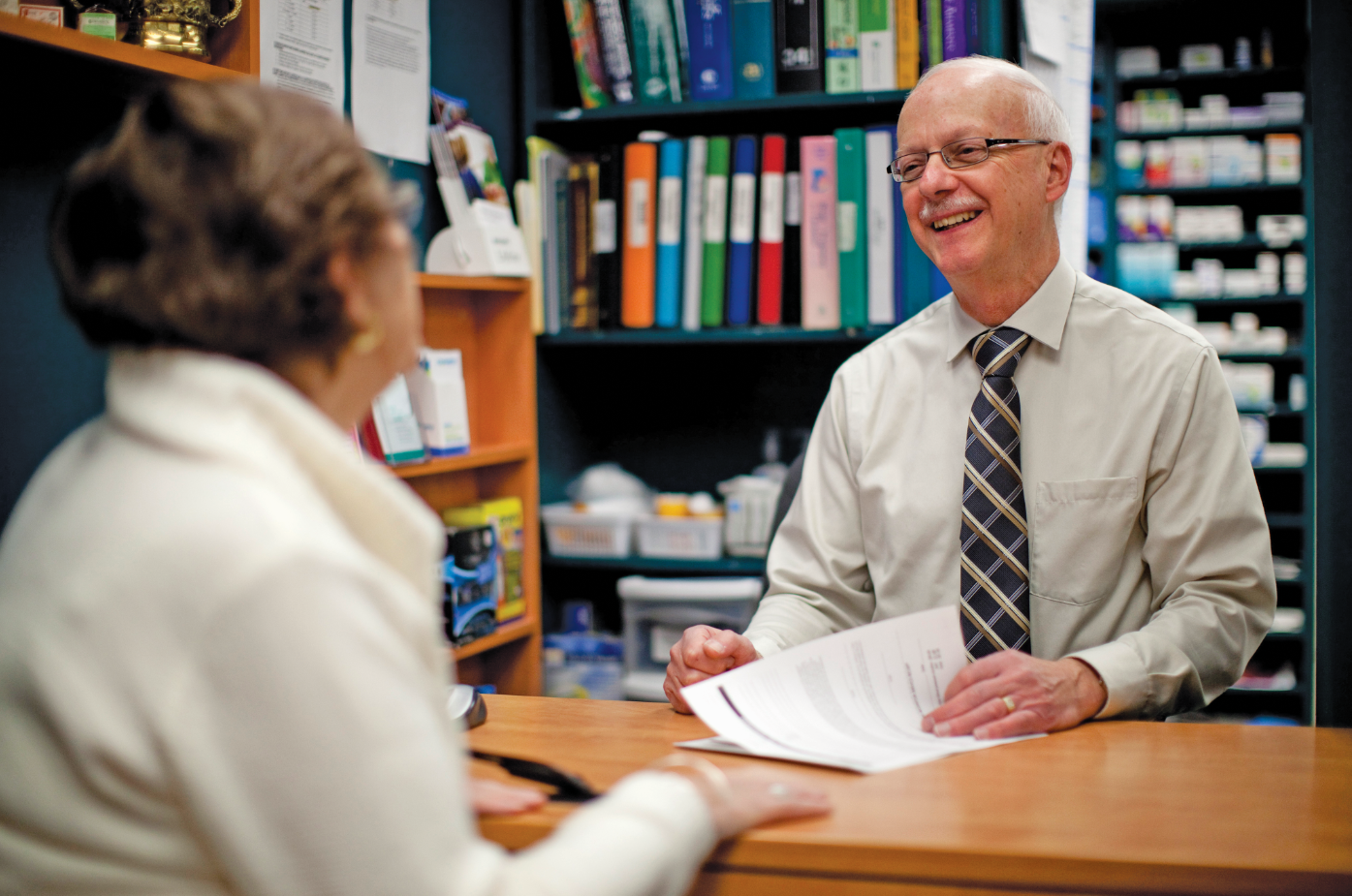 Victoria pharmacist Glen Schoepp provides a medication review to his patient.
All too often, I hear pharmacists say the reason they do not offer more professional (non-dispensing) services is because they do not have the time or resources to implement such services. While an increase in services certainly has the capacity to also increase workload, it does not have to. Let me offer some suggestions on how to garner the biggest return on your investment as a pharmacy business owner.
First, you need to figure out which specific services your patients want and need. This can be quite variable from one pharmacy to the next depending on the demographics of your patient base. It can also be heavily influenced by the receptivity of the physicians in your area and their willingness to, potentially, refer patients to you for various service offerings. Ask the physicians you work most closely with, which service(s) they see a need for with their own patients and whether they are willing to support them from a professional perspective. Survey your patients as well, either formally or informally, to get a feel for what interests them.
Next, keeping in mind results from consultations with your patients and physicians, pick a service for which you have a personal passion. If you are not enthusiastic and passionate about something, it shows, and your patients will pick up on that.
If you are not currently offering much in the way of professional services I suggest you start with just one new service at a time. Do not overextend yourself, trying to do too much all at once.
After deciding on the service that you want to offer, collect information about the requirements and start drafting a business plan for the implementation. Your business plan should include an assessment of the following:
legality from a legislative and regulatory perspective (is the service allowed in your scope of practice)
competition in the area relative to that service
resource requirements including financial, equipment, training and personnel
marketing plans
economics including how you will price the service
key performance indicators to measure success of the offering
growth plans
exit plans if the offering is unsuccessful
These business plan requirements fit any new professional service offering including, but not necessarily limited to, currently funded and non-funded services. The list is substantial and you may already be offering some of these services such as medication reviews, cardiovascular health coaching, OAT management, vaccination services (including travel health), pharmacogenomic testing, smoking cessation coaching, diabetes coaching and management, asthma coaching, weight management, anticoagulation therapy management and other point of care testing (e.g. HgA1C).
If you are uncomfortable with writing a business plan, engage some professional help. It is important to have a business plan for a number of reasons, not the least of which is that the bank will want to see it if you are going to need to approach them for funding related to the new service offering.
Now, let's go back to the issue of not having enough time to go ahead with offering these types of services. A growing trend, especially in the U.S. independent pharmacy market, but also in Canada, is to hire a consultant pharmacist on a contract basis to provide the service(s) in your pharmacy, using an appointment-based model. In this model you really only have three main roles, all of which are generally not time consuming: market the service, make appointments for the consultant pharmacist and provide an appropriate space for the service to be delivered to patients.
The consultant would be responsible for his or her own training and certification, if required. Depending on the service, your arrangement might also include making the consultant responsible for his or her own equipment.
From a business perspective, there are a couple of options as to how you might manage finances. Your relationship with the consultant pharmacist would generally be a contractual fee-for-service arrangement. If the service is funded by a public or private payer, the consultant pharmacist can process the billing through your pharmacy system. Your contract would likely specify a percentage or amount of the payer's fee to go to the contractor with the remainder to your business. For example, if the consultant did a medication review for a $60 fee from PharmaCare, your agreement might be that $40 goes to the consultant and $20 to your business.
On the other hand, if the service being provided is completely uninsured and the patient is expected to pay out of pocket, your arrangement may be different. In these cases, you may allow the consultant to charge whatever they deem appropriate for the service and you may charge them a percentage of their fee(s) or a flat amount for the marketing, space and appointment management that you provided. Either way, having a consultant pharmacist providing the service on an appointment-based model solves your problem of not having enough time and resources. This model allows you the opportunity to expand your service offering, increase store traffic flow and patient loyalty and generate more non-dispensing income, all with a minimal investment on your part.
Written by Derek Desrosiers, BSc(Pharm), RPEBC, RPh. He is President and Principal Consultant at Desson Consulting Ltd. and a Succession & Acquisitions Consultant at RxOwnership.ca.