Not All Meds Get Along. It's hard to tell which medication don't get along. Your pharmacist can explain how drugs can interact with each other and can provide suggestions on how to increase effectiveness and decrease side effects.
Canadian Patient Safety Week 2018 takes place between October 29 to November 2, 2018. During Canadian Patient Safety Week, the Canadian Patient Safety Institute and other organizations will run public awareness campaigns educating the public about patient safety. The theme this year is "Not All Meds Get Along," prompting patients and health-care professionals to seek medication reviews for at-risk populations.
When a patient takes two or more drugs, there is an increased chance for drug interactions that can detrimentally affect the effectiveness and safety of their therapy. Other factors that may be involved include age, gender and the amount of physical activity. These interactions can lead to unnecessary visits to a health-care provider and can create physiological, psychological or financial stress on an individual. Whether you are taking drugs that are prescribed by a health-care professional or psychoactive substances such as alcohol and cannabis, your pharmacist can help optimize your drug therapy and ensure that it is safe and effective for you.
Medication Review Services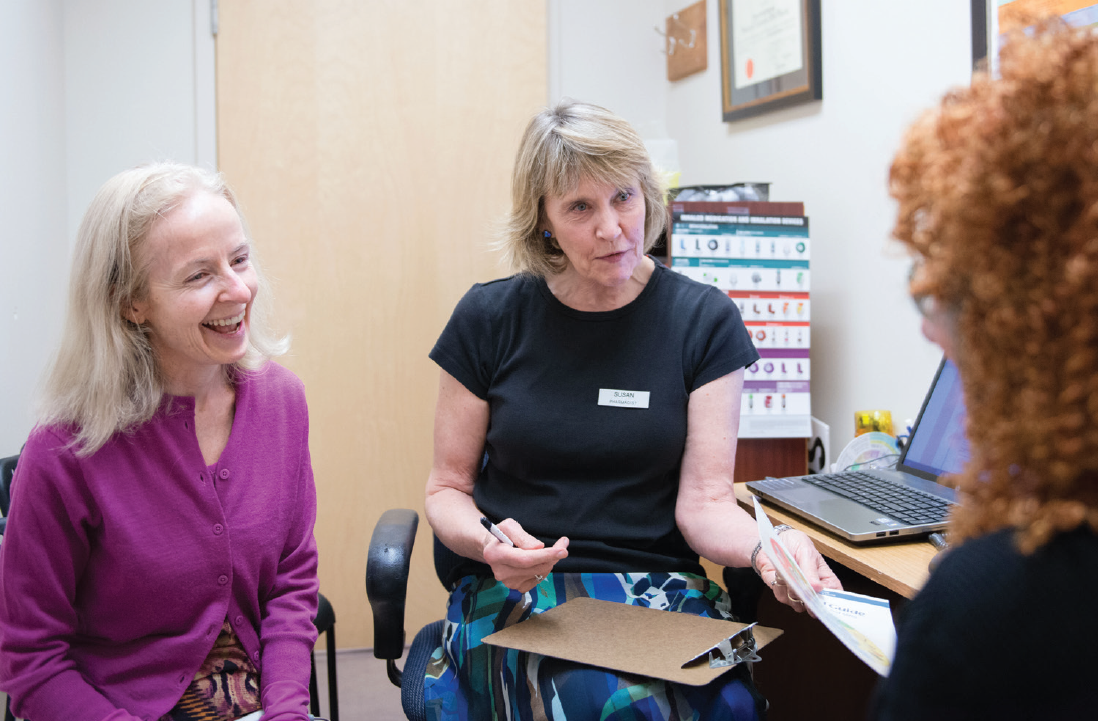 Pharmacist Susan Troesch (centre) and Dr. Lise Loubert (left) speak with a patient at the Mid-Main Community Health Centre. The centre was primarily established to treat people with several chronic conditions, mental health issues, backgrounds of addiction or long-standing chronic pain management with opioids, home-bound seniors, refugees and single parent families with lower socio-economic status. Staff help addicted patients using a more holistic approach to pain management outside of just medication.
Pharmacists routinely provide medication review services for patients. Last year, the BC Pharmacy Association profiled pharmacists like Susan Troesch at Mid-Main Community Health Centre who provide education support, medication reviews and development of a collaborative plan with the patient.
"[At Mid-Main Community Health Centre], we are doing a lot of holistic support and trying to encourage people to gradually come off opioids and benzodiazepines," Troesch says. "That's an area where pharmacists can be very helpful." Benzodiazepines – which include Valium and Xanax – are used to treat conditions like anxiety, insomnia and seizures but can cause an overdose or be fatal when combined with opioids.
She remembers in the late 1990s when doctors were encouraged to treat chronic non-cancer pain using narcotics and continuing medication education courses teaching narcotic use were readily available. "Now our goal is to try and get people off narcotics because the evidence is showing us that there is a lot more risk," Troesch says.
Next time you are at your pharmacy, speak to your pharmacist about potential drug interactions and ask if you qualify for medication review services.
Did you know?
B.C. offers a medication review service for patients who have taken at least five qualifying medications within the last six months and meet the criteria set out by PharmaCare. Your pharmacist will go through your medications with you and explain how drugs will interact with each other. Talk to your pharmacist to see if you qualify for this service.
Pharmacogenomics Testing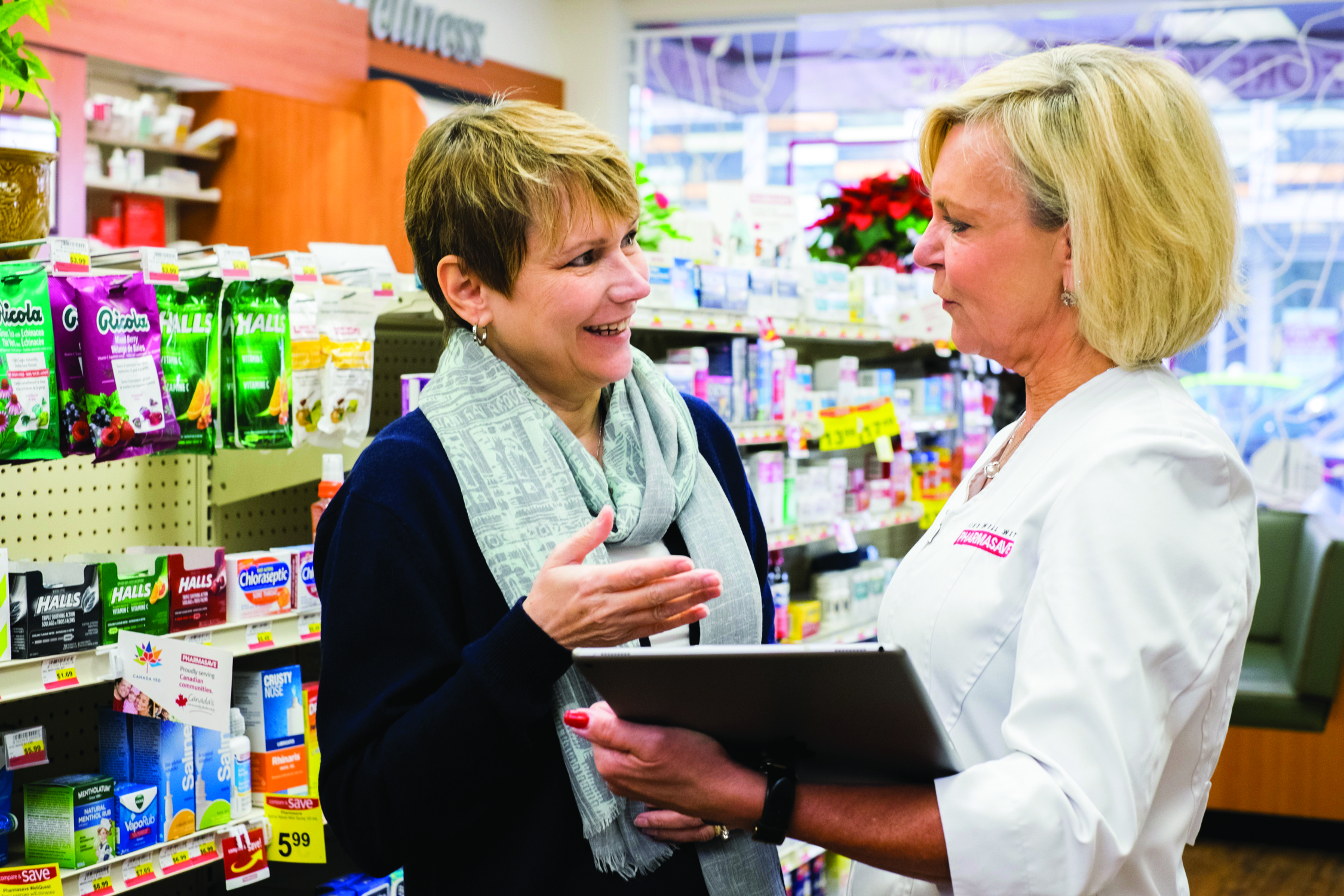 Pharmasave pharmacist Nelli Jakac (right) talks to patient Danuta Mossford about her myDNA results.
Some B.C. pharmacies also offer pharmacogenomic testing to give you and your health-care professionals a better understanding of how your body processes medications. You might process some too quickly or too slowly, resulting in ineffectiveness or increasing the risk of negative side effects. With the results of a pharmacogenomic test, your health-care team can have the necessary information to choose the ideal drug therapy resulting in safer, more effective treatments with fewer side effects.
This was true for Vancouver couple Danuta and Lawrence Mossford, who took the test in late August. Both generally healthy, they wanted to ensure the medications they were taking for their separate conditions were right for them. With a family history of cardiovascular disease and diabetes, Danuta took the myDNA test to ensure she was provided the most effective medication for her. The results confirmed she was taking the wrong medication for years, causing debilitating side effects, stress, time off work and numerous hospital and doctor visits.
"My results showed that an anti-anxiety medication I was prescribed for years was the least effective," says Danuta. "It also confirmed which medication was the best for me. I believe everyone should have this test prior to meds being prescribed."
To find a pharmacy near you that offers the test, please click here.