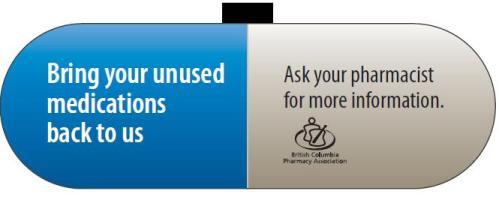 Updated on June 14, 2022
Unused or expired medications can pose significant health, safety and environmental hazard when improperly stored or disposed of. The BC Medications Return Program (BCMRP), managed by the Health Products Stewardship Association (HPSA), has been in place since 1996. This program allows the public to return (at no charge) unused or expired medications to participating pharmacies in the province.

Pharmacies wishing to register with the BC Medications Return Program can apply online.

The BCMRP service provider is Environmental 360 Solutions. Pharmacists can request medications return container delivery and pick-up by submitting an online Service and Supply Request Form.

If you have questions regarding scheduling services, please visit FAQ Pharmacists on HPSA's webpage or contact Environmental 360 Solutions at 1 833 463 3607.

The health products industries cover all costs for the program.