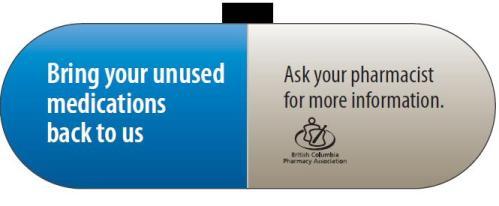 Unused medications can pose a significant health, safety and environmental hazard when improperly stored or disposed of.  The B.C. Medications Return Program has been in place since 1996. This program allows the public to return (at no charge) unused or expired medications to participating pharmacies in the province.
Pharmacies wishing to register with the B.C. Medications Return Program can apply online or by faxing a completed application form  to Stericycle at  1-866-783-7432 .
Stericycle is providing administrative services including supplies, collection and destruction of waste picked up. They can be reached at (604) 552-1011 or 1-866-783-7422 within  B.C., or  complete a Service Request form to request a pick up. 
Medications Return Program is administered by the Health Products Stewardship Association and funded by brand-owners selling medications in British Columbia.