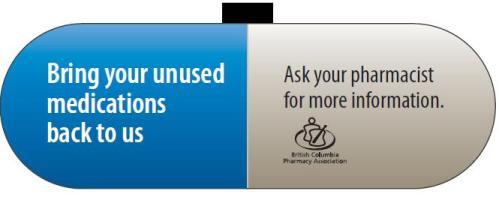 Unused medications can pose a significant health, safety and environmental hazard when improperly stored or disposed of. The B.C. Medications Return Program (BCMRP) has been in place since 1996. This program allows the public to return (at no charge) unused or expired medications to participating pharmacies in the province.
Pharmacies wishing to register with the B.C. Medications Return Program can apply online or by faxing a completed application form to BCMRP at 1 855 228 2099.
As of December 1, 2018, the BCMRP service provider has changed to Whitecap Environmental. Supply and service requests can be directly submitted online at or by faxing this form to 1 855 228 2099. It can also be emailed to info@healthsteward.ca. Pre-existing pails (blue bins) can be used until a service is needed. At that time, old pails will be collected and replaced with new collection containers.
If you have questions regarding scheduling services, please contact Whitecap Environmental at 1 866 489 4489. For a instructions on how to use these new containers, please watch Medications Return Program Video: A Pharmacists' Guide.
Medications Return Program is administered by the Health Products Stewardship Association. All costs for the program are covered by the health products industries.