Each March Pharmacist Awareness Month (PAM) helps celebrate and educate Canadians about the contributions that pharmacists make in the delivery of health care.
In British Columbia, the BC Pharmacy Association (BCPhA) will feature Rethink Pharmacist, a campaign to highlight the health-care services now offered at the pharmacy.
From renewing prescriptions, delivering vaccinations, providing medication management services, there are more reasons than ever to visit your pharmacist. It's time to rethink what your pharmacist is to you.
Join and follow BCPhA on Facebook and Twitter to help support our pharmacists and local communities. Share their stories and help spread the word!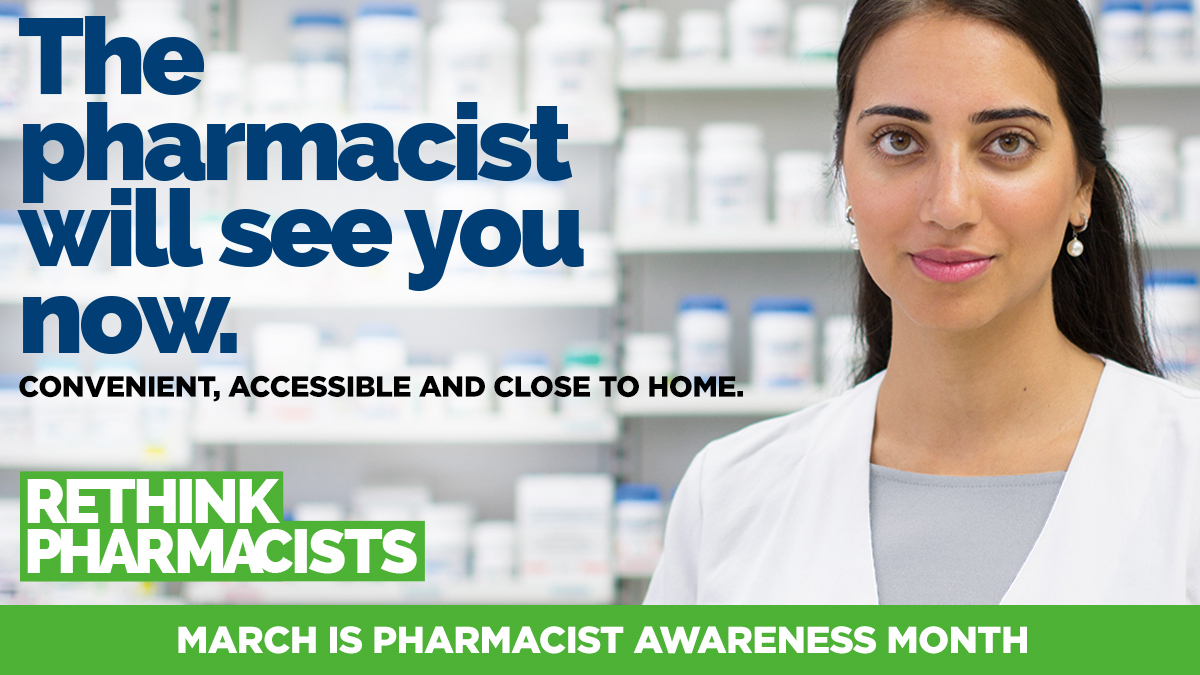 Why "Rethink Pharmacists"?
Pharmacists are accessible: Convenient, accessible and close to home. Pharmacists in British Columbia are there when you need them - including evenings and weekends. With almost 4,000 pharmacists serving you in more than 1,300 pharmacies in British Columbia, pharmacists are the most accessible health-care providers. Seeing a pharmacist generally requires no appointment. The convenient locations mean that pharmacies are close by for most British Columbians, wherever they live.
Pharmacists are doing more for patients: Pharmacists in British Columbia are able to administer vaccinations, provide medication management services and specialty services for patients.
Pharmacists are an underused health-care resource: When pharmacists can practice to their full scope and training, there is improved access to care, reduced pressure on the health-care system, better value for our health-care dollars, shorter wait times and less trips to the emergency room.
Pharmacists are providing value to the health-care system: By reducing the number of people needing hospitalization, visiting emergency rooms, or even needing to book appointments with a family doctor, pharmacists are helping to save the health-care system money. With an even greater scope of practice, pharmacists could deliver even greater efficiencies to Canada's health system.
Pharmacists are trusted: Pharmacists consistently rank as one of the most trusted professions in Canada and Canadians see their pharmacist more often than any other health-care professional. More than half of patients with health-care issues seek out a pharmacist first, before any other health-care practitioner.
Pharmacists are health-care leaders: As members of a collaborative health-care team, pharmacists are playing a leading role in helping to find solutions to some of the key challenges facing our health-care system, such as addressing the opioid crisis, improving mental health care, increasing immunization rates, deprescribing/polypharmacy and reducing the burden on the emergency and primary health system.
A B.C. pharmacist's story: Reaching patients where they live
Numbers at a glance
In 2018, more than 1,350 community pharmacies throughout the province provided the following:
660,000 flu shots;

247,747 adapted prescriptions;

77 million filled prescriptions;

around 600 pharmacies providing free Take Home Naloxone kits to combat the opioid crisis;

and more
Pharmacists' Scope of Practice at a glance
Pharmacists are regulated provincially which means that the scope of practice varies from province to province. Pharmacists in British Columbia have a limited scope of practice compared to their counterparts in other provinces. Scope of practice in B.C. is regulated by the Health Professions Act, Health Professions Act bylaws and the Pharmacy Operations and Drug Scheduling Act.
The Canadian Pharmacists Association (CPhA) has compiled a chart comparing the scope of practice between provinces, which illustrates that pharmacists in British Columbia can do more for their patients if given the scope.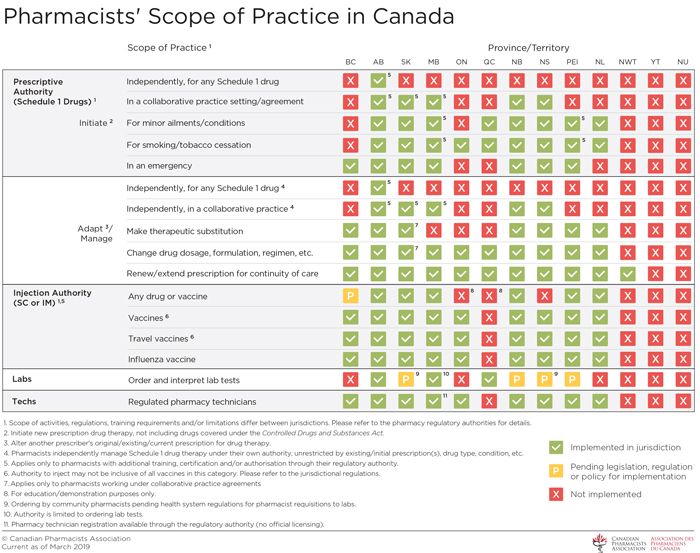 Services offered by pharmacies
The clinical services that pharmacists may offer will vary from pharmacy to pharmacy. Your pharmacy may provide the following services:
Pharmacogenomics testing
Smoking Cessation
Asthma health coaching
Cardiovascular health coaching
Diabetes health coaching
Injections (Influenza, Measles, Travel)
Hepatitis C screening
Point of Care testing (Strep Screening, etc)
Renew/extend prescriptions for continuity of care
Specialty Compounding Services
Mental Health related services
Medication Reviews
Blood Pressure Checks