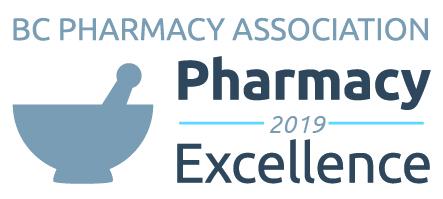 Do you know a B.C. pharmacist who is one of the best and brightest? Nominate them for a 2019 Pharmacy Excellence Award.
The 2019 Pharmacy Excellence Awards will be presented at the BC Pharmacy Association Awards Gala on Saturday, May 11, 2019 in Vancouver. These awards are given annually to celebrate the success of individuals who have contributed to the advancement of pharmacy in B.C.
Nomination Package
All nomination packages need to be submitted to awards@bcpharmacy.ca by midnight February 18, 2019. Nomination packages can also be faxed to (604) 261-2097.
Click here to download the nomination package.
Nomination deadline has been extended to February 18, 2019.
Award categories
Winners are selected in the following categories:
Excellence in Patient Care Award: This award is presented to a pharmacist who has demonstrated ongoing excellence in patient care in their professional practice.
Ben Gant Innovative Practice Award: This award is presented to a pharmacist who has demonstrated significant innovation in their respective practice and/or the profession.
Murray Dykeman Mentorship Award: This award recognizes a pharmacist who has demonstrated outstanding mentorship to those early in their pharmacy career.
Pharmacy Leadership Award: This award recognizes a pharmacist who has demonstrated commitment to leading the profession and its people forward and has made significant contributions to the profession of pharmacy. 
Collaborative Care Award: This award recognizes a pharmacist who has worked to create strong collaboration with other health-care providers. In doing so, they have promoting the value of pharmacists and have successfully advocated for the role of pharmacists in the primary health-care team.
New Practitioner Award: This award recognizes a pharmacist within their first five years of practice. The nominee has demonstrated impact and commitment to the pharmacy profession by advancing their practice.
Pfizer Consumer Healthcare Bowl of Hygeia Award: A pharmacist with an outstanding record of public and community service.
Friend of Pharmacy Award: A non-pharmacist who has worked with and promoted the value and role of pharmacists within the health-care team.
Frequently asked questions
When will this year's nomination process open?
Nominations will open for the 2019 Pharmacy Excellence Awards on December 3, 2018.
 
How do I complete/submit the nomination?
Download the PDF nomination package, fill out the information and email to awards@bcpharmacy.ca by February 18, 2019 with the nominee's name in the subject line.
 
Can I nominate myself?
Yes.
 
Can I nominate more than one person?
Yes. You can nominate as many individuals as you would like. You must submit a nomination package for each individual nominee.
 
Can I nominate my partner/friend/family member?
Yes. You can nominate someone as long as they are a pharmacist and a member of the BC Pharmacy Association, except in the case of the Friend of Pharmacy Award, in which the individual does not have to be a member of the Association and must not be practicing pharmacist. 
 
Can I nominate someone I have nominated before?
Yes, absolutely. Often selecting a winner can be difficult as there are so many good nominations packages. Someone who may not have won in a previous year could win the next year. Please do resubmit your nomination packages from the previous year. 
 
What is considered a supporting evidence? Can I write a letter of support if I am the nominator?
Yes, you may write a letter of support as a nominator. Supporting evidence includes letters or documents that illustrate why an individual deserves an award. All submissions must include a minimum of two pieces of evidence from the following categories. One piece of evidence must be a letter of support from a health-care peer:

Letter of support from a health-care peer (such as a fellow pharmacist, physician or nurse).
Letter from a patient.
Published documentation of achievement (such as a community paper or journal).
 

If I am a pharmacist nominating a fellow pharmacist, does my nomination letter serve as a piece of evidence?
Yes, if you are a pharmacist and are the nominator, your letter of support (the nominator's letter) can count as one piece of supporting evidence. However, the more pieces of supporting evidence from others in the health-care field (especially for the Collaborative Care Award), the better chances of your candidate being selected.
I am waiting for a letter of support from someone. Can this come separately from the nomination package?
The BCPhA prefers all documentation to come as one package, but we will accept separate supporting documents from individuals as long as they are sent electronically to awards@bcpharmacy.ca and include the name of the nominee in the subject line. Accepted document types are .doc/.docx, .jpg, .pdf (2 MB maximum file size per document). 
 
What do the judges look for in a winning nomination package? 
Judges are looking evidence that shows how a nominee has gone above and beyond their role as a pharmacist - from involvement in the community to excellence in patient care to advocating for the profession or mentoring young pharmacists. The winning nomination packages have multiple supporting letters, often from patients and other health-care team members (including pharmacy colleagues) community organizations, leaders, educators or researchers. For the Friend of Pharmacy Award, judges look for examples from more than one nominator, and typically these are from pharmacists.This could mean multiple pharmacists, pharmacy technicians or assistants, nurses, patients or other organizations.
 
When will the awards be presented?
The awards will be presented during the BCPhA's Award Gala Event in Vancouver on May 11, 2019. 
 
Are all awards given each year?
No. It depends on the number of a nominations and the quality of the submissions. 
 
Who do I contact if I have questions?
If you have questions regarding the awards or nomination process, please email awards@bcpharmacy.ca or contact Devyani Basoodetsing at (604) 269-2884.